Good news for Bhushan Steel employees, here is what Tata Steel said
TV Narendran, MD & CEO of Tata Steel, in an exclusive interview with Zee Business, said that the Tatas don't have any plan to delist Bhushan Steel and it will continue as it is for at least the next few years.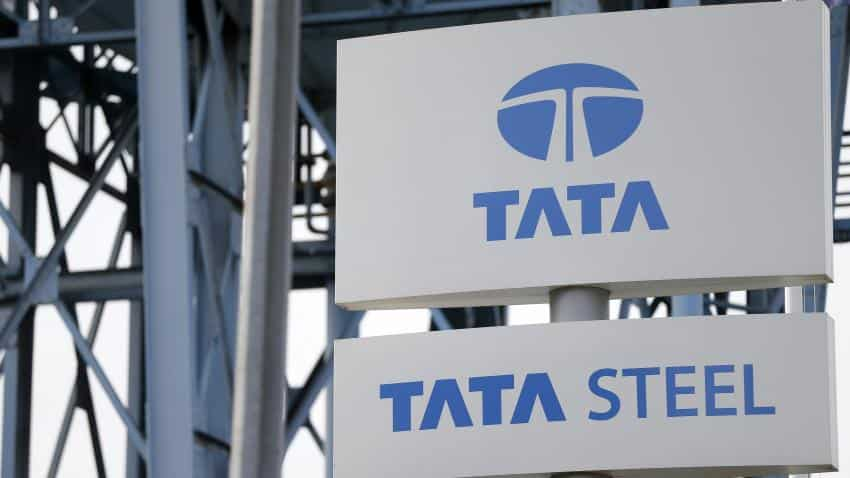 Tata Steel's performance in March quarter remained robust. Image source: Reuters
Updated: Fri, May 18, 2018
08:03 am
ZeeBiz WebDesk
TV Narendran, MD & CEO of Tata Steel, in an exclusive interview with Zee Business, said the company will take on board all employees of Bhushan steel, as it is a part of the resolution plan that was submitted. He also added that the Tatas don't have any plan to delist Bhushan Steel and it will continue as it is for at least the next few years. Edited excerpts from an exclusive interview:
Q: Can you tell us about Tata Steel results highlights?
A: Tata Steel's performance for the last quarter (fourth quarter ended on March 31, 2018) of the year was better than the previous quarter of the year and the same quarter of the previous year. It was a result of performance in India and Europe as well as improvement in market conditions. We suffered a bit due to some problems in Kalinganagar plant, which led to the production loss of about 200 thousand tonnes. 
Q: The UK pension restructuring has added to the profit of the company. But, now, the unions want more benefits. 
A: It is a one-time non-cash adjustment. We have changed the pension scheme in the United Kingdom. 70 per cent pensioners of the old scheme have moved to the new pension scheme and remaining 30 percent have gone for PPF, which is the public provident fund scheme in the UK.  Liabilities under the new pension scheme are different and we will not have these kinds of gains or losses going forward under it.
Q: How is the trend for domestic and international demand?
A: The global demand has improved in the last 2-3 years. In 2015, the problem was that China doubled its export from 5 billion tonnes a month to 10 billion tonnes a month and its impact was visible across the world. But the conditions improved after China decided to clamp down its production back to 5 billion tonnes a month due to environmental concerns. 
The second thing is that improvement in global macroeconomic conditions, as well as oil prices, have helped countries like Russia and Latin America along with the US and Europe to improve. Overall, the demand for steel has improved in most steel consuming regions. 
Thirdly, the improving prices of coking coal had an impact on steel production as it accounts for 40 percent of the cost for steelmakers and improvement in its prices has helped in increasing steel prices over last few months. 
Q: What is your view on sector-wise demand?
A: Construction is the most important sector for steel industry because 60 percent of steel is used in the construction sector. There are sub-sectors in the construction sector and they are residential, commercial and industrial infrastructure. We are seeing that there is an absence of any special activity in the residential infrastructure but the commercial and industrial infrastructure is quite strong. In the industrial sector, we are seeing growth in construction of warehouses, cold storage chains and industrial buildings among others. Even GST impact has helped in increasing the demand. 
In addition, the automotive sector is the second sector where steel will be in demand. Here we are seeing that there is an improvement in commercial vehicle business, which remained low for past three to four years. Growth in the commercial vehicle depends on mining and construction industry, where activities are on the rise. Secondly, there is a growth in motorcycle business in rural regions. 
Q: How will the Kalinganagar plant benefit from the takeover of Bhushan Steel? 
A: Kalinganagar plant will be benefitted from the Bhushan Steel plant, which is located about 150 kilometres away. I think the proximity of the two plants will help the teams in both places to work together. In addition, we have seen the plant of Bhushan Steel, which is capable of running at full capacity with minimum investment. So we will leverage the synergies and unlock value at the earliest. Post phase 2 expansion of Kalinganagar we will have extra slabs, which can be rolled out in Bhushan Steel that have hot strip mill, which has more capacity than the steel making capacity or iron making capacity. So, we think that we can have a better balance of facilities. Overall, we see Bhushan as a value accretive acquisition for Tata Steel. It is a 5 million tonne plant which is a good plant and it has a good product mix and it is servicing many of the customers, we are already servicing. So, we feel that we are well positioned to get the most value from that asset. 
WATCH ZEE BUSINESS VIDEO HERE
Q: When will Bhushan Steel get delisted and will its branding be changed?
A: At present, we don't have any delisting plan and will continue as it is, at least for the next 2-3 years and then decide what should be done. As far as branding is concerned, we will continue with the current name for now. It will be seen once the deal is done. We will welcome it to the Tata Steel family as a very important member. 
Q: When do we expect the management to take over?
A: The plan is to do it as soon as possible. We were ready to go with it but yesterday we came to know that there is an appeal in NCLAT and today we were informed that the matter will be not be discussed today. So from our point of view, we are ready to move in. Let's see, it may happen by tomorrow. 
Q: There are reports that say that there is a resistance at the local level in the takeover of Bhushan Steel in Odisha. How many employees will you take on board?
A: In our resolution plan we have clearly mentioned that we will take all employees on board. So, whosoever is a genuine employee of Bhushan Steel, will take him on board. They should be happy to work with us and we look forward to their commitment to work with us and that is something that we are committed to. Tata Steel has always been fair to all employees and we will certainly treat them the same way. I think we have a lot of support from the local communities because people know the work that we do with the communities, wherever we are, may it be Jamshedpur or Kalinganagar or some other place. We are confident that we will develop the site in the same way as we have developed all other sites of Tata Steel. 
Q: What are the investment plans in the current financial year?
A: Our capital expenditure for the year 2018 will be around Rs 9000 crore. Last year it stood at Rs 7000 crore. Of this, about Rs 1500 to Rs, 2000 crore will be invested in starting the Kalinganagar Phase 2. 
Get Latest Business News, Stock Market Updates and Videos; Check your tax outgo through Income Tax Calculator and save money through our Personal Finance coverage. Check Business Breaking News Live on Zee Business Twitter and Facebook. Subscribe on YouTube.