Good Monsoon may give a boost to rural consumption that is led by Agricultural Income: Lalit Agarwal, V-Mart Retail
The slowdown in market is likely to end by festival season that will start with the celebration of Janmashtami in August 2019, says Lalit Agarwal, Chairman and MD, V-Mart Retail, during an interview with Zee Business.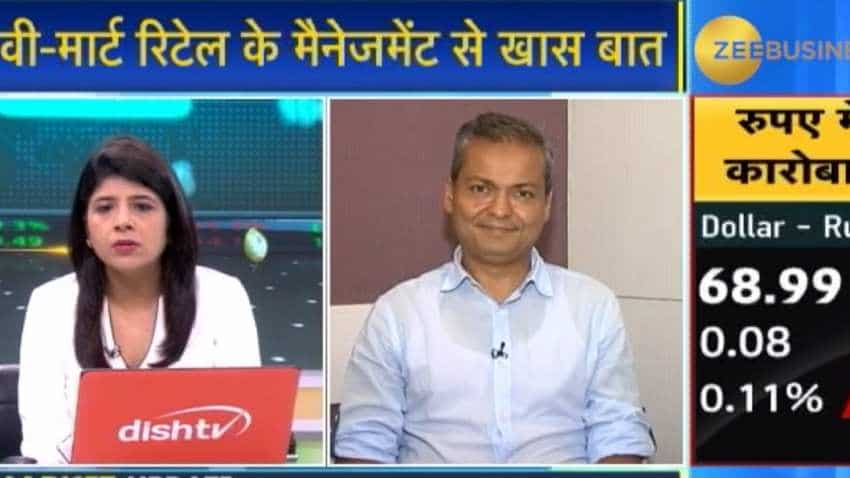 Lalit Agarwal said if liquidity concerns are looked from the macro scenario aspect then there is a problem in it. Image source: Zee Business
Updated: Fri, Jul 26, 2019
11:22 am
Mumbai, ZeeBiz WebDesk
The slowdown in the market is likely to end by festival season that will start with the celebration of Janmashtami in August 2019, says Lalit Agarwal, Chairman and Managing Director, V-Mart Retail Ltd. In an interview with Swati Khandelwal, Zee Business, Agarwal said if liquidity concerns are looked from the macro scenario aspect then there is a problem in it and the liquidity crunch at NBFC has had an indirect impact on self-made people of small cities. Edited Excerpts: 
Q: So, what is your take on consumer sentiment in terms of their purchasing power as the elections are over and the uncertainty over it has come to an end? 
A: You are true that small cities are contributing the most to our business as well as elections are over and the annual budget has been announced. Even the monsoon had been a good one.
However, certain challenges related to consumption – for last 4-5 months - was present in the market and that dull environment is still visible because it is the rainy season, a period when there is a decline in the retail business. But, I feel, the upcoming festival season - starts from August with the celebration of Krishna Janmashtami - will encourage consumption among consumers. In fact, we have observed a slight improvement in the last one month and will improve more if the monsoon continues to be good and its impact can be seen during Durga Puja and Diwali period. Durga Puja and Diwali are an important festival in Eastern India and North India respectively and these two festivals are very important for us as it helps in improving the numbers. 
Q: Do you think that liquidity concerns have been addressed or not?
A: If I talk about it by keeping the macro scenario in mind then there is a problem in it. In fact, the liquidity crunch issue with NBFCs has had an indirect impact on self-made people like entrepreneurs and small shop keepers, agency holders and distributors as well as those who work in small cities and support the economy as it has reduced their ability to earn and taking risks. Even the government policies like demonetisation and GST, which made certain changes in the forces, have also created certain problems and increased the fear level in people. However, the fear has reduced slightly after the annual budget was presented but people are not investing openly yet. Neither the small traders are not doing business properly because they don't have the legitimate capital with them, which was being provided by the financial institutions. There is slight stress as the interest rates and cost of funding have increased. So, small stress is visible, but I feel that small movement in the economy - which will be led through monsoon – will bring back the benefit and the self-employed people are dependent on local consumption and the major part of the consumption is led by the agriculture income because these are mostly Agri-dependent belt. 
Q: You had guided about the 3x and 4x growth. What is your strategy to achieve this? What will be the format of your new stores and how strong growth are you expecting in Same Store Sales Growth (SSSG)?
A: We are on the growth stage since the past 7 years, in fact, we have been on the growth stage since the beginning. But we were at a controlled growth stage and were expanding in a controlled manner because we don't believe in expanding blindly. We believe in the fact that the company should be strengthened along with its organisational structure, process, technology and people in order to expand. We are in a sweet spot right now as we function in tier 2, tier 3 cities. There are many tier 3 and tier 4 cities in India, and they are heavily populated with the consumption rate being high. We have a large opportunity as there 3000 to 4000 cities where organisational retail has not yet reached and there is a need for V-mart there. We have planned to increment and accelerate our growth as we have completed our infrastructure work. So, we are tightening the peddles under which we have planned to increase the number of new stores that are opened every year from an average of 30-35 to more than 50-55 this year to increase our growth. However, 44 new stores were opened last year. 
The market seems to be quite good as many retailers are copying our model and are entering the market. If they can do this, I feel we are made for this market and have received an ample amount of success in it. This is a reason that we can see our growth in the segment. Besides, the government policies will increase the per capita income which will help in increasing same store sales growth. The similar potential is visible in areas where our existing stores are operational, and I feel the same store sales would go up in those stores as well. 
Q: Competition has increased as other players are also following your model, which can pressurize your margins because in competitiveness people look forward towards the ways to increase sales by offering sales in form of before Diwali and end of the season sales. Do you think that it will have an impact on your margins, if yes, to which level?
A: There are some injuries when the war is staged. The margins will differ due to the presence of competitors and there is some pressure on the margins. The consumer is the main beneficiary of this competition. Consumers are very important in today's scenario and they should be retained/gained by increasing our volumes and bringing sales at a cost of slight losses in the margin will help us. There is not much pressure on the margins, but increased competition has put slight pressure. But, if we succeed in bringing the same store sales growth over our desired 7-8%, then there won't be much pressure on the margins as we have controlled our cost. There is a challenge in the manpower cost but otherwise, things are under control. The pressure on the margins are planned and we are looking into it. We want to provide value and affordability to our customers.
Q: What is your investment planning for FY20 and how much investment do you expect as you had invested in warehouses, latest IT infrastructure? If we look at the revenues and PAT of FY17 to FY19, FY18 seems to be a good year while there was some weakening in FY19 in terms of PAT. The figure was Rs 61 crore, will you be able to do better this year?
A: Our targets are quite good, and I feel we'll be able to surpass these targets. However, the introduction of Indian Accounting Standard (Ind AS) 116 will change several things at the EBITDA and PAT level. Some things will change due to the accounting standard, but we are aiming to increase our PAT and growth as we don't have any debt and our interest cost is almost negligible. While there will be some pressure on the EBITDA percentage, but we'll be able to maintain EBIDTA and do well on absolute numbers. We expect good sales this time as we are opening new stores and there'll be some additional costs when we open them. Its pressure could be seen on the balance sheets, but I think we will be able to manage our PAT and we should be growing. We'll see an increase in PAT.
Get Latest Business News, Stock Market Updates and Videos; Check your tax outgo through Income Tax Calculator and save money through our Personal Finance coverage. Check Business Breaking News Live on Zee Business Twitter and Facebook. Subscribe on YouTube.