From competitive foreign airlines to infrastructure constraints: Troubles of Indian domestic carriers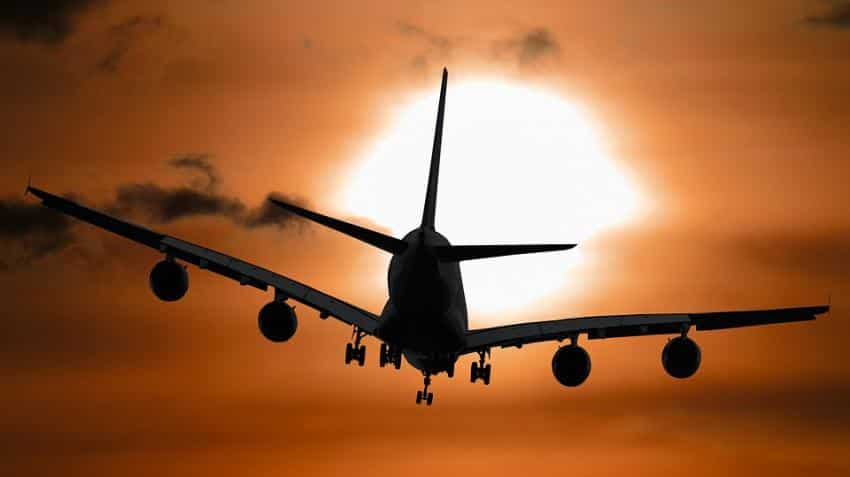 IndiGo was still the market leader in February 2017 with 39.5% market share; while Jet Airways (15.8%), Air India (13.5%) and SpiceJet (13.1%) followed. Representational image. Image Source: Pixabay
Updated: Tue, Mar 21, 2017
03:44 pm
Mumbai, ZeeBiz WebDesk
Changing legislatives, rising competition from foreign airlines, rebounding oil prices are painting the skies blue for aviation sector in India. 
The growth in volume has proven to be a big challenge among others as ICRA said in a report dated March 9 that 'most airports have been operating at near full capacity, raising the urgent need for capacity expansion in the country.'
 
Crowded Indian skies
 
IndiGo was still the market leader in February 2017 with 39.5% market share; while Jet Airways (15.8%), Air India (13.5%) and SpiceJet (13.1%) followed, as per Directorate General of Civil Aviation data as on 17 February, 2017.
 
"Passengers carried by domestic airlines during Jan-Feb 2017 were 182.34 lakhs as against 151.31 lakhs during the corresponding period of previous year thereby registering a growth of 20.51 %," DGCA report said.
 
ICRA pointed out that since FY2014, aviation traffic in the country has been on a 'strong upward trajectory – for both the passenger as well as the aircraft traffic categories.'
 
"During FY2016, the passenger traffic in the country crossed 220 million - robust yoy growth of 18%, the highest over the last six years. During 8M FY2017, the growth has increased further to 19%, with traffic increasing to 171 million," ICRA added.
 
The ratings agency said that rise in passenger count has resulted in over 90% capacity utilisation.
 
"The annual capacity (terminal building capacity) of the operational airports in India is estimated at 270-290 million passengers. Against this, the total passenger traffic for FY2017 is estimated to be around 265 million, translating into capacity utilisation of more than 90%," Harsh Jagnani, VP and Sector Head – Corporate Ratings, ICRA Limited said.
 
Pressurised profits 
Profit After Tax of airlines and ATF prices are in an inverse ratio, being that if one increases the other decreases.
Three years ago, in 2014 SpiceJet reported net PAT of Rs -1,003.24 crore at a time when Aviation Turbine Fuel (ATF) prices were high. In August 2013 when ATF reached a peak at Rs 189.82 per gallon and slowly began a declining trend after that.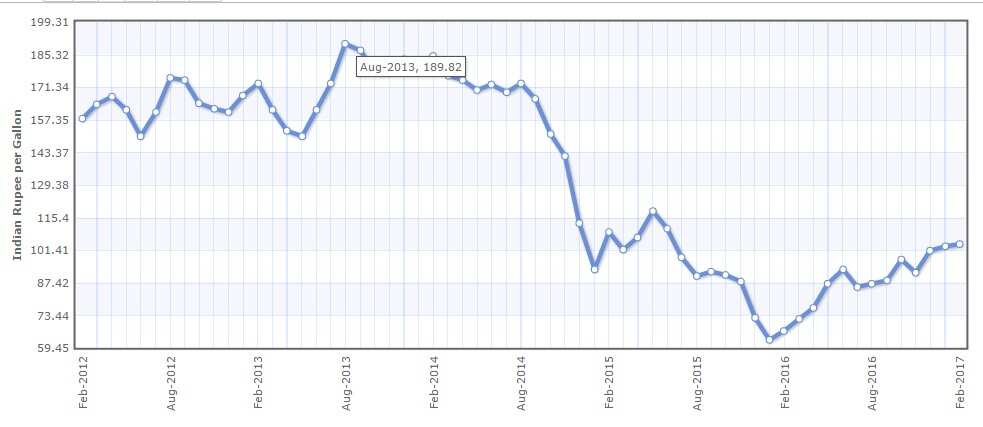 Image Source: Index Mundi 
The next year in 2015, Spicejet's PAT was Rs -748.41 crore. The loss had narrowed because of lower fuel charges.
 
And in 2016 when jet fuel prices reached its lowest in January 2016 of Rs 62.58 per gallon, SpiceJet's PAT was Rs 343.51 crore.
Image Source: Index Mundi 
IndiGo's PAT for 2014, 2015 and 2016 was Rs 474.44 crore, Rs 1,295.59 crore and Rs 1,989.72 crore respectively.
 
While Jet Airway's PAT for 2014, 2015 and 2016 was Rs -2,945.86 crore, Rs -1,055.21 crore and Rs 1,094.72 crore respectively.
 
"Airlines are maintaining healthy load factors backed by low fares. But since oil prices are on an uptrend, impact on profitability in Q4 is inevitable as average ATF price during the quarter are 37.9% higher YoY, while the yields continue to remain under pressure," PTI quoted an ICRA report.
 
The rate per gallon was Rs 103.81 per gallon in February 2017, as per the data provided by Index Mundi.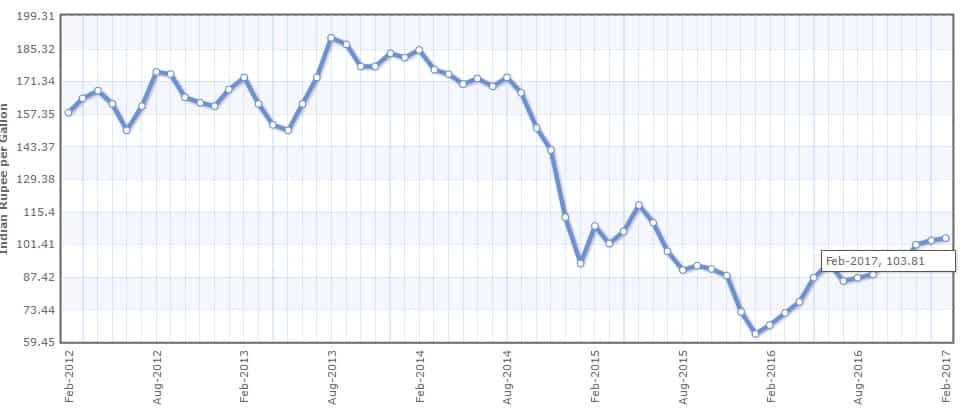 Image Source: Index Mundi 
Infrastructure constraints to fall heavy on passengers?
 
As most airports have been operating at near full capacity, ICRA further pointed out that by FY2022 'the air traffic in the country would exceed 450 million passengers.'
 
"This means that the country would need to double its existing capacity over the next five years. This is estimated to require capital expenditure to the tune of Rs 1.4 lakh crore over the next five years as against the estimated capex of Rs 52,000 crore undertaken in the past 10 years," ICRA said.
 
The government introduced schemes like National Civil Aviation Plan 2016 (NCAP 2016), Regional Connectivity Scheme (RCS), and other proposals in the Union Budget 2017-18 for increasing the airport capacity.
 
Commenting on NCAP, ICRA said, "The NCAP 2016 directs all future tariff calculations to be based on Hybrid Till, under which a portion of non-aeronautical revenues is not deducted from the target revenue while calculating tariffs. The use of Hybrid Till is expected to incentivise the private developers and operators to participate in the aviation infrastructure development. However, this results in higher airport tariffs, which are ultimately recovered from passengers."
ICRA said that additional capex over and above the plans of Rs 55,000 crore would be required for increasing capacity.
 
"Going forward too, given the sizeable scale of capex required, private players would have to make the major contribution," ICRA said.
 
Regional Connectivity Scheme
 
The earlier rule of 5/20, which was abolished by the government, meant that for an airline to start flying overseas it would have to have minimum of five years of experience and 20 aircraft or 20% of its total fleet to the domestic sector.
 
The government justified their decision as a ministry official was quoted by Business Standard in a report dated June 15, 2016 said, "This is to ensure that any new airlines starting business in India should essentially serve the remote parts of the country."
 
Many airlines like Indigo, Jet Airways, Spice Jet and Go Air including the national carrier, Air India opposed the bill as they had to wait five years before flying international and so should other start-ups.  
 
The RCS which was supposed to be kick started in January 2017 still awaits necessary approvals.
 
Clarity on FDI
 
The year of 2016 also saw the relaxation of foreign direct investment (FDI) in civil aviation, wherein 100% FDI was allowed by non-airline players in scheduled airlines and up to 49% FDI in airlines through automatic route.
 
With foreign airlines like Qatar Airways showing interest in setting up domestic carriers the government has changed its tune.
 
Civil Aviation Minister Jayant Sinha on Wednesday said that the government was mulling over amending the '100% foreign airline ownership rule in India.' He further added that the government had 'very robust' reforms agenda. 
Airlines are also fighting hard to defend their turf against foreign airlines setting up shop in India. SpiceJet chairman, Ajay Singh on March 15, said that the Indian Airlines Industry Group has opposed 100% FDI norms in aviation.
Singh said that the FDI norms should be 'reciprocal.'
 
IndiGo and Vistara refused to reply to Zeebiz queries on FDI norms while SpiceJet did not respond.
 
Besides Qatar, German airline – Lufthansa has been in talks with Etihad about adding code-share routes and a joint venture with Jet Airways.
Get Latest Business News, Stock Market Updates and Videos; Check your tax outgo through Income Tax Calculator and save money through our Personal Finance coverage. Check Business Breaking News Live on Zee Business Twitter and Facebook. Subscribe on YouTube.