Oil prices: Cairn India's loss, Reliance Industries' gain
Reliance Industries Ltd (RIL), an  Indian conglomerate, on Friday, posted its highest quarterly net profit in over eight years as fall in oil prices boosted refining and  petrochem  margins.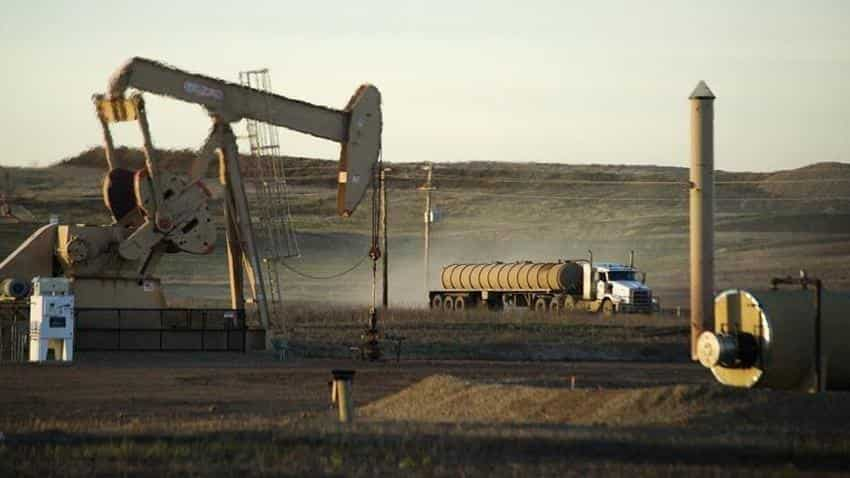 Image Source: Reuters
Updated: Sat, Apr 23, 2016
03:26 pm
Mumbai , ZeeBiz WebDesk
Crude oil prices at multi-year low in the international market has helped one company -- Reliance Industries -- post its highest quarterly earnings in over eight years, while another company -- Cairn India -- in the same sector has reported its biggest-ever quarterly loss.
Crude oil prices have declined to multi-year lows in the international market, falling below $40, a twelve-year low before recovering recently.
Reliance Industries Ltd (RIL), on Friday, posted a 15.9% jump in its consolidated net profit for the March-end quarter at Rs 7,398 crore, the highest-ever in over eight years. In the same period last year, RIL had posted a net profit of Rs 6,381 crore.
This is the highest quarterly net profit for Reliance Industries since it clocked Rs 8,079 crore net profit in the third quarter (Q3) of 2007-08.
At the same time, Cairn India posted its highest quarterly net loss of Rs 10,948.22 crore in the fourth quarter (Q4) ended March 31. In the same quarter of 2015, the company had posted a net loss of Rs 240.82 crore.
While Reliance said that higher refining margins in the quarter and petrochem margins helped it post a high quarterly profit in Q4 FY16, Cairn India said, "an impairment loss on goodwill and non-producing oil and gas assets due to drop in oil prices" led the company to post a record-low quarterly loss.
Crude oil prices have taken a hit for the last one year, with prices tumbling much below $40 a barrel earlier in the year, before recovering slightly. Currently, crude oil price in the international market is around $43 a barrel. Concerns over an impending oversupply as Iran re-enters the market soon with its supply have been keeping oil prices pressurised. Key oil producers met last weekend to discuss the oil supply concern, but Iran decided to stay away at the last minute, even as the meeting concluded without any concrete decision.
While both Cairn India and Reliance operate in the oil and gas sector, one company is an oil exploration company and the other, an oil refining firm. Which means, crude oil falling to multi-year lows has had an opposite impact on the earnings of both the companies in question.
Cairn India is an oil and gas 'exploration and production' company. Which means, it produces crude oil, its end-product. The tail-spin in global crude oil prices has eaten into the profits of the company directly.
Due to the fall in crude oil prices, Cairn India's realisation per barrel of crude oil it produced fell 43% from $48.6 an year ago, to $27.8 per barrel in the quarter. 
"Due to decline in crude oil prices in the international market, the Group has recorded an impairment on the carrying value of goodwill and some of its non-producing oil and gas assets aggregating to Rs 11,389.63 crore and Rs 284.17 crore, respectively," Cairn India said in a statement. 
Cairn India further said, the impairment of Rs 11,674 crore largely reflects the lower crude price, prevailing discount on oil produced from Rajasthan block as well as an adverse long-term impact of revised cess. 
"The Cairn team has delivered a resilient performance in a challenging year... despite crude prices plummeting to a 12 year low," said Mayank Ashar, Managing Director and CEO of Cairn India. 
Reliance Industries, on the other hand, buys crude oil and turns it into fuel and other usable petroleum products, petrochemicals, and so on. Which means, as opposed to Cairn India whose output is crude oil, Reliance's input cost came down significantly in the quarter under consideration helping it post strong earnings in teh quarter.
The fall in international crude oil prices helped the company to buy crude at cheaper rate, thereby reducing its input costs during the quarter and widening its margins.
For every barrel of oil that Reliance turned into fuel in Q4, it earned $10.8 compared to a gross refining margin of $10.1. Refining margin of the company outperformed Singapore benchmark by $3.1 per barrel, the company said.
"Refining and petrochemicals delivered record operating and financial performances. Our refineries sustained double-digit GRMs and record levels of utilisation through the year," Mukesh Ambani said. 
(With inputs from PTI)