Exemptions in personal income tax can create demand: Gautam Singhania, Raymond Group
Howdy Modi event has cemented the relationship between India and America and communicated to the world about the good relations that the two nations are sharing, says Gautam Singhania, Chairman and Managing Director, Raymond Group, during an interview with Zee Business.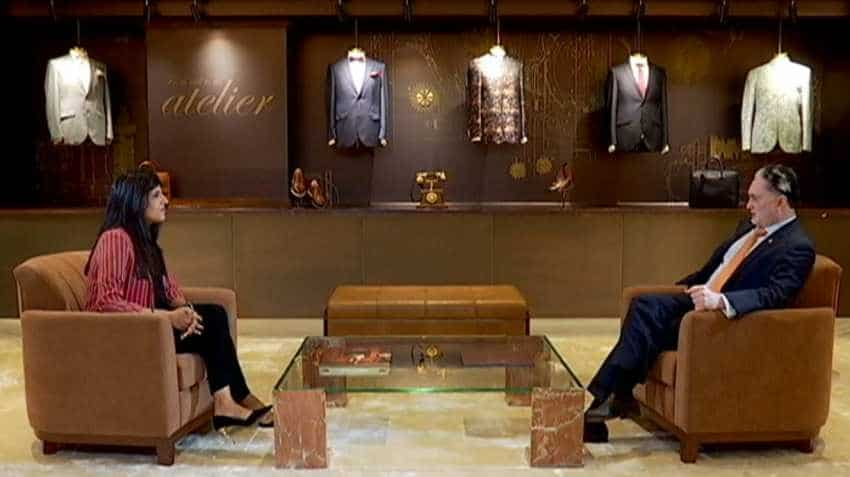 Gautam Singhania said, "There is a need to kick-start the demand and it can be done by providing certain exemptions in personal income tax". Image source: Zee Business
Edited By:
Jitesh Kumar Jha
Updated: Wed, Sep 25, 2019
03:27 pm
Mumbai, ZeeBiz WebDesk
Howdy Modi event has cemented the relationship between India and America and communicated to the world about the good relations that the two nations are sharing, says Gautam Singhania, Chairman and Managing Director, Raymond Group. During an interview with Swati Khandelwal, Zee Business, Mr Singhania said, " There is a need to kick-start the demand and it can be done by providing certain exemptions in personal income tax". Edited Excerpts:
Q: The message given by Prime Minister Narendra Modi and President Donald Trump during the Howdy Modi event signals stronger ties between the two nations. How will you assess the way the two leaders spoke?
A: Two things have happened simultaneously (i) Indo-American relationship has been cemented lot more and I think perception is a reality. The fact is, President Trump participated in Prime Minister Narendra Modi's event and sat there throughout the day. Thus, it has been a communication to the world that friendship between India and America is a good one. And, the message is good for Indian business in the long-term. You have heard the speeches of the two leaders, interestingly both are eager to do good for each other. Secondly, PM Modi's stand against terrorism and Trump's reply to it has sent a message about what is there in the mind of the global leaders.
Q: Is it a big achievement for India?
A: Of course, as someone was saying that no other leader except Pope who has pulled such a crowd. PM Modi is a charismatic leader with abilities to pull the crowd, interestingly, he didn't only pull the crowd but has also pulled President Trump from his Oval office.
Q: The market has taken the corporate tax reduction announcement from Finance Minister Nirmala Sitharaman in a positive way. What is your view on it?
A: It is an important announcement as the industry was in great need of the same. It has brought corporate tax in line with Asia. Now, there is a need to kick-start demand. I think certain exemption in personal income tax can create demand. Reducing of GST rate slabs can also boost demand. But, having said that, I think the move has been taken in a right direction as the government has in its mind that there is a need to kick start the economy, which is important as they have understood the problem. They should be given time as so far they have been stuck in 370 and great work has been done on that front. And, now, tax benefit has been given. I have confidence, today, that they have in their mind that they have to do something, but things will be done one by one.
Q: The government has also raised the matter of slowdown and people were banking a lot on the upcoming festive season but not many people are hopeful that its translation can be seen soon. Do you think that?
A: Slight signs are visible but I am not over-optimistic just now. Thus, we have to be realistic.
Q: Do you think that the tax cut for new investments starting from October 1, 2019, will kick-in the private investment cycle in India?
A: It will have an impact if you start investing at lower taxes. This is the second term for the government that too with full majority and that's why they should peep into the labour laws, this is my personal opinion. Because, if it is not done by such a strong government with a huge majority then no one else will be able to do it. Secondly, the labour reforms - pending for years - is brought into place then it will bring a fundamental discipline in labour. Labour reform is needed more from the point of discipline, hire and fire, accountability. It will give a boost to your efficiency.
Q: What are your expectations for the textile industry from the GST Council amid government's approach to meet the fiscal deficit targets which are a challenge, which has increased after the announcement of Rs 1.5 lakh crore?
A: Slight lowering of the GST rates will give a boost to consumption, which will increase the collection. I am not an economist but think that a slight increase in the fiscal deficit - for a short term - will not create any serious problem. Growth in demand can help in meeting it. For instance, the entire auto sector is witnessing a deep problem, which is giving rise to the problem of job losses. Thus, these things should be corrected and it is needed. Corporate tax has been brought down and it is a good move but there is a need to give a boost to demand, which can be achieved by reducing the personal income tax, which will change the sentiment. Demand is dependent on sentiment.
Q: Can you list the top three things that are needed at this juncture?
A: They are (i) PSU divestment, it will bring money to the government; (ii) infrastructure, speeding up of the infrastructure. For instance, my pet projects are doing well in Maharashtra but the environmentalists come forward to block it. We should move ahead as in the short-term damage to the environment because the coastal road, which is a phenomenon project in my opinion and I think that the government and judiciary should support it in entirety. These environmentalists see things with a short-term perspective but it is going to be an alternate road. For instance, two weeks ago, we have a dinner arrangement at my home but people took 6 hours in reaching from the airport because the roads were flooded. But, the coastal road would have acted as an alternative route. The city has to go out. Thus, such infrastructure projects should be fast-tracked, maybe, you will have to constitute an environmental committee to look into the objections and overcome it. Let, it not become a hurdle. This is a way in which India can move ahead. The coastal road is a short-term impact but if you see further than how much less time cars will have to spend on the road.  
Q: What is your target for rest of the year amid volatilities?
A: The demand has been subdued for the first six months and everyone number are out. Any action on what we have talked earlier would revive things. But, I think, this year will remain little subdued but 2-4 measures can bring us back.
Q: What is the rough target that you have targeted in terms of top-line and bottom-line growth?
A: Each business is different so it will be difficult for me to give you numbers business by business as we are into multiple businesses. But, my view on what I talk with people in the industry then companies will be anything between flat to 10%. This is the range now. I don't know about who going to be where but this is the sense, I get.
Q: Did the announcements related to rate cut has brought any change in your plans?
A: No, not yet because your investment commitments take due time, around two-three years, to come in line. Raymond is not doing any Capital expenditure just now as we are at the end of our capital expenditure cycle because we have invested a lot in the last two years. So, we will not plan any new investment until these investments are not stabilized.
Q: Update us on the response that you have received in specific verticals like Khadi, new stores and a new line of clothing among others?
A: It has been a mix-basket. It has seen little less growth compared to what we expected but that is a general economy. So, you can't do about it.
Q: Inform us something about your line-up products and the segment where you would like to focus?
A: Certain lines like ethnic wear, khadi, made to measure, footwear, accessories. linen and shirting are growing. And, I think ethnic wear and footwear are a big opportunity for us.
Q: Do you have any roadmap for ethnic wear and footwear?
A: Yes, each brand has its roadmap.
Q: You have told about your Vision 2025 during our last meeting. Is there any upside in it?  
A: Today, it is impossible to make a five-year plan because it is a VUCA world. There is too much volatility and many exponential things are happening. So, we do three-year and we do rolling three-years. It is corrected annually. For an instant, there was a slowdown this year, which means it will be difficult to meet your plans for this year and everything will get delayed. And. this is the way I see today.
Q: You are expecting single high-digit growth this year?
A: I can't say where we will land up because the first six months have been subdued. Now, there is cautious optimism. Unfortunately, Shradh seasons are on at present and it will end on September 28, 2019, and then we will be able to get the real pulse/picture. I am saying cautious optimism because the indication is there but the indication is not everything, it has to translate.
Q: Do you think that no transmission of the three rate cuts by RBI to consumers can have an impact on buying sentiment?
A: Demand is based on sentiments. I think the last market was up because of the tax rate cut and then on Howdy Modi, and the events feel good has been seen in the country. There is communication about good relations between India and America. Such, things can also give a boost to the market. Sentiments can be changed in a while and this can be exemplified by sighting the market movement of the two days, which has moved about 3000 points in just two days. Thus, things can be changed within a week. It is not so that there is no money, people have money, but are not in a mood.
Q: You have established certain plants at international destinations like in Ethiopia. So, let us know about the destination that will give good results and those who will not do well?
A: We went to Ethiopia with great hopes but unfortunately the country had some political issues, which led to certain setbacks. But, I am quite bullish in the long term. So, we had a short term setback, which is known. There were disruptions and unrest in the country. Before setting up the plant, the country hasn't seen any unrest in 25 years. And, we were not the only company to do so, even others including Americans have also established plants in the country. But in the long term, I still believe in Ethiopia and that's why I am not concerned.
Q: And what about other markets including the Asian market?
A: America, the UK and Japan are big markets for us and then there are several small markets.
Q: Do you have plans to increase your focus on the international market or you are okay with what you have?
A: Yes, it will increase and that's why we have opened an office in New York and strengthened the London office. We have also appointed several agents in Europe. If India turns up to be a manufacturing hub then we will have to send our products to other markets.
Q: Do you think that this is the right time for the real estate sector at a time when the government is also trying to push it?
A: We have two sections of real estate and that's why we can't paint the sector with a single brush. And, luxury is in trouble at present and the builders, who are overleveraged are certainly in trouble. But, if you are developing affordable houses at price and delivering it then you are good. And, this is my view. I am a new play in the real estate business.
Q: Are you sceptical with the way real estate has come out at a time when several people are exiting from the sector?
A: Why talk specifically about the real estate sector as people exit from other sectors when it doesn't do well. Failure is a part of almost every industry.
Q: But, the overall industry is under stress at present?
A: Yes, the real estate industry is quite stressed but partly, they have also overstretched themselves. Secondly, the NBFC crisis has played a bigger problem as finance has dried up. Thus, there is a double whammy in which finance drying up has stopped the demand for the apartment, which in turn has created stress. Thus, it has turned into a vicious cycle. How we will restart the cycle without NBFCs are not kicked off and there is an availability of finances in the market?
Q: Tell us about your vision in the real estate sector as a builder that is different from existing players?
A: Land available with us is historical and we want to make affordable housing. We have to move large volume, make the best product and do everything by keeping ourselves within Raymond's brand ethos. We have seen very good traction in the first six months of the launch. Our apartments are sized between 500 to 650 square feet and we will make a flat above it and the other one below it but will remain in the same market. Price is right as we have a historical value of land, which is helping us. Thus, sustainable products will be developed and sold by us. I will be the first to sell in the market and then will not be bothered.
Q: Thus, luxury is not your area where you will get in because the brand ethos stands for premium?
A: It stands for premium and we have a unit for Rs150/meter. Like we say from a taxi driver to Mr Tata everybody gets value on the brand.
Q: It seems that you are bullish in real estate. Thus are you just restricted to Mumbai and Navi Mumbai or you will go beyond?
A: No. We are only doing real estate in Thane, nowhere else, because we have the land and are monetizing it. The project is big enough, as of now.
Q: In terms of monetization, you have earlier said that your core endeavour is to keep getting out of non-core and slowly you are moving out of many things. Do you have anything else, if yes, what is your plan on that?
A: We always look into ways to increase shareholder value and monetize assets like land, which faces issues and we cleaned up everything and started a real estate construction. On part of education, we have started a school in Thane. We will have around 15,000 students in the two schools that we have in Thane. So, it is a very large location. We are doing an integrated township there. Thus, we are in line with what we have planned.
Q: Will you have a focus on education?
A: Education is an NGO for us. It is a trust but I am thinking of how to make education into a business. We will make money in education but will put it back in it. Thus, how do we corporatize it?
Q: Will it go beyond the realms of Maharashtra?
A: Yes, we have a school in Madhya Pradesh and will have it wherever the opportunity comes. We want to educate children and do not care whether they come from Maharashtra, Haryana, Punjab or Kerala.
Q: Is there anything in envelop in recent future or the next two years?
A: We have opened a school on June 6, 2019, and will do three more schools in the next two years and they are on the drawing board. Of these, one will be opened by June 2021 in Mumbai. The second we will do in the interior part of Maharashtra and we are working on it and it is likely to start functioning next year. Plus, we are looking at one more. It is a CSR part.
Q: The Finance Minister in the recent past has expanded the scope of corporate spend under Corporate Social Responsibility (CSR) norms. Are you happy with it?
A: I think, it will be good for India. People find it difficult to take out money for R&D but if you take it from CSR then, of course, it is going to be easier for us to do.
Q: Update us on Motorsport, which is your passion. How are you promoting it?
A: I try to do whatever I can. Now, the monsoons are over, so the championships will start from October onwards and we are looking forward to that. We have been working on some new formats, i.e. more cheaper championships in which we are trying to bring the cost of motorsport down. So, we are continuously working in that direction.
Q: Can you provide any detail about it?
A: See, we say India has roads or doesn't have roads and when we say don't have road and it is a problem but we see it as an opportunity because there we can do off-roading machines. We are trying to develop across start which is a go-kart but for the off-road. so, that will come at a very cheap price and if we get it done properly then we can use it to promote off-road racing.  
Q: Has the plan moved ahead?
A: Yes, it has.
Q: Then by when it will be available in the market?
A: I still don't know by when we will be able to the carts ready, the cross carts, but there is a full effort on it.
Watch Zee Business Live TV
Q: Any message for new entrepreneurs who are aspiring people who are coming out with an attempt to join the league?
A: You have to believe in yourself as winning and losing is a part of the game. Not everybody succeeds in the first time but if you have a desire and a will to succeed then you will succeed. Even, I didn't had a straight journey and have gone through ups and downs and faced challenges every day. Every morning, I wake up with a new challenge but that is life and you just need to stay focused and steer the cos and deal with it.
Get Latest Business News, Stock Market Updates and Videos; Check your tax outgo through Income Tax Calculator and save money through our Personal Finance coverage. Check Business Breaking News Live on Zee Business Twitter and Facebook. Subscribe on YouTube.