Exclusive: L&T will look to build aluminium plant worth Rs 10,000 crore, says non-Executive Chairman A M Naik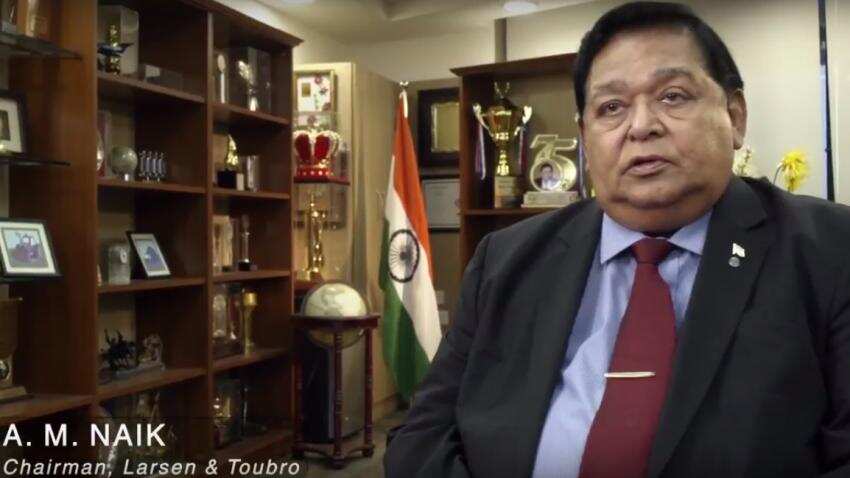 Larsen & Toubro Group's non-Executive Chairman, AM Naik, speaking about his book, The Nationalist. Image Source: L&T/ Youtube
We were joined by non-Executive Group Chairman of engineering and construction giant Larsen and Toubro, A. M. Naik, who spoke about his book 'The Nationalist' and shed light on L&T operations as well. Naik spoke about building of an aluminium plant and later selling it off for a profit worth much more to the company. He also revealed his work ethic that makes him work a grueling 16 hours per day.
Naik has served the esteemed company for over 52 years, including as its head for over 17 years. He assumed the new role of non-Executive Chairman for three years beginning October 1, immediately upon his retirement as Executive Chairman on September 30. In an exclusive interview with Zee Business, he shared his life experiences.
You can watch the full interview here:
Excerpts from the interview:
Interviewer: I have Indian Industry Titan, L&T's AM Naik with me who feels he has not only created the country's best manufacturing and engineering company, but also, he believes, he has helped in creating a nation.
Mr Naik, thank you very much for talking to Zee Business. You have come out with a book, it's a biography titled as Nationalist.
Why did you choose the name Nationalist (for this book)? Many a people now say nationalism is not something you carry on your sleeve.
If you are a nationlist, there is nothing wrong about it, but you don't need to tell it to one and all. So why did you choose the name "Nationalist" for your book?
Naik: I have not done that. The book's name is not given by me, it's given by Minhaz Merchant, the writer. Once he went through all the scripts, I mean, all the material he had, he read through it. Till that time the title was not fixed. He interviewed me 8-10 times or rather chatted with me... and later on he was toying with three- four titles, one of them was Patriotic, another was Nationalist, and all that. And finally he decided Nationalist along with the publisher.
So, the name given in the book is not my doing, but from what I have done in all my life and right from my childhood, my thoughts, my dreams of what I wanted to do in life,
I think he came to a feeling that this is more appropriate. But as I said, it's not me who has given the name.  
Interviewer: You may not have given the name, but he (Minhaz Merchant) must have felt that there is something in your conscience, and you are also saying that from childhood you wanted to do something to take forward your country. Do you feel it's true for all or it stands only for a few that whatever they do, they think of benefiting their nation before their own interest.  
Naik: My principle is first (comes) the Nation, second is the company, and third yourself. You can see I have an Indian flag here. You can see there is an Indian flag there.  on every table of mine, there is an Indian flag. It's not for showing because nobody comes in my office, but it reminds me that you are supposed to do the national duty first.
When I was a student, I used to think of which company wil give me that spirit of nationalism or national feeling, because my grandfather 120 years ago was a gold medallist. He started a gurukul school and he served for nearly 60 years in a poor, schedule caste, schedule tribe, backward area in a small village.
My father under Gandhiji's influence want back from Mumbai whereas 99.1 per cent people come to Mumbai. He went away and started a school, or rather became a principal of the school which was just starting. Now that left a lot of impression, an impact on my mind. What am I going to do: my two generations have served between them 100 years in the rural India (at a time) when the rural India was hugely backward compared to today. So, they have taken (faced) all kind of difficult situations with them; my sister of course filled in a gap by becoming a teacher, but then I was wondering "I am an engineer, what am I going to do". This was partly the reason why I became IIMA chairman and accepted to really contribute something for the education, but L&T is the only company I dreamed of.
I am talking now of 55 years ago.(I used to think) which company would give me that feeling or a  platform because L&T had plans to build projects, to build very critical equipments for the nation, really  prime projects, whether it is nuclear reactor, or nuclear submarines, whatever! So, I felt greatly that somehow I must get into L&T. I could not because I was not an IIT graduate. My father went back to village. He told me to go to Wallabh Vijay Nagar. I went to Wallabh Vijay Nagar. But destiny brought me to India. It's a long story but the fact that I was in L&T in 18 months after graduation and I am finishing 33, or rather finished 33 years, no, 53 years here.
Interviewer: You have mentioned in your book that though you have worked in L&T for 53 years, but  actually it's been around 100 years that you have worked for L&T.
Naik:   My average working day had been 15-16 hours a day.
Interviewer: So, you said it was your temple. "I went to my office as my temple". Now that you will have suddenly some more time on hand, what are you going to do? Are you going to look for another temple?
Naik: I don't have much time on hand. I can still do a lot. Social work, philanthropy, mentoring, promoting new projects which are not mainstream to L&T, restructuring L&T, re-layering L&T...a lot of things for  which I work about 40 hours a week. But remember, I used to work 70-75 hours a week. So to that an extent, I have come down a lot but it is still what full time work is for most of the people.
Interviewer: Definitely. Now let's talk of succession planning. You have always said that L&T will have a proper succession planning and now you have anointed Mr. Subramaniam as your successor.  But despite that, you continue to work with L&T as non-executive chairman. Why was there not a clean break?  Is it because the company needed you?
Naik: Yes, one thing was that the company needed me. It's the decision of the board. And also quite a lot for shareholders who demanded there should be a continuity in the company upto a point. Once we see (for) 2-3 years that the company is doing very well and the next CEO, Mr Subramanian- who I have mentored for 10 years- is an outstanding man and he will do a good job. But the clean break was not in the interest of the shareholders, and not in the interest of all stakeholders. That's what the board thought was.
As far as I am concerned, for me L&T is my life and I have said devotion, passion, conviction and commitment are my four principles on which I have built my career.
And therefore, if anyone tells me "Do this for Larsen & Toubro, whether you come to work or not come to work", it's so enthusing me that I am still mentally and emotionally connected (to L&T).
Interviewer: that's great, Sir! The reason I am asking you this question is because recently we have seen some (unfortunate) episodes in succession planning in Corporate India, be it Infosys where an outside professional (Vishal Sikka) was brought in the company as successor or in Tatas, the case of Cyrus Mistry. So, people are now questioning if you lack confidence in the (new CEO)! 
Naik: I said I need not to decide on that. It was a collective decision by the board and some of the shareholders, but I have no doubt about our succession plan. Our succession plan is very robust. It has been done very smoothly. Even the media did not have any doubt or did not raise any speculations, so I have no doubt that the new team will work well.
That team is-- anyways 6 out of 7 I have nurtured and so, they are really a team created over a period of time with my association. And now I am working for the future of L&T: I am not interfering in the day to day affair. In fact, that is done by the CEO. But I am mentoring team 2. (Mentoring of) Team 1 is over, and Team 3. Team 2 is around 45 years of age, team 3 is around 35 years of age. So that, when this team is retiring, sometime in next 8 to 10 years, the next team is ready and (about) 75 to 80 per cent of them will come onboard. Team 3 will be ready by year 2030. So, therefore, up til year 2040 I want to build leaders so that L&T remains strong.
Interviewer: Mr Naik, can you tell us that in your non-executive chairman capacity, you have said you will be mentoring the leadership teams of L&T. What is your other mandate besides this? What do you want to do with L&T?
Naik: I had foreseen, or rather I have planned, (building of) an aluminium plant that is not a mainstream of L&T activities and will not be also. So, if the government gives us the mining licence, which it should because we are already in the queue, or rather we are already ripe for getting it, then we will create an aluminium plant worth 10,000 crore or 9000 crores, and then we will sell it. I think we will make a handsome profit and that you can say is another act (from my side) to Larsen and Toubro, of giving them some value. And it's not interfering with the CEO role because it's not going to be a part of L&T.
Interviewer: Right! Sir, the L&T today is different from what it was 50 years back.
Naik: In fact, it's also very different from what was there 20 years back.
Interviewer: Right, the company has now grown so much, it has so many diversified interests, and your boots are very big to fill. What do you feel is going to be the direction of the company. At this time when private capex has come to a standstill, your company can compete with the best in the world when it comes to technology and engineering capabilities. But when the investment is not there, and your business is so big, what should L&T do here? You are talking of making an aluminium plant and selling it off. You are looking at consolidation here!
Naik: The plant has to be made. And just the plant is going to be of Rs 6,000 crore, just that plant.  And to create that plant, visualise that plant, engineer that plant---technologically advanced plant -- and then sell it for a value which will bring profit to the company. Apart from the fact that L&T will build capabilities to put the alumni plant but that is only one part of the story. You see we have opened new territories in Africa, East Africa and South Africa and North Africa.
 We have now opened Far East now, Central Asia that is Ajerbaijan, Turkmenistan and all that where we will do projects, something which we did not do before that is because... India is not necessarily at peak because of the private investment not being there. We need more work to come from outside. At the same time, the oil prices have come down, so the Middle East has gone down. So, therefore, we had to go through a temporary period of stabilising operations but cut the costs and increase the profits. So, if you see our second quarter results, we have increased our profits (by) of more than 19 percent although our sales have gone up by 8 percent. It will still go up by 10 percent, you know-this year, but for us 10 percent is, I mean if you go to the western world and I say I am not growing fast enough, at 10 percent, they get up and say "I salute you. We grow at 2-3 percent, but in Indian market, we are used to double digit growth. Therefore, it may look like that, but otherwise, L&T's volume has gone up to 1,25,000 crore, and we still have an order backlog of 2,75,000 crores. It's a 2 year order backlog. So, I think we are not on a weak wicket. The fact is that we could have been on stronger wicket.
Interviewer: What I am trying to understand, sir is, what is your strategy from here on? You are de-risking yourself; with Middle East slowing down, you are going into other territories.
But what is the strategy? Do you want to consolidate, particularly businesses, concentrate on high value, high technology areas, and get out of the areas which are not working for you?
Naik: This is what I have been doing for a long time. Nearly, 17-18 small businesses, non-core businesses, demerger of cement, selling ready-mix, all that I have done.
(But) there is a still a lot more to be done. And I am also very much doing that because I don't want that to interfere with the running of the main company. Something, which is not going to be part of L&T. So, I am already involved in demerger of some of the businesses through sale, restructuring, delayering of the company. Reduce one layer, make it more simple (relatively simple) to manage. I think this will go well and ...our future, we see and we have created a special group now for defence, and taken one of the person onboard, who is currently running a cement business, first time in 18 years and that shows we see a future in defence. Second is today's technologies, Smart World...
We have started a smart world group; we have 70 per cent market share, but we think it will exponentially grow as time comes, so we are prepared for that.
By the way, in Defence (sector) we have created 7 factories ahead of time, and so today we have done the maximum investment. We will continue to build very complex infrastructure projects, the one which we have taken now across the Mumbai to New Mumbai Bridge, I mean there are not that many companies in the world that can do it.
Let's be clear; 22 kilometers across water to build a bridge is not something which many can do and in India, nobody (other than us) can do.
Then, we just concluded a deal for the welding electrodes; we sold it and that has gone about 2-3 months ago or one month ago.
Then we have sold earlier our foundry and so we continue to do it. But, it happens as it happens.
Interviewer: Sir, talking of employees, L&T is perhaps the first one in the country that has come up with an employee trust holding to raise defence against hostile takeovers and you made employees stakeholders of the company. What was the need for this? Why do you feel the ownership should be diversified for a company to do well?
Naik: This is because we have no holding. You see this as Larsen Mr Toubro and Larsen Mr Desai were the promoters, but they sold their stakes early and therefore no promoter had any share. They did not exist also in the management. And therefore, we were always in the eyes of the storm. Company was good, people saw value in it and they think they can extract more value by better management, entrepreneurship, smart leadership, and dynamism, whatever.  And we did have that kind of threat for more than 15 years, right, and ... the employees always have a worry where they would be, lets us say tomorrow when they wake up or one month from now. So when that opportunity came, out of seemingly, you can say, a seemingly conflicting situation.. With Grasim, we finally sold Cement at good price and they went on to become the largest and the best cement company.  That (the sale) freed us from diversified mind, our mind was distracted. So, we came back to building our engineering prowess and at the same time, the company was split into cement and engineering. And then the engineering company was bought over, with the help of central government intervention by our trust, the foundation which I myself formed and we took 15 per cent share there. Today, they are worth Rs 20,000 crores, and we made sure that the management is not part of the trust because management should do their role and owners should do theirs. So, now that I have come out of management, I am the chairman of the trust.
Interviewer: You have mentioned it in your book, the takeover battle, before Birla, Reliance had also shown an interest. What were you thoughts at that time; what were you fears than in terms of L&T's integrity, professionalism? What were your concerns and how did you handle it?
Naik; I have never been afraid of anybody. I had a little apprehension as to what will happen to a long standing company, which wants to become very strong in future, what will happen to employees. So, I had a concern not a fear. And I think with the best of relationships, both with Reliance Group and Grasim  or Birla Group, I was the mediator actually;  I was not the one who fought in Reliance time (when Reliance wanted to buy out L&T)  and they had full faith in me. In L&T, I was anyways the most loyal man. So, we tried to see what we can do and when it did not happen due to a variety of reasons, they sold their shares to Mr Birla. And as I told you what seemingly, adversely started ended to be a win-win situation and today, both of them are our best clients; we have been working with Reliance Industries for more than 35 years. Cost plus, which is not heard of in Indian industry and we enjoy the best relationship. I salute for their entrepreneurship and they think we are doing a good job.
Interviewer: Sir, When all of this was happening, and Reliance, I am sure its intention was that this (l&t) is a good company and we should have a holding here. Did you have any concerns then?  They did sell their stake, they sold it to Birlas, and then that business was also demerged. You demerged that but when Reliance was testing your company, did you feel things were not going to work out?
Naik: No, I think it's an old story now. This is a 25-years-old story and I don't even want to go back into history because I don't want to remember what happened day to day. I was also not on board (then). This started in 1987 and I came on the board in 1989. I think it's best to say we ended, whatever we ended, well. We may have started with a little hostile attitude, but finally we created a win win (situation) for all the companies; all are doing  well fortunately, and among very few companies, may be 5-7 which are doing well in the private sector, all three of us are there. And that shows things could always thought to be better.
Interviewer: And is that the reason why you all are friends now, because it all ended very well?
Naik: No, I never made adversity (enmity) with anyone. I think throughout the process we did everything which was good for each one of the companies, but at the same time we never disturbed the relationship. 
Interviewer: I was reading your book. And here I see you have taken a lot of inspiration from your father, from your father's words that if you are in right, there is nothing to be afraid of.
And whatever you do, do it well. And that your commitment should be there. You also said in the book that L&T was your dream job. And you have stayed in this dream job for so long. You said earlier you got quick promotions but then there was also a phase of stagnation.
It was your dream job but did you ever think that perhaps you should look out as you were stagnating?
Naik: I tell you, this is a very good question because when I joined in 1965 until 1974, i had 6 promotions in 9 years. I did exceedingly well; I was a non IITian, therefore from day 1, I could not count. But against IITian (in comparison to IITians) I went far ahead. Similarly against people who came from America, Germany and all that, by sheer devotion, commitment and passion
I used to work 16 hours a day, not many people can work (like this). When I married my wife was 18 and I was 22 years of age, and for 21 years, I did not take a leave. So, not many can do that. My wife supported me throughout and the fact is that I used to come home at 12 and sometimes not at all.  Because there was no bus and I did not have a car.
I did not have any mode of transport and public transport was just closing, even now at 12 o'clock. So, I think we have go through a lot of struggle and I personally feel, looking back, that possibly I overdid that. I should have spent little more time with the family and make them also feel part of the overall success story.
Interviewer: You have contributed a lot towards nation building. How are you finding India's growth? Where do you feel the country is heading under the leadership of Mr Modi-
Do you think he is undertaking good reforms? What do you foresee for India, going ahead?  
Naik: So, there is a good opportunity to build GDP, Gross Domestic Product. As we say it took us a long time to do the first trillion dollar, it took us 13 years to build second trillion and then I think the third trillion, as yesterday or rather the day we opened with (launched) the book, it said will be in 7-8 years, and then the fourth trillion will take 5 years. So, there is a great opportunity. I think we all have to work with honesty, a sense of purpose, clear direction, dynamism and make sure that we are devoted to that cause.
Interviewer: The government's flagship programmes like Make in India, the indigenous production of defence equipment; these are good ideas but the progress here is quite slow. Do you think the reforms are going to pick up pace now and how much would be the contribution of L&T towards that?
Naik: L&T was from the beginning Make in India. When hardly any company (in India) could make nuclear reactors3, we got involved in building India's first nuclear reactor in 1965- that is 52 years ago-and we delivered it in 1971. Since then almost all the nuclear reactors of India have been built by us. In 1975, we got involved in space programme and we have manufactured right from 100 kg satellite launch to 4-5 tonnes with multiple satellites, and one of the launch had 104 satellites. So, we have come some way. We participated in the Mission to the Moon, Mission to the Mars and then we built nuclear submarines: only six companies in the world can do this.
So, we are already in the Make in India programme, deeply for more than 4 decades before this so called phrase of Make in India was even coined. I see a great future for the country in any case. We have to work hard. And I think we should take up programmes which we can successfully implement. We should not have too many programmes and then all remain not necessarily perfectly implemented and you get returns. So... I have full faith in the leadership of Narendra Bhai and I am sure he will do a good job.
Interviewer: Thank you so much for speaking to us!                                                       
Naik: Thank You!
Updated: Fri, Nov 24, 2017
10:30 am
Mumbai, ZeeBiz WebDesk