Every Customer is Equal for us; We work to satisfy them at all levels: Suresh Narayanan, CMD, Nestle India
 Nestle started its journey with five to six farmers in 1961 and today, we have the support of more than 1 lakh dairy farmers of which about 70,000 are women dairy farmers.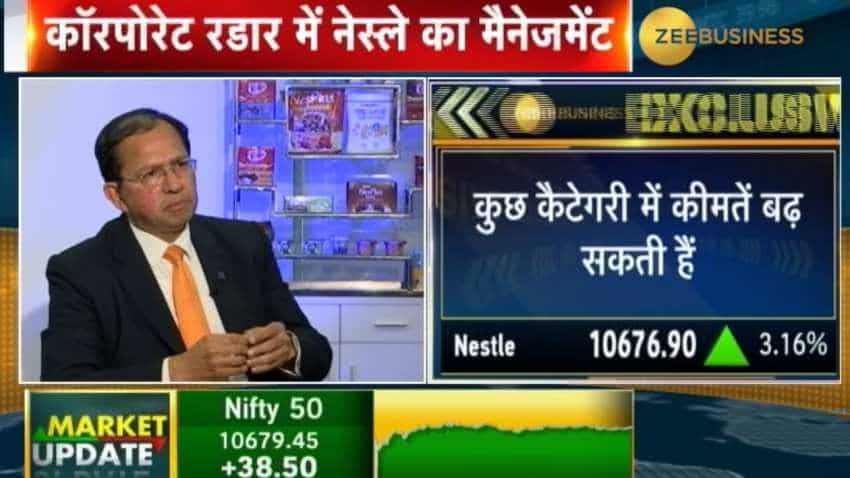 Fifteen different clusters has been developed within India with a special focus on the customers.
Suresh Narayanan, Chairman & Managing Director, Nestle India Ltd., spoke about Nestle's journey from being a company supported by four-five farmers to an entity that is backed by more than 1 lakh dairy farmers, its aim to satisfy its customers in all age-group and different purchasing power and plans to penetrate more in India during an exclusive interview with Dimpy Kalra, Zee Business. Edited Excerpts: 
Q: Nestle has reported good numbers in the fourth quarter but there was a problem with the margins that remained low. Let us know about the two things, growth and the margins?
A: Nestle started its journey with five to six farmers in 1961 and today, we have the support of more than 1 lakh dairy farmers of which about 70,000 are women dairy farmers. Thus, the company has reached a far destination in its journey. 
When it comes to our growth trajectory than we reported good growth in the last quarter and reported an overall domestic growth of 12%. Our volume grew by 9.4%, which is a commendable growth. In fact, we have been posting a double-digit volume growth from past 7-8 quarters. Double-digit growth matters to us because it helps in increasing the customer base and penetrate in the category. 
It was the last quarter where we decided to support our new launches to keep a tab on them through advertisement and promotion. That's why our last quarter advertisement and promotions budget around 370 basis points more than the corresponding quarter of the previous year. We have spent a lot on advertisement and promotion of certain products like NesPlus Breakfast Cereal, Nescafe Gold, chocolate, confectionary items, and Maggie noodles. 
Q: Will you continue with the expenses or it was a one-time effort?
A: It is not going to be the same but will be moderated. But, you will have to water and add fertiliser to a plant if you want to see it growing as a tree. Similarly, our brands are like humans and that's why they should be fed as the humans are fed. But, they will not continue to eat in the same manner after five years as they had in the past and that is why they should be groomed for the purpose. 
Q: Nestle has launched 39 new products in the last two years of which 24-25 products have succeeded in making a place in the market. What's next and who is going to be the target group, like kids, everyone or some specific cadre?
A: We have a motto of satisfying everyone, from a child or a youth, who is trying our brand. For me, a customer buying a product of Rs2, Rs5 and Rs2,000 are the same as we need to satisfy them in accordance with their brand and consumption. You would have seen that our products are distributed in different age groups, but it has an exclusive demand among the young population. 
Q: Nestle has created fifteen clusters to penetrate in rural India. Please throw a light on it?
A: Fifteen different clusters has been developed within India with a special focus on the customers. In the process, the consumer has been kept at the top and the chain is followed by geography, category, brand, channel and then the customer. We had a different approach in the past in which products were planned, developed and implemented on a pan India basis. This was a spray-spray model where the products were sprayed across India with a hope that it will succeed. 
Q: This means there will be a difference between the Maggie being sold in Chennai and Delhi?
A: See, there is a difference in taste in the Maggie that is being consumed in Chennai and same goes with the satisfaction level of the two places. We will keep it in mind while developing our products in future as the facility is not available at present. But, we have plans to develop our products on a regional basis to make sure that people have a choice of taste.
Q: Several things have been announced for rural India like MSP. Crude and palm oil prices are also on a rise. Have you passed on the increased rates of the raw materials to the customers or it will be passed on in the recent future?
A: Rightly said that there is a price rise of certain commodities, but we appreciate the rise if it is benefitting our farmers in terms of their crops. It is good for the country. We, Nestle, are a science and technology-based nutritional food company with capacity and that's why we will try to absorb the increased cost of ingredients to a certain level and scale. But, the prices of certain categories may go up, if the rise goes beyond a level. We don't have any such plan at present. 
Q: Let's talk about the exports because you export a lot to Bangladesh and the UAE. Can you provide guidance on it? Indian Prime Minister says that India should also be known for packed foods and that's why he may come up with a food policy in future. What is your take on the government's stand?
A: See, our exports grew by 7% in 2018 and it has a 6% contribution to our domestic turnover. I stand by what the Prime Minister has said because India houses certain unique products that are liked by Indian diaspora who is living in other countries. Nestle has a range of such products like sauce, noodles and coffee among others. Indian's residing in other countries searches for products that they have been consuming since their childhood. That's why it is a good opportunity for the company and we will try to increase our exports in future. 
Now, when it comes to Bangladesh and the UAE, then it has happened due to demand adjustments that were fulfilled in the last quarter, as the demand was not fulfilled in that particular quarter. Thus, it is not going to have a long-term impact on our exports. 
Q: Nestle started its journey from Punjab. Do you have any plan to venture in South India by collaborating with a state? 
A: You will be happy to know that we have a coffee venture in South India. If you have a look, then you will find that we have Nescafe Plan in Coorg, Karnataka and Waynad, Kerala, where we work with Coffee farmers by offering plantlets to them that is developed at our research centre in France. These plantlets are better in terms of productivity and taste.  This is a way in which we are promoting coffee cultivation. Along with this, we also advise them on storage, curing and drying and then buy the product at fair prices, which is used in Nescafe products. So, this is the way in which we sync our plans with the local products, for example, Moga and Coffee plans. In addition, Maggie spices are also planned in the same manner. In the process, we have planned the six ingredients of Maggie Masala by sitting along with the farmers as it increases traceability and quality of the product. 
Q: Can you provide a roadmap of Maggie? 
Can you provide a roadmap of Maggie, as in will we get a chance to have 4-5 variants of Maggie or will have an opportunity to have different variants every month?
A:  You have a great idea of having a new variant every month. But, you will get a chance to see two-three different things with Maggie like the relationship that it has with its consumers before and after the problem that it faced. Interestingly, it tastes different, i.e. there is a difference in the way it is cooked at your place, my place and my friend's place, but we all are in love with it. The feeling associated with the brand will help us to work on other variants of Maggie that can be consumed at different occasions like breakfast and snacking purposes. We will just not work only on the noodles segment but also in the breakfast products. 
Q: Any CapEx for expansion of Nestle India and will it be adjusted internally or through external raising?
A: See, we have a CapEx Policy under which we don't borrow. We have our cash reserves that are used for investment purposes. The company is evaluating as we have seen good growth in the last 2-3 years. We are analysing the ways in which we can invest our capital. We are not one of them who operates every year with a set of decided numbers. We decide our investment in accordance with the need. This is a reason that we are balancing everything by foresing the kind of demand growth and identifying the capacity that will be needed to suffice it. 
Watch This Zee Business Video
Q: I have heard that you are poetic by nature. Can you please say something for our viewers and the shareholders of your company, Nestle?
A: I would like to thank you for the batch that you have given to me. I am a devotee of Sant Kabir and his sayings, which were meaningful in his age (about 500-600 years ago), is still valid or meaningful in today's world. I would like to use a couplet that still validates itself in this world, "ऐसी वाणी बोलिए, मन का आपा खोय, औरन को शीतल करे, आपहु शीतल होय" which translates to be "one should speak a language that is loved by the listener". 
Get Latest Business News, Stock Market Updates and Videos; Check your tax outgo through Income Tax Calculator and save money through our Personal Finance coverage. Check Business Breaking News Live on Zee Business Twitter and Facebook. Subscribe on YouTube.
Updated: Wed, Feb 20, 2019
12:19 pm
ZeeBiz WebDesk