E-commerce is expected to have a contribution of $100 million by 2023: Dipali Goenka, Welspun India
Dipali Goenka, CEO & Joint MD, Welspun India Limited, talks about the performance in Q4FY21 and FY21, margins, collaboration with Target Corporation, capacity in different segments, yarn prices and demand outlook among others during an exclusive interview with Zee Business Executive Editor Swati Khandelwal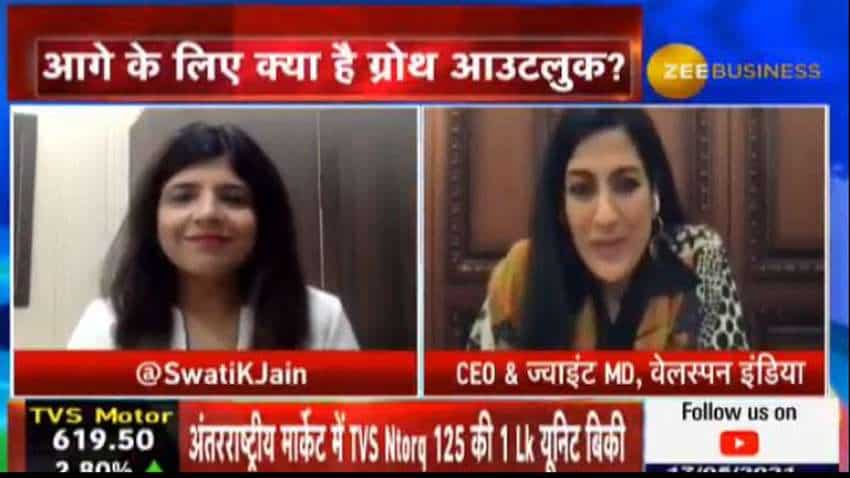 "Business outlook is quite robust and we are seeing 15% growth in WIL, 10% in the core business, 125% in flooring and around 40-50% in advanced textile," Dipali Goenka said
Dipali Goenka, CEO & Joint MD, Welspun India Limited, talks about the performance in Q4FY21 and FY21, margins, collaboration with Target Corporation, capacity in different segments, yarn prices and demand outlook among others during an exclusive interview with Zee Business Executive Editor Swati Khandelwal. Edited Excerpts:
Q: A strong performance has been seen in this tough time. What supported you and which pockets are performing well?
A: First of all, Welspun India scales to $1 billion in FY21 and there has been a growth of around 8% year-on-year and quarter four has also been good. If we will have a look at the market globally then the US has been very-very robust in the demand because the home economy has increased, vaccination drive and stimulus drive are at their peak. So, hence, our core business in the US along with the UK has been quite strong. Europe and the rest of the world (ROW) are gradually coming online. But, we have seen massive growth in the core business. Also, our brands - own licensed brands - and in emerging businesses advanced textile and flooring have posted 87% growth YoY and has 15% contribution in our revenue. So, it has been a great year for us.
Going forward, brands, e-commerce and emerging businesses will have a great contribution to our businesses in terms of volume and revenue. As far as Corona is concerned, then you are well aware that at the beginning of the year, the lockdown was there. Irrespective of that, we could manage to come back with these results, all thanks to our people at our factories and the drives that we took in terms of pent up protocols. And of course, our businesses were very-very robust, including the e-commerce that accelerated tremendously.
See Zee Business Live TV Streaming Below:
Q: Slight pressure has been seen on the margins although revenue growth has been good and international business has also performed well. So, going forward, what is your margin guidance and how we will see the focus on profitability?
A: First of all, I would like to inform you that the results you have seen for the fourth quarter and margins, we have not taken RoDTEP at all because of prudence. Currently, there are uncertainties and was applicable from January 21 due to which we haven't taken anything accountable of RoDTEP. Going forward, the business outlook is quite robust and we are seeing 15% growth in WIL, 10% in the core business, 125% in flooring and around 40-50% in advanced textile. We are seeing that margin will stand at an EBITDA of 17-18% despite all rod tape and all the commodity challenges that we are seeing here. So, we are very-very positive about this.
Q: You have made a scheme of arrangement with Target Corporation. Tell us something about it and how beneficial it can be for the company and what numbers are you seeing from this collaboration?
A: I will just say that we are working with all the global retailers, now, and have given all the information to those to whom it should be given. So, currently, I will not be able to say anything about it. But fundamentally business is looking very robust right now all the core businesses globally and we are working with all the retailers and significant growth is visible with all. We have a motto to work with 360-degree solution from farm to shelf, with each customer. And omnichannel play will be very strong with every customer. As I told you earlier that in our mix we have our emerging business like advanced textile, flooring and our brands and portfolio of the licensed brands will be quite strong going forward.
See Full Interiew Here:
Q: What is Welspun's annual capacity in Home Textile, Advance Textile and Flooring solution segments? How are these segments performing? Also, are you planning any CAPEX going ahead for FY22 or the next two-three years?
A: As far as CapEx is concerned, this year we had a CapEx of Rs 450 crore. Going forward, we have a CapEx plan of Rs 600 crore and it will be completed practically in the second quarter or half-year, for instance, we did it in our Brownfield project in textiles to debottleneck and to compliment the capacity with which our capacity will increase by 15-20% in towel sheets and rugs. Our Greenfield project of Spunlace of advanced textile in Telangana will also start in the half-year of 2022. At the same time, I would like to inform on the front on flooring in which we established a Greenfield project in Telangana for the Indian market but given the doubt to China and the prevalent pressure globally, we have gained a lot in hard flooring and our markets have opened in the US, the UK, Europe and the Middle East. So, we are also increasing its capacity and it will also be completed in the second quarter. So, overall, we have a plan of Rs 600 crore but would also like to say that our debt is around 0.64 and will stay below 1 and our CapEx will remain below Rs 2,400 crore, despite the CapEx that you are seeing.
Q: How Yarn prices are looking and are you fully integrated at the moment, if yes, what is the capacity? I think the textile business is ready to show good growth, especially, the government also has its focus due to the PLI scheme. So, what do you see for your company and will you participate in the PLI scheme? 
A: First of all, all the commodities have shaken this time, so, definitely there is a pressure on cotton as well as yarn prices. But now, just after the CORONA happened, the prices of yarn have softened slightly. And, Welspun India runs almost 100% integrated in terms of Yarn, so I think, it will be quite good for us. But definitely, yarn prices have been impacted a lot globally. As far as PLI is concerned, we have Brownfield projects in textile; hence, we cannot reap its benefit.
Q: There are challenges of CORONA. How do you see this wave and is there any change in the FY22 outlook due to it? Also, tell us how the April and May months have been in terms of demand and what are your projections for the future?
A: First of all, I would like to talk about the CORONA and if I will have a look at the global perspective then it is strong. In addition, we can work from home but our factories cannot. So, primarily taking care of our people and their security is quite critical. So, we are taking their care under our Penta protocols. Our hospitals and other services are being provided to them. So, definitely with this, our factories are completely secured. As you asked me about the market conditions of April and May, then in April I can happily say that our domestic market, despite challenges, has achieved at least 96-97% of the numbers. There can be a slight delay in flooring, which will go in the latter of the first quarter because we will face certain difficulties where lockdown will be in place.
But if I have a look at the global perspective, then the US is quite robust, the UK growth seems to be robust and Europe and the rest of the world are also opening slowly. So, definitely, e-commerce will have a purpose to grow everywhere. And as it had shown 70% growth in SPACES last year and it will have a lot of strength this year as well in e-Commerce India. Christy, which is our brand in the UK, had 2 million eyeballs last year and one-third of the total revenue of Christy also came from e-commerce. Our e-commerce growth gave us 84% year-on-year growth globally last year and has had a 6% contribution to our growth. By 2023, e-commerce will have $100 million contributions to our business. So the new way visible to us is related to our emerging businesses, advanced textile, flooring, our licensed brands and e-commerce and they will have a quite big contribution in our business.
Written By:
Jitesh Kumar Jha
Updated: Tue, May 18, 2021
04:59 pm
New Delhi, ZeeBiz WebDesk