Dr Lal PathLabs has cash of Rs 1,000 crore; it will be used for inorganic growth: Dr. Arvind Lal, Executive Chairman
Dr. Arvind Lal, Executive Chairman, Dr. Lal PathLabs Ltd., talks about the present business scenario amid a decline in COVID-19 tests, patient volumes, pricing pressure, plans to improve revenue & profit per laboratory.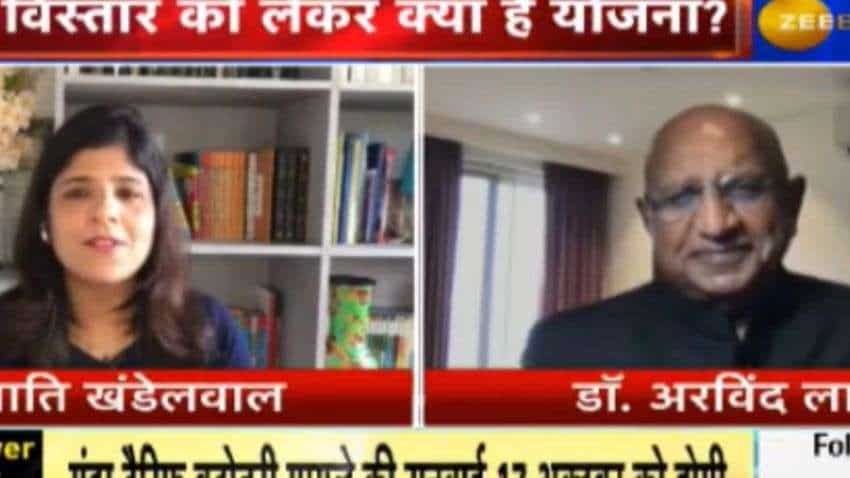 Dr Lal PathLabs has cash of Rs 1,000 crore; it will be used for inorganic growth: Dr. Arvind Lal, Executive Chairman
Dr. Arvind Lal, Executive Chairman, Dr. Lal PathLabs Ltd., talks about the present business scenario amid a decline in COVID-19 tests, patient volumes, pricing pressure, plans to improve revenue & profit per laboratory, the cash on the book and the way it will be used as well as expansion/M&A opportunities among others during a candid chat with Swati Khandelwal, Zee Business. Edited Excerpts:
See Zee Business Live TV Streaming Below:
Q: What is the present situation of the business and what is your outlook for the year? Also, as there is a decline in the COVID tests, so what is the company's focus towards non-COVID?
A: Rightly said and even we along with complete India wants a reduction in COVID. So, the COVID tests have been reduced a little nowadays. Non-COVID tests, which declined last year is running well now. In the case of the non-COVID, the biggest problem in India is non-communicable diseases like diabetes, high blood pressure, cancer, cardiac test and liver as well as kidney tests. So, these tests which had gone down because people, who were not able to get out of the homes have started coming to us and it has returned almost back to normal. 
Q: Number wise, can you provide us with an idea about the kind of numbers you are clocking every day, in terms of COVID tests and non-COVID tests?
A: In the first quarter of FY22, COVID tests stood at around Rs 105 crore as compared to Q1FY21, which was only Rs 56 crore. So, first I am talking about the COVID tests, and the allied test of COVID stood at Rs 74 crore from Rs 41 crore. Allied Tests category includes IL6 and D-Dimer and the CRP. In the first quarter, we performed it of around Rs 116 crore, while last year it was quite down because this test was conducted a lot during the second wave. As far as non-COVID business is concerned, in the first quarter, we did a net of Rs 386 crore as against Rs 206 crore last year. It was quite down last year. So, the non-COVID business is also coming back. 
Q: What is the growth in patient volumes and has revenue per patient has shown any improvement? Going forward, what is your outlook?
A: Revenue per patient has increased a lot during the COVID because it had RT-PCR testing and the allied testing, I have talked about. But it has not seen a significant increase. I do not have the exact figures right now and next time will bring revenue per patient but it has not increased significantly because patients are now slowly coming back to normal and COVID testing of course was slightly more in terms of revenue per patient which is going down now. 
Q: Tell us about the pricing pressures with many new players entering the market and competition has intensified. So, how the pricing pressure is looking and how will you keep intact your margins going forward from here?
A: When it comes to pricing pressure, then as you know that COVID testing started from Rs 4,500 and has been brought down to Rs 400-500 in many states. So, the pricing pressure will continue. Secondly, I would like to inform you that more than 3 lakh laboratories are there in the pathology industry, at present, and many laboratories are such whose standards are not maintained well. So, when a new entrant like that comes into play then we feel the pricing pressure but because this is due to the unorganised sector due to which it did not have a major impact on us. This is a fact of life that till these things will run more players will come. But I would like to inform you a good thing about the organised sector that around 3,000 COVID-testing labs are there in India at present, which is approved by the ICMR of which around 1,800 labs can conduct the RT-PCR tests, which is a big thing. It is not a 100% business-related question but this system that has entered India was not present earlier. So, imagine a one-and-a-half year ago there was just one lab or may there were no such labs but today we have around 1,800 labs. It is a matter of happiness for us that 64% of the labs in this, i.e., 1,500 labs belong to the private sector. So, the private sector has taken a great leap forward and going forward this will benefit because whatever diseases will occur in the future - I will pray that it must not happen – then the private sector and also the government are much more ready from the laboratory point of view to tackle any such epidemics. You would have seen the new strategy of the government of 'Test, Track, Treat and Vaccinate', I term it as 'T3V'. The first thing that comes in it is about testing and if the test will reduce then you will not be able to detect that how many people are infected. 
Q: How do you plan to improve your revenue and profit per laboratory?
A: The numbers I have spoken about earlier shows that our non-COVID revenue is increasing, so, there is no problem. Now, things are coming back to normal and it can gaze from the fact that in the non-COVID business, we did a business of Rs 386 crore in the first quarter of this financial year as compared to Rs 206 crore last year. So, what I want to say is that COVID is definitely going down, non-COVID testing will definitely come up. The non-communicable disease increases mortality and morbidity in around 65% of people in India and such patients who were not able to get themselves tested last year are getting out now. So, this is a good sign that life is coming back to normal. 
Q: Tell us about the current Cash on Books and how do you plan to utilize it? What are your plans for the next two to three years from the point of view of expansion, i.e., how many new labs will be opened and what kind of investments will be made and do you have M&A opportunities on the card?
A: We are a cash-rich company and we have got more than Rs 1,000 crore of cash with us. We have kept this cash for a rainy day in which when we will get an opportunity then we will definitely go for inorganic growth or merger & acquisition. The things that we did till last year, maybe will not be a piece of big headline news for you but we are getting business of around Rs 70-80 crore from the acquired labs, which is not a small number. Yes, you are absolutely right that as soon as a new opportunity for merger or acquisition comes, we will definitely take it. It is so that we will bring it into work. So, our investors will be happy to know that we are the number one player in diagnostics in India and this number one position will be maintained and we have done it in the past as well you can have a look at our track record. This will only go better because the business environment has changed.  
Get Latest Business News, Stock Market Updates and Videos; Check your tax outgo through Income Tax Calculator and save money through our Personal Finance coverage. Check Business Breaking News Live on Zee Business Twitter and Facebook. Subscribe on YouTube.
Updated: Fri, Oct 01, 2021
11:43 am
New Delhi , ZeeBiz WebDesk