Demonetisation is a good move for long term growth: Adi Godrej
In conversation with Manoj Dharra, Chairman of Godrej group Adi Godrej said that demonetisation will bring benefit in long term in longe term and ones  GST is implemented he expects double digit growth in India.Ttaking about the upcoming budget 2017, he expects government can lower direct taxes and there will be growth oriented policies.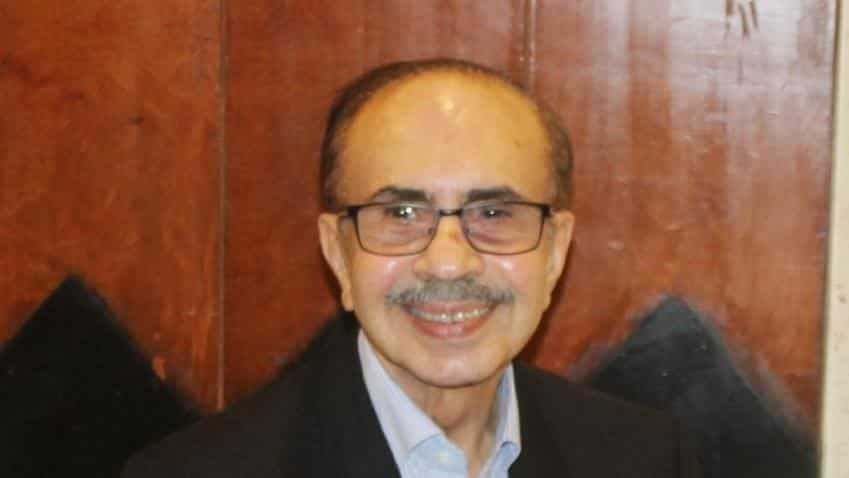 Kolkata: Godrej Industries Chairman Adi Godrej addresses during "Godrej Amitie 2016" an annual media meet in Kolkata on Aug 19, 2016. (Photo: IANS)
In conversation with Manoj Dharra, Chairman of Godrej group Adi Godrej said that demonetisation will bring benefit in long term in longe term and ones  GST is implemented he expects double digit growth in India.Ttaking about the upcoming budget 2017, he expects government can lower direct taxes and there will be growth oriented policies.  
  
MD – Indian Economy has emerged as the fasted growing economy in the world. We expect a lot from GDP, moving on is the demonetisation move. How do you see through this process?
 
AG – Demonetisation is a good move for long term growth. Black money will reduce, fraudulent notes coming from across the border will decrease leading to decline in naxalism and terrorism. I think it will bring along benefits in long term even if we witness shortage of cash and economic difficulties in short term. However, the difficulties that were witnessed in November have reduced considerably in December. Additionally, it will be restored in the coming few months and hence the sales losses will be restored as these stocks would also be replenished.
 
---
MD – The main objective of demonetisation was to curb black money and fraudulent activity. What do you think so in terms of consumers off take and from now till when do you hope for revival. And what has been your strategy in all this?
 
AG- Our consumer off-take especially in FMCG for December has been better than the same period last year. I see restoration already since our quarter has also gone well. I think we will see replenishment in January and therefore the economy will not bear much loss.
 
---
MD- But the consumers have postponed their buying, they are facing cash crunch. You primarily deal with consumer product and cater the direct demand. What is your strategy and how important will it be to align your company for this process?
 
AG – I feel there will be sufficient cash inflow from January and the hesitant consumers will be back in the market. After remonetisation, the stocks will replenish and there should be normalcy in growth by March.
 
---
MD – Please elaborate if you think we can see a vertical rise in demand after remonetisation. How do you pre-empt this process?
 
AG – I think the hindrance in GDP growth witnessed during November will be restored and GDP growth will be back on track by March. Once GST is implemented in next financial year, there will be significant growth. In fact, we may also witness double digit growth in India once GST is fully implemented.
 
---
MD – We hear to pump prime the current slowing economy the government may announce some tax incentives. What is your expectation from budget 2017?
 
AG- I feel the upcoming budget will have many direct tax incentives and there will be reduction in direct tax rates. The greater the reduction in rates, better it will be for the economy. High direct taxes has never benefited any country, while low direct taxes always trigger economic growth. Therefore, I think this will be implemented and we should see increase in government revenues. Additionally, the deposits that have come into banks after demonetisation will see taxes and penalties in many cases leading to increase in government revenues. Hence, the government will be able to do this and control the fiscal deficit.
 
---
MD -You are present in every sector from consumer related to real estate …What are your expectations from the budget in 2017 which will boost these sector, create jobs and will impact the spending's as well?
 
AG - Budget 2017 may concentrate mainly on direct taxes since there will be no changes in the indirect taxes due to the upcoming GST. As it has already been discussed, some details will be added and the bill will be passed. Hence, the focus of the budget would be more on direct taxes and there will be growth oriented policies. This budget might also look at real estate to increase the consumer's purchasing power.
 
---
MD -Can you highlight the need for changes?
 
AG -The maximum rate of direct taxes for personal and corporates should be reduced since it is high compared to other countries. Maximum rates should be around 25% and if implemented it will benefit the GDP growth as well. Additionally, the implementation of GST will further benefit growth.  In turn, growth will assist in reduction of poverty within the next 3 to 4 years. Further, the government's revenues will increase and it will benefit the country.
 
---
MD -GST, trumpflation and demonitisation has ruled 2016 and we have carried the luggage in 2017. Rural related announcements are expected in this budget and as you are directly associated with this segment. What are your expectations for the rural sector from this budget? What announcements are you expecting?
 
AG -I feel rural sector will be in the forefront. There was a lot of negative effect due to two bad monsoons. However, the last monsoon was good and I hope this monsoon will also be good. I expect this budget to implement some government policies which will help to increase the productivity of the rural sector. I believe this will benefit the rural sector and our business (Godrej Agrovet) which is well connected to the rural market would also gain.
 
---
MD -If we talk about indirect taxes, GST was supposed to be implemented in April 2017. Arun Jaitley has given an indication that it will be rolled out in 2017 but rhyming of the drive is not clear. What are your views on the same?
 
AG - I feel GST will be implemented in July 2017 instead of April 2017. There are some points that has to be agreed with the states and they are meeting in January to discuss the same. I believe though it will not be implemented in April 2017 but will be done in July 2017 for sure.
 
---
MD -And what kind of benefit you are anticipating for the country with this implementation?
 
AG - Post implementation of GST, the GDP will increase growth rate by 1.5% to 2%. Additionally, along with other policy, budget etc - the growth would be double digit for India. India is already the fastest growing major economy and I believe we will remain the fastest growing major economy for the next 5 to 10 years.
 
---
MD -Like you said that we will be able to see an upsurge of 1.5% to 2% in the GDP as we are talking about GST implementation and a level playing field for organized players. As you mentioned that GST will benefit the organized players for sure
 
AG -Post GST, every big or small company paying taxes will benefit but it would pose a problem for companies that evade taxes. Companies with positive behaviour will benefit the economy of India at large.
 
---
MD- What are your expectations from RBI moving on post demonetisation?
 
AG -I feel the rates will remain low and benefit consumers and businesses. This will be a huge advantage due to demonitisation.
 
---
MD -If we wrap up 2016, there was 7th pay commission, OROP, optimism about the monsoon, rural economy was expected to boom. What kind of alignment have you done due to demonitisation? How would you explain this entire situation in a nutshell?
 
AG -Demonetisation has affected growth negatively in November. I believe that lot of recovery has happened in December and all the negative growth will be restored by January-March 2017. I also firmly believe that the total growth will be better and next year's growth will be good. 
 
---
MD – What is your outlook on the consumer business, especially at the times when new competitors are coming in and them creating an environment of competition? In terms of competition what is the strategy to tackle the prevailing and growing competition?
 
AG- We expect strong growth in our consumer products business especially in 2017-18 because there will be many positive factors. Other than the budget, there will be GST implementation and our own new innovations are coming into the market. We generally feel India's growth rate will accelerate overall and remain optimistic about our consumer business
 
---
MD – Talking about GCPL, what is your outlook, what is you marginal predictability from your company, normalized growth rate expectation, profit margins and the effects of demonetisation?
 
AG – GCPL has grown well in the last few years. It has been one of the largest growing consumer businesses in the nationwide, and we expect to continue growing at a similar pace. We feel 2017-18 especially will be a strong year of growth for GCPL. Already, the effect of demonetisation which was there in November has been overcome in December itself and we expect good growth in January-March.
 
---
MD- In terms of your real estate sector, like you talked about RBI and foresee the downside of interest rate. Being an organized player in real estate segment, people want to know your view, not a roadblock from demonetisation but the buyers have postponed their purchases.
 
AG –The real estate sector has slightly slowed down over the last couple of months. I expect the market to pick up tremendously in the next financial year because once the GDP rate is high, the real estate demand increases especially for commercial real estate. Additionally, even residential real estate demand will increase. Hence, I expect real estate to do extremely well from July onwards.
 
---
MD – Moving on talking about your Animal feed business. The agri input segment, crop protection, Creamline Dairy. How do you view this business and when do you intend to list the business?
 
AG – India's agri business is improving dramatically because of good monsoon and the expectation of another good monsoon. Rabi season sowing has also been good. Hence, we expect our agri business to grow well. As far as listing of Godrej Agrovet is concerned, we will watch the situation. It may happen when it is appropriate and the market improves. As you know, the market has suffered a bit over last few months. When the stock market improves, we will relook and certainly like to list at an appropriate time because more capital is needed in business. Additionally, as business grows there will be more acquisition opportunities and we see an extremely good future for Godrej Agrovet.
 
---
MD – What is your view on retail business and its strategy? And going forward for growth prospective what methods and measures you intend to take.
 
AG- Our retail business - Godrej Natures Basket has been doing well and we are opening new stores. However, all retail businesses take some time to grow well. We expect Natures Basket to do extremely well in next 3-5 years. We are investing lot of money and also in many ways going into e-marketing of Godrej Natures Basket. Through demonetisation, it got a boost because people could go and shop with credit cards during cash shortage. Hence, all that will be taken into account as we plan ahead.
 
---
MD – I was coming to this. Government has taken a larger initiative towards cashless economy. And every one is thriving to achieve this. In this scenario what is your strategy to capture this market?
 
AG – In all our businesses, we are trying to reduce cash usage and have also been successful. We can't be a cashless economy but we will certainly become lower cash based economy.
 
---
MD- As you were talking about demonetisation, Government has taken quite some steps and efforts for reforms. In a nutshell how will you describe them and scale them of 1-10 how will you rate them?
 
AG – I think in terms of reforms the government has done well. All reforms will have some setbacks in the beginning and thereafter they pay great dividends. Demonetisation has had some setbacks but we are fast recovering and it will pay us tremendous dividends going forward. GST will give us dividends from day one and I expect other reforms to follow because growth should be good and government encouraged to introduce additional reforms. Overall, I expect an extremely strong Indian economy in next five years.
 
---
MD- You have always said consumer first and have fast reach among consumers in India and internationally. Please highlight your strategy related to consumers
 
AG – We have a strong reach among consumers. About 750 million people in India use one or the other of our products and roughly 1.2 billion people across the globe use one or the other of our products. As the group, we perhaps have the largest number of consumers using the products headquartered in the developing world. Earlier, China Mobile, a Chinese company was ahead of us but now we have overtaken them. Off course, we don't have full statistics of all Chinese companies but it is quite likely that we might be the only company headquartered in the developing world with the highest consumer reach.
 
Get Latest Business News, Stock Market Updates and Videos; Check your tax outgo through Income Tax Calculator and save money through our Personal Finance coverage. Check Business Breaking News Live on Zee Business Twitter and Facebook. Subscribe on YouTube.
Updated: Fri, Jan 20, 2017
09:31 am
Mumbai, ZeeBiz WebDesk