#DeleteUber trends in US as anger against Trump's refugee ban mounts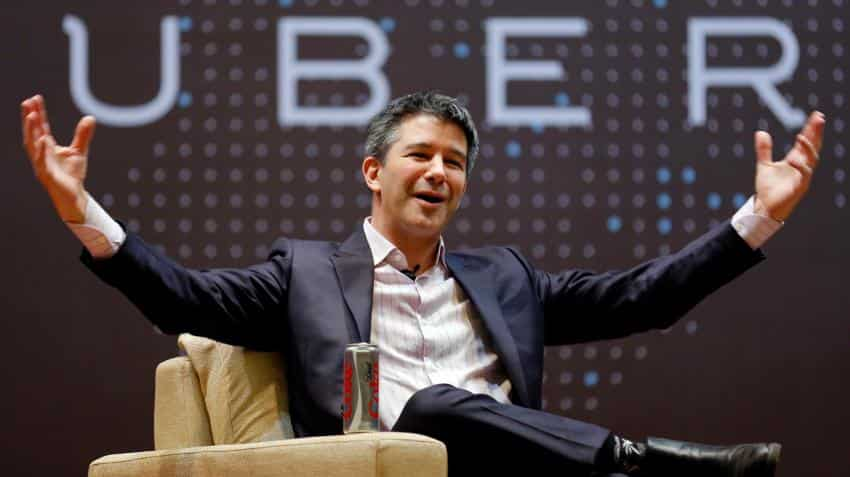 Uber CEO and co-founder Travis Kalanick, on Saturday clarified to his employees that he believes in 'standing up for what is right,' in an emailed statement while referring to the 'Muslim ban' imposed by President Donald Trump. Image Source: Reuters
Updated: Sun, Jan 29, 2017
10:51 am
Mumbai, ZeeBiz WebDesk
Social media started flooding with tweets #DeleteUber as many reported to delete the app on believing that the company was siding with the President Donald Trump's ban on Muslims entering the country.
Uber CEO and co-founder Travis Kalanick, on Saturday clarified to his employees that he believes in 'standing up for what is right,' in an emailed statement while referring to the 'Muslim ban' imposed by President Trump.
Taking its cue from the widespread hatred for the company, Kalanick noted that Trump's decision to suspend immigration from seven countries and even restrict green card holders from re-entering the States for a period of 90 days would have "broad implications," he said.
"Our People Ops team has already reached out to the dozen or so employees who we know are affected: for example, those who live and work in the U.S., are legal residents but not naturalized citizens will not be able to get back into the country if they are traveling outside of the U.S. now or anytime in the next 90 days. Anyone who believes that this order could impact them should contact immigration@uber.com immediately," Kalanick said in an emailed statement to Uber employees.
Kalanick outlined steps the company would take to help affected drivers financially, including compensating "pro bono" any drivers who can't return home and work for the next three months.
"We are working out a process to identify these drivers and compensate them pro bono during the next three months to help mitigate some of the financial stress and complications with supporting their families and putting food on the table. We will have more details on this in the coming days," Kalanick added.
Kalanick also assured his employees he would take up the matter with the president next week when he goes to meet with him.
Uber's ties to the newly elected president were in focus shortly after inauguration day i.e. January 20 after protesters barricaded the doors of its San Francisco headquarters to condemn Uber's 'collaboration' with Trump.
However, Kalanick tried to defend the company's actions stating that he was joining many other business leaders on Trump's council looking to create job opportunities and to improve  urban mobility.
"The CEO of Disney, the CEO of IBM, the CEO of GM, the CEO of Uber, the CEO of Tesla and maybe 15 other companies you've heard of... We have a party -- our political party is called the Urban Mobility Party. The shorthand is UMP. We're a coalition party; we'll partner with anyone in the world as long they're about making transportation in cities better, creating job opportunities, making it easier to get around, getting pollution out of the air and traffic off the streets. And so that's what this is about. It's about the leaders we have to work with around the world, not just here in the United States but everywhere. And being optimistic -- asking can we make urban mobility better?" Kalanick said at the weekly Uber all-hands meeting on Tuesday.
Uber also responded publicly to the protests, by saying it was looking forward to working with the new administration as it did the Obama administration.
"As a company we're committed to working with government on issues that affect riders, drivers and the cities where we operate. Just as we worked with the Obama Administration, we'll work with the Trump Administration, too," the company said.
However, people took to Twitter to condemn the company with the hashtag 'deleteuber' and screen captured their responses for deleting the app.
Some of the responses read. 
I'm not usually one for hashtagtivism, but... #DeleteUber. pic.twitter.com/IEseBIpcCO

— Scott Bixby (@scottbix) January 29, 2017
I'm a Lyft guy now. Lyft baby!!!!! #deleteuber pic.twitter.com/585D46XYSe

— Austin (@peacoatseason) January 29, 2017
i never used it in NYC for a lot of reasons but they won't see a goddamned penny from me ever again #deleteuber pic.twitter.com/Wh1Yhe5aZa

— matt lubchansky (@Lubchansky) January 29, 2017
Uber had vowed to work with Trump. So looks like it's time to #DeleteUber pic.twitter.com/jE2oi9CPFw

— ChicagoActivist (@ChicagoActivis1) January 29, 2017
1. Open the Uber app.
2. Tap ☰ > Tap Help> Account and Payment> Account Settings and Ratings> Delete my Uber Account.#deleteUber #MuslimBan pic.twitter.com/RGtla4R5Tf

— Crescent (@TheLostAmelia) January 29, 2017
The executive order signed by President Trump halted refugee arrivals into the United States for 120 days, and barred citizens of Iraq, Iran, Sudan, Libya, Somalia, and Yemen for 90 days.
"It's not a Muslim ban," Trump told reporters in the Oval Office as he signed several executive orders on Saturday. "It's working out very nicely. You see it at the airports, you see it all over," President Trump said.
After the order was made public, aviation companies Qatar Airways and Etihad said that they were willing to comply with the ban.
"If travellers to the US don't have the proper documentation, we are not going to take them to the US," Qatar spokesperson said.
The ban on Muslims or more accurately people emerging from those particular countries received a lot of criticism from a lot of officials.
Among the company officials were Mark Zuckerberg, CEO of Facebook and Sundar Pichai, CEO Google who openly ridiculed the president's decision.
"I understand that many people internally and externally may not agree with that decision, and that's OK. It's the magic of living in America that people are free to disagree. But whatever your view please know that I've always believed in principled confrontation and just change; and have never shied away (maybe to my detriment) from fighting for what's right," Kalanick said in a concluding remark in the email.
Get Latest Business News, Stock Market Updates and Videos; Check your tax outgo through Income Tax Calculator and save money through our Personal Finance coverage. Check Business Breaking News Live on Zee Business Twitter and Facebook. Subscribe on YouTube.