Delay in plans to offset debt led telecom industry to crisis
The telecom sector is currently Rs 3.60 lakh crore in debt is facing a lot of turmoil including degrading of companies by ratings agencies. Analysts speak about the causes and how Reliance Jio added to their problems.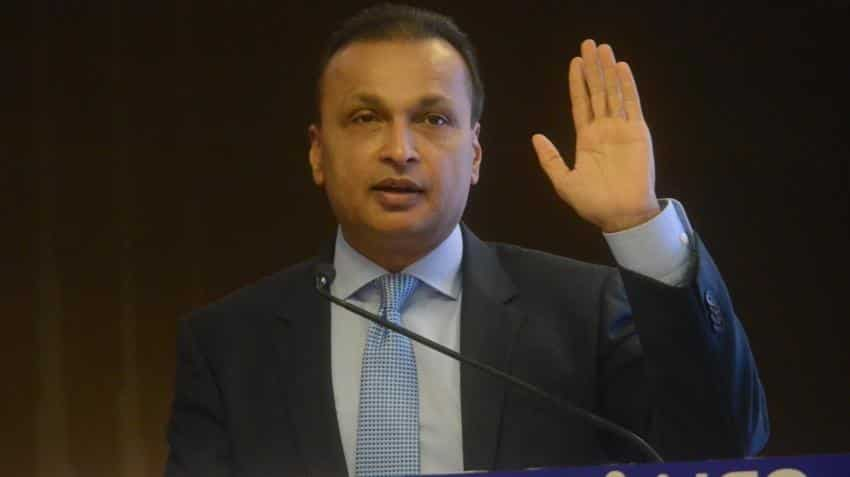 Reliance ADAG chairman Anil Ambani addresses a press conference in Mumbai. Image Source: IANS
Updated: Mon, Jun 12, 2017
11:04 am
Mumbai, ZeeBiz WebDesk
Key Highlights:

Telecom sector debt stands at nearly Rs 3.60 lakh crore currently; however total industry debtto banks amounted to Rs 1,300 crore.
ICRA estimated debt of the telecom sector to increase 10% in the next year.
The next spectrum auction will not be as huge as the ones before on account of lower base price of spectrum and no pressure of buying from operators.
With nearly a billion subscribers, India's telecom story was like no other in the world. However, past six months show that the sector may have bitten more than it could chew and Reliance Jio just added to its burgeoning debt problems. 
When the government began auctioning licenses and spectrum, or electromagnetic waves for the transmitting of data and sound to mobile phones, back in 1994-95, the spectrum put out for sale was 4.4MHz of 900MHz band. 
Very little in comparison to what the past two years' spectrum auctions have been.
Last year, a six day 'mega' auction of 2,354.55MHz put up for sale garnered a total of Rs 65,789.12 crore as against a 34-day auction in 2010 which brought in Rs 67,718.95 crore.
However, it was déjà vu for the telcos as India Ratings back in 2015 warned the industry of increased debt and consolidation in the years to come.
"In case the other telecom players also tend to acquire spectrum at a substantial premium, the debt levels in such companies could increase further," said Rakshit Kachhal, senior Ind-Ra analyst in a report dated November 30, 2015.
Also Read: Spectrum Auction: Telecom industry to mount debt worth Rs 4.25 lakh crore
The current debt level of the telecom sector rose from 3,02,321 crore in the previous year to Rs 3,59,940 crore.
Indian telecom major, Bharti Airtel, in its 2016 annual report disclosed its net debt at Rs 1,00,000 crore, as reported by Bloomberg on June 4. The company's FY17 consolidated revenue stood at Rs 62,276.3 crore.
The Bloomberg report showed Vodafone India's net debt at Rs 80,000 crore; Idea Cellular at Rs 45,000 crore; Reliance Jio at  Rs 40,000 crore; Reliance Communications at Rs 42,000 crore and Tata Teleservices at Rs 30,000 crore.
However total debt owed by telcos to banks was only Rs 91,300 crore, which accounts for 1.4% bank loans, Fitch Ratings report said on Tuesday.
"Indian banks' exposure to troubled telecom companies is not large enough to pose a systemic threat, but defaults could add to problems at banks with weak balance sheets," Fitch said.
So how did the operators get here?
"Increase in debt levels over the last few years has been following the need to constantly undertake upgrade capex in line with the upgradation of technologies (2G to 3G to 4G) and the need to acquire spectrum both for expiries as well as to enable rollout of data services. On the other hand, the operating cashflows have been impacted due to intense pricing pressure," said Harsh Jagnani, Vice President and Sector Head, Corporate ratings, ICRA. 
 
In the last spectrum auction the total outlay of the industry was Rs 65,789 crore in the spectrum auction.

Speaking about telecom sector debt and its severity, telecom analysts, Gaurav Dixit, Care Ratings' telecom analyst said that it was because of delay in plan execution to offset debt.
"If you talk about other telcos that were downgraded like RCom that is primarily because of the huge debt burden which they had and the plans they had to cut down those debts like tower asset sales among others which were delayed," Dixit said.
Taking the example of Reliance Communications (RCom), at the end of 2015 it was on track to repay Rs 20,000 crore of its debt ahead of its merger with Aircel and MTS. The shareholders of the company have only just approved the merger with Aircel in April 2017.
Also Read: Lenders have given us time till December, says RCom's Anil Ambani
On RJio, Dixit said, "The Jio impact is just nine months old so we cannot blame all the problems on Jio. These problems do exist because of the pricing problems in the industry but if you look at the overall profiles the debt levels have gone up significantly in the past few years."
The competitive prices in the industry took a toll on Q3 and Q4 numbers of the companies as well where Airtel reported 72% decline in net profit to Rs 373.4 crore and Idea reported a loss of Rs 456.40 crore in Q4 and a consolidated net loss for the year of Rs 327.9 crore.
"There has been erosion in the debt servicing ability of the industry over the last few quarters. This has been caused by a) intense pricing competition affecting the revenue generation and profitability, and b) inherently elevated debt levels following the need to constantly undertake upgrade capex and spectrum acquisition over the last few years," ICRA's Jagnani added.
It isn't all gloomy for the sector as the Fitch Ratings report said, "Not all telcos face financial difficulties. Market leader, Bharti Airtel, is likely to meet repayments comfortably on the over $1 billion that it owes to banks. Vodafone and Idea Cellular are in the process of merging their operations, which will give the new entity a market-leading share."
Analysts have estimated the 'dust to settle' in another three to four quarters, well in time for the next spectrum auction to be held late next year.
"It is likely to take at least 3-4 quarters for the industry to be able to improve product pricing largely depending on conclusion of the merger transactions and growth in utilisation levels of the subscribers," Jagnani said. 
 
Consolidating to survive 
"With the consolidation happening and only three to four major players left in the market we will see dust settling down on the tariff side also," Dixit added.
"Telcos are already pursuing raising funds through sale of tower assets. These initiatives are likely to be carried forward next year. In addition equity raising – from promoters or institutional investors remains an avenue for the industry," Jagnani said.
However, the next spectrum auction may not be carried out with the same intensity of other auctions.
Also Read: How Reliance Jio bundled the telecom sector into 'one plan'
"The spectrum auctions will not be as huge as they used to be in the past," Care Ratings' Dixit said adding, "It will be more of a strategic decision to buy spectrum and more of a 'gap filling' decision because most of the spectrum will also be fulfilled by the consolidation that is happening."
Two reasons he cited for this would be reduction in the base price of the spectrum and a lower resultant pressure on the companies to acquire more spectrum.
"In the last auction, the value of 700 MHz and 900 MHz spectrum put on auction was Rs 4.02 lakh crore and Rs 5400 crore respectively, which remained entirely unsold. While 900 MHz spectrum was unsold because a small quantum was on offer, in 700 MHz the high pricing and limited ecosystem were the deterrents. Future participation in these spectrum bands would depend, among other factors, on the quantum on offer, development of the requisite ecosystem for the 700 MHz band and the pricing," ICRA's Jagnani said. 
Yet, pressure on the industry will continue post GST implementation as telco services is estimated to get costlier with a tax rate of 18%, up from a current tax rate of 15%.
Cellular Operators Association of India (COAI) even wrote to the Finance Ministry asking them to revise the tax rate on the industry as it is 'already suffering from poor financial health.'
"The debt of telecom sector is expected to increase by around 10% over the next year," Jagnani added.
Get Latest Business News, Stock Market Updates and Videos; Check your tax outgo through Income Tax Calculator and save money through our Personal Finance coverage. Check Business Breaking News Live on Zee Business Twitter and Facebook. Subscribe on YouTube.