COVID has had a huge impact on the Economy of the country; we should learn to live with it: Gautam Singhania, Raymond
Gautam Singhania, Chairman and Managing Director, Raymond Group talks about the impact of COVID n his business and overall economy, demand recovery, etc.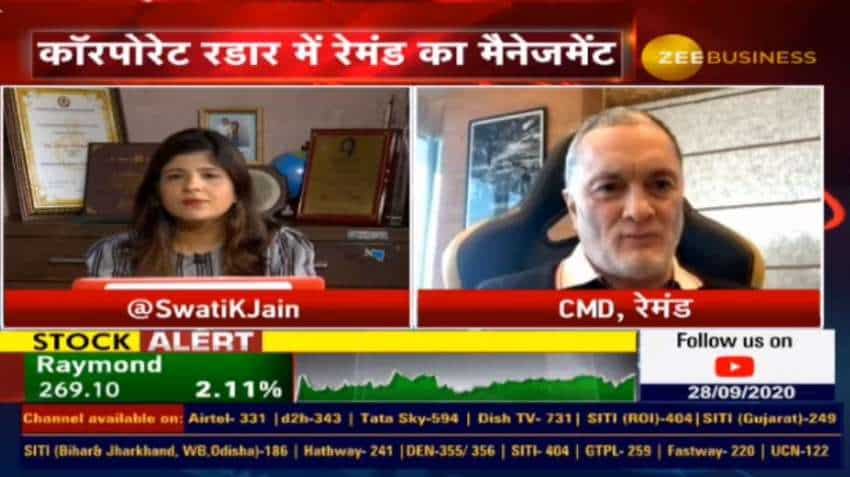 Gautam Singhania, CMD, Raymond Group talks about Aatmanirbhar Bharat, opportunities from the pandemic, real-estate business among others during in an interview with Swati Khandelwal, Zee Business.
Written By:
Jitesh Kumar Jha
Updated: Tue, Sep 29, 2020
05:39 pm
New Delhi, ZeeBiz WebDesk
Gautam Singhania, Chairman and Managing Director, Raymond Group talks about the impact of COVID n his business and overall economy, demand recovery, Aatmanirbhar Bharat, opportunities from the pandemic, real-estate business among others during in an interview with Swati Khandelwal, Zee Business. Edited Excerpts:
Tell us the kind of impact COVID-19 had on the textile and apparel industry? Secondly, unlocking of the economy has started, so let us know about the demand recovery that is seen in the segment?
The impact that COVID has had in March was felt by everyone, just not by the textile industry. Lockdown continued for almost 3-4 months, during which retail was closed, shops were shut down and people could not get out, so the impact was similar on everyone. As far as COVID is concerned then I would like to say that we will have to learn to live with COVID. If you have a look then around 32 million to 33 million have suffered from COVID across the world, which is 0.40-45% of the world, this means it has not happened to 1% population of the world. Will you keep the whole world closed until it happens to 100% people or a vaccine is not discovered? It has had a huge impact on the economy. It has affected the MSME and the daily workers – there are a lot of daily workers in India, at present - who work in the construction field and services among others. So, the second wave is coming but the intensity of COVID has dropped, I think that way, though I am not a doctor. Secondly, there is a protocol that says what should be administered according to COVID, for instance, if someone needs medications related to COVID and we have knowledge about it. Even the strength of COVID has reduced however COVID will stay with us and is not going somewhere else. 
See Zee Business Live TV streaming below:
The government has focused a lot on Atmanirbhar Bharat and has also announced a stimulus package for the purpose. What does it mean to brands like Raymond? 
I have been saying for months, 'Be Indian, By Indian'. This is our India if we can make for the world, so why can't we make it for ourselves and consume our products? Many countries are now closing their borders, for instance, Thailand has closed its borders among others, and are saying that we want to be self-sufficient. So, it is a time when we should be self-sufficient. Why should we get products of foreign-built? We are a country of 130 crore people. Each One Help One – every person should help a person, i.e. I will take it from you and you take something from me and someone else will take something from someone else. This is how our economic cycle will move forward. Why should we buy products of foreign origin? We generate our products and build something for ourselves. 
Raymond has a big market share in the textile sector. Meanwhile, competition has increased in the segment, so how are you dealing with it? Also, tell us about your strategy to strengthen your brand further?
In the last 25-30 years, we have seen that every time, stronger brands have turned stronger, when there is a recession or such a difficult time has come. If you see 25 years ago in the textile fabric space then there were 20 brands and today all top 20 brands are Raymond. It has happened just because the stronger player has turned stronger but it is different from the weak player as they face difficulties to survive. Looking at the kind of focus people has had to get out of this and move ahead, I think that we will emerge stronger this time, as well.
Shoppers are still wary of visiting the retail stores and there is a shift towards digital. Are you seeing a similar trend in apparel, if yes, then what kind of response you are getting on the digital set-up? What are your plans in that area and do you think that you will have to increase your digital strength?
Try to understand something philosophically that no one is going to sit at their homes for the rest of their life. If we look at our retail stores today then since pre-COVID our sales are increasing every week. The consumers are moving out. Three months back, when I went to the airport from here than I was not able to see a single vehicle on the road but thousands of vehicles can be seen now. If I divide the country into two parts than half says that they are afraid of COVID, while the remaining half says that we don't fear from it. So those who don't fear are getting out. The person who has to marry is getting married as they say that COVID may affect let it do so as the chances of suffering from the ailment if just 0.4%. After all, they have to live their life. Have a look at the air traffic at a time, when we talk about social distancing, around 50,000 passengers per day were there in May, which has increased to 1 lakh per day by now. Thus, people are getting out. 
Festive season and wedding season is around the corner. What are your expectations and how promising is the initial response that you are getting?
I am very hopeful that it will be good because we are watching it week-on-week. We have seen an interesting trend this year and that during Shraddha season, there used to be a company sale but this year we have seen that our sales of this Shraddha season are higher than last year. So, I have seen a week-on-week increase in September, itself. 
We saw two major concerns related to employment and manufacturing during the lockdown. How big are these two concerns in your set-up?
Manufacturing will increase when consumption will go up. The economy should be opened for the purpose as we sat a lot during the lockdown. So as long there will be the pain of lockdown so long will be their pain on the employment and manufacturing side. But I think the government has understood it. Have a look at the European nations where the first reaction was implemented lockdown but today, they are talking about social distancing instead of lockdown. There is a statement saying, have a look at the micro-market before implementing the lockdown, don't opt for total lockdown, if it spreads a lot then think about locking down. People have understood that going forward we will have to recover the economy. 
There are concerns between India and China. How do you look at the overall scenario and what challenges and opportunities do you see from it for India?
Definitely, there is resentment against Chinese products not only in India but across the world. In our business, they have said that we want these products from you because it was coming from China and we don't want it from that China. So, we should capitalize on the nation. It is a once upon a lifetime opportunity and if we do not capitalize it then we will lose an opportunity. So, everyone has a sentiment that what China has done with the world. It is there in the minds Americans, Europeans, and Indians, so it is an opportunity to capitalize and find ways to capitalize. 
You have also forayed into the real estate business. What are your plans for the segment? Would you like to continue with the plans, which were made, earlier, or there will be some alterations there?
We have done our first project, and it is doing well. I will talk about the growth plans after COVID will set-down. 
In this pandemic situation, you have also entered into the new range of personal protection equipment and masks etc. Do you see growth opportunities in the segment, if yes, then what are the expansion plans related to it? How are you managing the supply chain and logistics issue, do you see any concerns on those fronts?
Logistic issues will come at this point. But there is an opportunity, whether it comes to face masks or PPE. We are also making FMCG products for this market, like floor sanitizer, surface sanitizer, and hand sanitizer, among others. This is an opportunity, so we have to capitalize on it.
Get Latest Business News, Stock Market Updates and Videos; Check your tax outgo through Income Tax Calculator and save money through our Personal Finance coverage. Check Business Breaking News Live on Zee Business Twitter and Facebook. Subscribe on YouTube.