Costlier to have empty seats on flights than to overbook and compensate
In the bargain of not letting flight seats go unfilled airlines overbook passengers per flight. Inconvenience to passengers is overlooked as cost to company on empty seats stacks up to a high amount.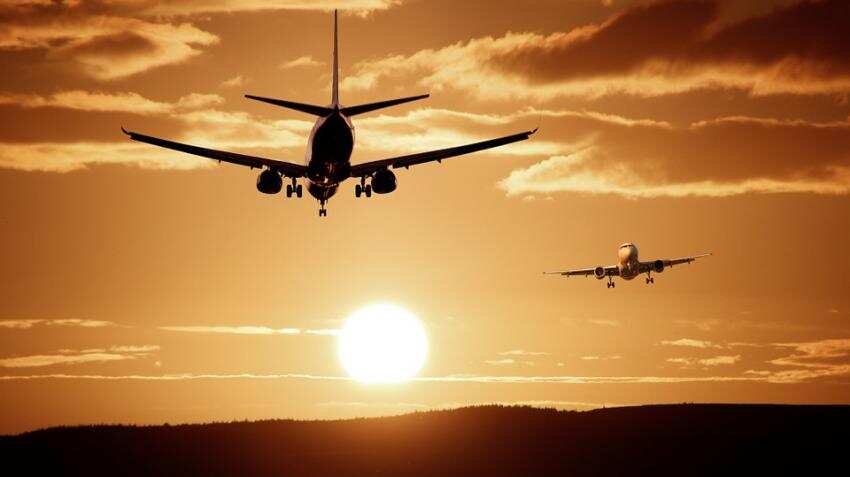 Domestic airlines had to also pay 104,591 passengers for delay in flights over two hours a cumulative amount of Rs 77.88 lakhs. Image Source: Pixabay
Updated: Tue, Apr 11, 2017
04:16 pm
Mumbai, ZeeBiz WebDesk
Stranded at an airport after being asked to deboard or denied boarding on domestic planes after owning a confirmed boarding pass was the case for 2,988 passengers at Indian airports in February alone.
This was the highest reported so far of domestic fliers that were denied boarding, as per the as per the Directorate General of Civil Aviation (DGCA) data as on 18 March 2017.
The number was 2,598 in January this year and has been increasing since November 2016 when passengers denied boarding amounted to 2,100.
From a wedding party of 80 holding the whole of Jet Airways flight 9W 7083 to Bhopal ransom if they threatened to remove some of them in December to an Asian man forcibly removed from United Airlines 3411 flight on Sunday.
"In India, airlines are permitted to sell seats up to 15% above their seating capacity," Aditya Jaiswal, research analyst Stewart & Mackertich said. 
United Airlines headquartered in Chicago like other Indian domestic carriers -- Jet Airways and Air India admitted to overbooking seats beyond the norms of the regulator.
This is done so as to ensure that the plane does not have any empty seats on account of 'no shows' or late comers.
"To reduce the possibility of flight departing with empty seats, airlines generally overbook flights to a limited extent. In case of overbooking on a particular flight, there may be circumstances on a particular day when more passengers report for the flight than the number of seats available. Under such conditions, airline may deny boarding to you while you may be holding confirmed bookings for travel on the flight and reported for the flight well within the specified time ahead of the departure of the flight," DGCA guidelines read.
Is overbooking worth the cost?
For United Airlines the man who was removed unceremoniously from the plane was first offered a compensation of $1000. Media reports said that other passengers were also offered compensation amounting to $800 but they refused.
Under the Civil Aviation Requirement Indian airlines provide the number of passengers denied boarding and delayed (beyond 2 hours) every month to DGCA the expense for which goes up to lakhs of Rupees.
An airline will have to pay up to Rs 10,000 to a flier in the case of cancelling or delaying a flight beyond two hours. While the compensation for not allowing a passenger to board the flight stands at up to Rs 20,000, as per the new compensation norms issued in August 2016 by DGCA.
In February, DGCA data showed that for denying boarding to 2,988 passengers airlines offered Rs 1391.86 lakhs.
Domestic airlines had to also pay 104,591 passengers for delay in flights over two hours a cumulative amount of Rs 77.88 lakhs.
'Then is it worth overbooking seats?' Zeebiz asked industry analysts.
"Based on passed air traffic numbers every airline has their own software to decide the number of seats that can be overbooked for particular flights. However the amount charged to airlines for providing compensation for deboarding passengers is significantly lower than the loss they incur on empty seats," civil aviation industry research analysts told Zeebiz.
A report by Wired on Tuesday said, "If a 100-seat airplane sells $200 tickets, and only 95% of passengers show up, the airline loses $1,000. (Even if the airline doesn't refund those tickets, it could have sold five more seats for an extra $1,000.)"
Further the report added, "The major airlines in the United States fly thousands of flights every day. Even a few empty seats on every flight means losing millions every 24 hours."
Know your rights
On being asked to deboard passengers, have to be paid monetary compensation equivalent to their air tickets, less taxes and/or hotel stay with travel reimbursement.
"Airlines have to provide the following to passengers denied boarding a) Non-stop flights b) Flights with intermediate stops but without a change of aircraft c) Connecting flights d) All the fares available from airlines, as applicable," DGCA guidelines said.
At first voluntary removal of passengers is carried out by airlines who may be willing to give up their seats. If however such passengers do not come forth then the CAR rules state that the airlines can remove passengers as per their discretion.
The compensation provided in the new draft for airlines read:
1. Maximum compensation of Rs 10,000 if an airline provides an alternative flight within 24 hours.
2. Maximum compensation of Rs 20,000 if the alternative flight is provided beyond 24 hours.
3. Maximum compensation of Rs 20,000 and full refund if a passenger refuses to take alternative flights.
However, on certain occasion airlines can even deny boarding and refuse compensation to customers. Those cases are listed as follows:
Political instability, natural disaster, civil war, insurrection or riot, flood, explosion, government regulation or order affecting the aircraft, strikes and labour disputes causing cessation, slowdown or interruption of work.
Also in respect of cancellations and delays, DGCA said that reasons 'clearly attributable' to Air Traffic Control (ATC), meteorological conditions, security risks will also be denied compensation.
"The airline shall not be liable for any compensation in case alternate flight is arranged that is scheduled to depart within one hour of the original schedule departure time of the initial reservation," DGCA said.
The national carrier has had the most number of reported cases that denied passengers boarding due to overbooking. It also held the lowest on time performance (OTP) at airports in India of 66.2%.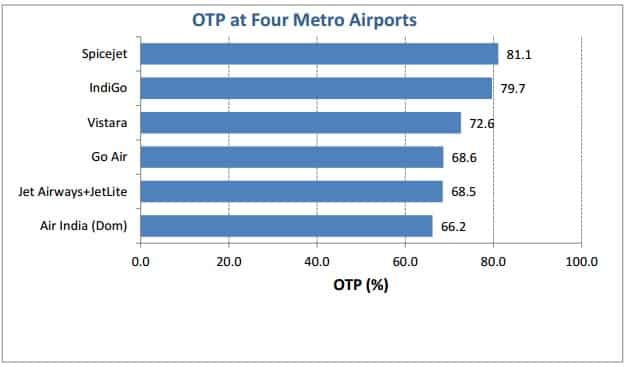 Image Source: DGCA report
The main reason for delay of airplanes has been pegged at 'reactionary' reasons with 67% attribution to errors in baggage claim, check-out and check-in errors.
ALSO READ: Why most of your flights were delayed in December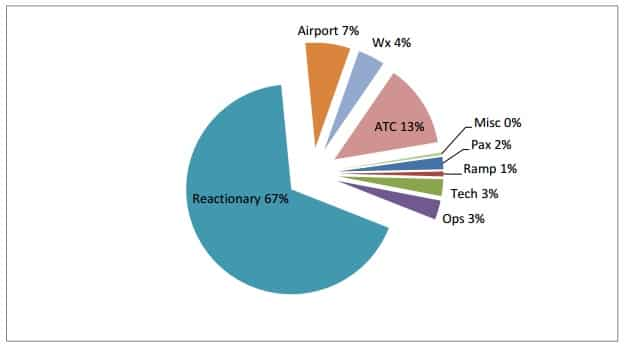 Image Source: DGCA report
While SpiceJet said, "No comment" to Zeebiz queries, IndiGo, Jet Airways and Air India did not reply before this article was published.
In June 2015, Jet Airways spokesperson said, "The airline uses sophisticated algorithms to predict cancellation and no-show pattern on specific routes and overbooks some flights by a small number accordingly," a report by The Hindu read.
Holding a valid boarding pass and checking-in on time has failed to stop airlines from denying boarding to passengers. Inconvenience to passengers is overlooked as cost to company on empty seats stacks up to a high amount.
"A chunk of the 'denied boarding' cases are reported by Air India and Jet Airways, while Indigo, the market leader does not overbooks flights," Stewart & Mackertich's Jaiswal added.
Get Latest Business News, Stock Market Updates and Videos; Check your tax outgo through Income Tax Calculator and save money through our Personal Finance coverage. Check Business Breaking News Live on Zee Business Twitter and Facebook. Subscribe on YouTube.