Cosmo Films will launch Petcare Store & its App next month; it will be demerged in three years: Pankaj Poddar, CEO
Pankaj Poddar, CEO, Cosmo Films Ltd., talks about growth prospects, order book, demand, pricing scenario, expansion plans, specialty business, Petcare vertical and plans related to it among others during a candid chat with Swati Khandelwal, Zee Business.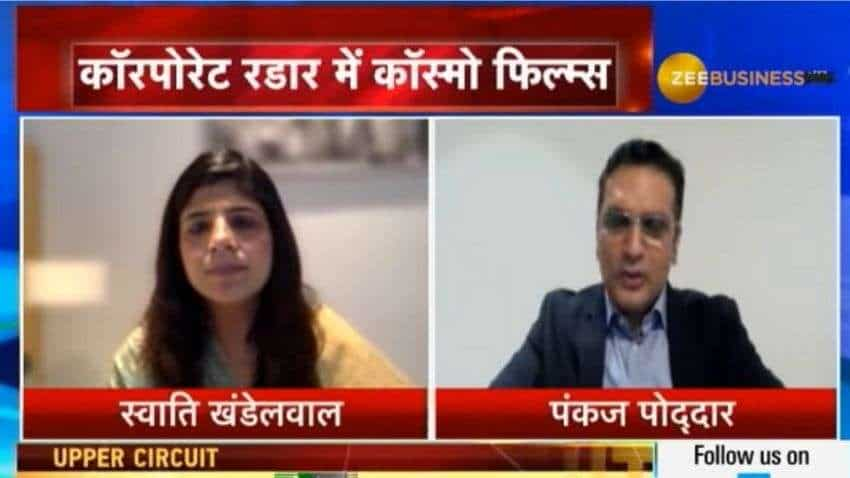 Cosmo Films will launch Petcare Store & its App next month; it will be demerged in three years: Pankaj Poddar, CEO
Pankaj Poddar, CEO, Cosmo Films Ltd., talks about growth prospects, order book, demand, pricing scenario, expansion plans, specialty business, Petcare vertical and plans related to it among others during a candid chat with Swati Khandelwal, Zee Business. Edited Excerpts: 
See Zee Business Live TV Streaming Below:
Q: Your company has been growing on both YoY and QoQ terms. What trend is visible, and do you think that the growth trend will continue or better growth prospects in terms of demand is visible?
A: Demand is going well in overall all the segments, especially, the global economy has revived well, and even Indian economy has also revived. In the case of Cosmo, our specialty growth is doing well and even in the first quarter as compared to the last year there has been a 20% plus growth. So, overall, the growth is good. 
Q: How does the order book look in the Rupee term and number of days? Do you see a strong pipeline on the front?
A: Our order book in all the segments and specialty segment is quite good, maybe it is in industrial films or packaging or labels or synthetic papers, there has been a consistent growth in all the segments for us. And in the current quarter, we are seeing a trend that is quite positive for Cosmos. 
Q: Can you quantify the kind of growth in percentage terms you are talking about, and you are talking about growth from these levels as well? 
A: In this quarter as well, we are seeing a growth of around 20% in the specialty films. This year, we have a target of achieving 20% growth in specialty films. We are also seeing a 10% growth in overall revenue this year. 
Q: How is the demand and pricing scenario because last time the price of raw material was high and what is happening and have you taken any price increase or will take it, if yes, what will be the quantum? 
A: If we will talk about the specialty in the market then several factors are there that is affecting the global economy and every industry like in exports, the freight cost has increased a lot and if we see then month-on-month the ocean freight cost is higher, i.e., normally, a container that used to be exported at $1,500-2,000 has gone up even to $10,000 per container in few segments. In fact, South American ocean fleet cost has gone up to $12,000-14,000. So, we are taking with every customer that we will pass on the freight cost and maximum of the customers are understanding it because cost has not increased just from India but is increasing from every region. Accordingly, the customers are accepting it based on actual data. Similarly, there are some fluctuations in the raw material cost but comparatively, it is quite stable. Most of the problem is in the ocean fleet, where the cost is going up and I think that a clear trend is visible in which those who are engaged in exporting the commodities are not being able to export a lot but those who are exporting specialty have potential to charge this fleet from the customers and bring growth in specialty. 
Q: What is your capacity expansion plans and the segments where expansion will take place? Also, how much CapEx the company is lining up for this year and the next couple of years?
A: We are bringing good expansion in all of our businesses. If I will talk about the film business, then next year our specialty polyester line is coming in which we will enter into multiple new segments. This will be the first investment by Cosmo for the specialty polyester. We are also exploring what is the upcoming scenario and at a right time, we will share it with our investors as well as the media. Apart from this, our new business, Zigly, in which we are talking about the pet care products and services, and its first will be opened in September after which we will try to open one or two new stores in every quarter. Interestingly, its app will also be started in September or October. We have a growth in Zigly as well as the film business. Similarly, in the chemical business, our textile chemical plant will be commissioned in a month. Our adhesive plant will be installed by around November-December. So, multiple capacity expansion works are going on at our place and its revenue growth will be seen next year by which our film line will be opened, Zigly business will ramp up a bit, chemicals and adhesive business, which are new segments, will be opened. Its effect will be seen by the next year. 
Q: What addition you will do, and can you share the numbers related to the investment you will make in capacity expansion in the future? Also, the company in its presentation has said that it has Six current patents and has another 6 in the pipeline. Can you tell what are these pipeline patents and when do you expect them to be received?
A: We have just got the approval of the first patent, and we are very hopeful that the rest of the five patents that we have applied for will be approved because it is the first time that any company in the world has done it. So far, the process is going very smoothly for those and in the coming time, we should get the approval of those patents. As Cosmo has invested a lot in research in the last few years and currently, we have more than 30 research scientists of which many are postdoctoral, PhDs and carry worldwide experience and few of those did their PhD in the US, Korea as well as in India. So, we have brought the experience of different countries of the world in Cosmo due to which we are being able to apply for these many patents in films. Going ahead, we will also be able to file patents even in chemicals and adhesives. 
Q: You have said that the company will grow its specialty portfolio to 80% from the current 62-65%. You have said that there will be a 1% shift to specialty, which adds EBITDA of around Rs 5 crore. So, this means, Rs 90 crore additional EBITDA will be there for the company due to this and what will be timelines for the same?
A: We had earlier set a target of 70% by March 2023 but we hope that we will be able to meet that target first. Latest by March 2024, we are targeting 80% of the specialty in volume terms of our total sales. But the way Cosmo's team is working, hopefully, we will achieve the target earlier. 
Q: But is the EBITDA number is right that you will get an additional EBITDA of Rs 90 crore due to this?
A: Yes, it should be there. 
Q: In regard to the Petcare vertical, you earlier said that there will be a pilot launch in the NCR region in Q2FY22. Is it on track? You also had plans to demerge the Petcare vertical into a separate company in the medium term. Is this plan intact?
A: Yes, both the plans are intact. As I have said earlier that our first Petcare store and App/website will be launched next month. So, we are on target and in the coming time, we will try to open at least one to two stores in every quarter. Initially, we will do a pilot test for few days because the first time, the company is entering into the Petcare Business but once the model is tested well, then we will increase the speed of opening new stores or entering into new cities. Similarly, the company will be demerged in the next two to three years and the company is making a mid-term plan for the same about what would be the right time for it. But as we have said earlier, it will be created as a separate legal entity in the next two to three years. 
Get Latest Business News, Stock Market Updates and Videos; Check your tax outgo through Income Tax Calculator and save money through our Personal Finance coverage. Check Business Breaking News Live on Zee Business Twitter and Facebook. Subscribe on YouTube.
Updated: Tue, Aug 31, 2021
02:09 pm
New Delhi , ZeeBiz WebDesk