Companies should protect their employees & continue paying them at this crisis period: MS Unnikrishnan, Thermax
MS Unnikrishnan, MD & CEO, Thermax Ltd., talks about the impact of lockdown, liquidity situation of Thermax as well as the capital goods industry.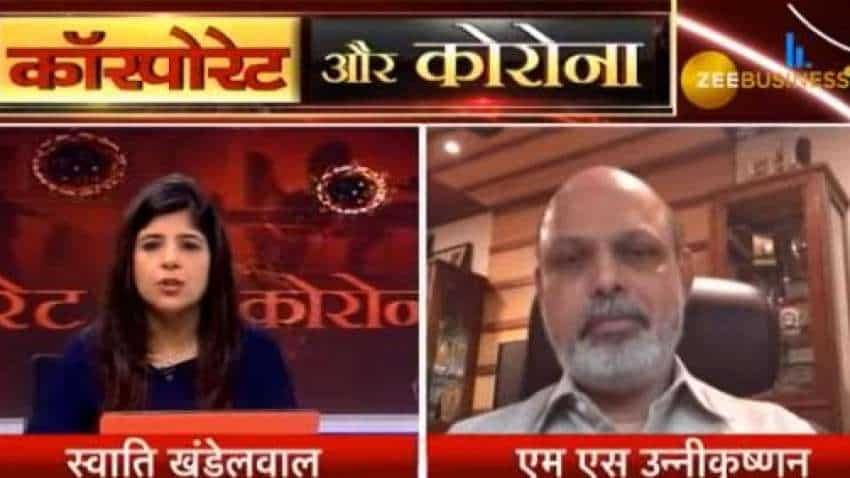 MS Unnikrishnan, MD & CEO, Thermax Ltd., talks about payments and jobs during an interview with Swati Khandelwal, Zee Business.
Written By:
Jitesh Kumar Jha
Updated: Fri, Apr 10, 2020
02:29 pm
New Delhi, ZeeBiz WebDesk
MS Unnikrishnan, MD & CEO, Thermax Ltd., talks about the impact of lockdown, liquidity situation of Thermax as well as the capital goods industry and payments and jobs during an interview with Swati Khandelwal, Zee Business. Edited Excerpts:
Tell us about the kind of impact that the shutdown had on your business?
It is that the March 31 year has ended and the shutdown is going to have a huge impact on the entire capital goods industry. The industry will be impacted because almost 20-25% part of its annual turnover in terms of revenue comes in March and it seems that everyone has already seen a fall of around 40-45%. I can't provide any number at present because we are going through a silent period but it is sure that we are going to be in loss. But, something good has happened with the capital goods industry that everyone's orders will be carried forward from here, which means some of them, will have orders for a complete year while others will have orders for at least 3-4 months. Big companies will have a year's order in their hands.
See Zee Business Live TV streaming below:
If we get a vaccine of the virus and things come back to its normal then everything will be caught. But if seen immediately, then the first quarter is going to be very negative for the industry and turnovers will be low because we are mostly dependent on the cash flow of other companies. And, if they don't have money but have placed their orders by paying advances for the same may not need the delivery. So, the capital goods sector is going to be the biggest loss-making sector at present.
What is the company's liquidity situation currently? 
Thermax is a fortunate company with a treasury of around Rs 1000 crore and that's why we don't have lots of concern. We are a good company with zero debt. We don't have borrowings even for working capital and you can get a few companies like Thermax. If you want to talk about the capital goods sector then big companies will survive but the MSMEs, which constitute 85-90% of the entire industry, will not survive for more than a month or 45 days.
How will you service the debt when there is an absence of cash flows? Let us know about your strategy to deal with the situation?
Thermax is a company with zero debts and I think we are the only company in India with zero debts either for short term or long term. We also have a treasury of around Rs 1000 crore and we can't see any troubles related to cash flow in recent future. We will be supporting our MSME supporters, who were our suppliers. But the capital goods industry will face cash flow issues in the recent future even the big companies will have to bear with the pain because we get money after the work is completed. Our industry is not similar to the consumer goods industry where cash will automatically reach into the manufacturers' account as soon as a product is sold from the shelf of a supermarket. However, we work as per contracts and projects with a long life cycle of around 10-12 months to 3-4 years and we are supposed to collect money from the customer on monthly basis based on the work that was done. If my customers are from the cement industry, steel industry, fertiliser or some other industry and they face issues related to cash flows than it will have an immediate impact on us as we will not get the payment. So, the companies who have taken loans for the working capital and take the moratorium than it will be beneficial for previous investments but it will face difficulties when it comes to future investments including disbursement of salaries. And, the capital goods industry has a complete dependency on the well-being of the industry segment of our customers, if they have good cash flows than we will get our money or will not get it.
How are you taking care of the fixed costs right now and are you seeking any moratorium on any of your payments?
Our first demand is related to payments of the pending payments of the work that has been completed. Currently, a payment of around Rs 1 lakh 75 thousands crore of our industry is pending with the infrastructure industry including highway constructions from the public sector undertakings (PSUs) and other departments of the government. Secondly, interest-free loans should be provided to SMEs who are functional in the domain to enable them to pay salaries of its workers for at least three months or else they will thank their employees. Sadly, the migration of the workers will have maximum impact on MSMEs. They will have to make travel arrangements in form of vehicles, trains and passes for those who have migrated to the villages after the lockdown comes to an end and there is a need to restart the factories. We are discussing the same with the government and asking it to help those, the small companies, who will require people to restart their work after the lockdown, is lifted.                 
Thirdly, every bank should sanction at least 15% additional working capital over whatsoever working capital has been drawn or is the limit. Our industry will not be able to work if it is not done and we had discussed the same with the government. We believe that the government is well aware of the fact that if support is not provided to the MSME sector or the capital goods industry than capacity build-up will not happen and maximum employment opportunities come from the construction and capital goods industry. So, it will have to support it.
Update us about the private CapEx recovery and have you pushed it by 2-3 years or less than it?
It will not be same in every segment like the road construction is likely to be started in next one month, work on construction site will start in next 3-4 months, while cement industry will become functional in the second half (H2) of the year. But, we will have to remember that a medicine will be required to keep ourselves safe from corona and we will have to find it out or else no company will be able to survive in this world. My current estimates – based on the talks with our customers like Sun Pharma, and few vaccine makers - suggest that medicine and vaccine will be developed in next 9-12 months after which every industry; manufacturing and commerce will get into line. They will take at least 2 quarters to be back to its normal, which means we will face difficulties for next 18 months from here after which normalcy will get back.
What is the message that you are passing on to your employees and suppliers to deal with the situation?
The companies should continue paying the salaries, maybe a reduced one. And, companies like us have decided to not cut the salaries of workers and the white-collars with CTC up to Rs 8 lakhs as they are supposed to pay the EMIs and many more as they will be in a dire need of the salary to survive. However, salaries will be slashed between 10-30% for those with CTC above Rs 12 lakhs and they will include people from different ranks like a manager, general manager, vice president including the managing director but no one will be thrown out from their jobs. They will not be handed over with the pink slips because we are well aware of the fact that will not get a job anywhere else amid these situations. I expect the same from the industry and discuss the same with my friends as well. And as the chairman of the confederation of India Industry, I would request to people from industry to make sure that they don't fire people from the job – may be the worker as contract labour, permanent labour or fixed employment – and don't cut the salaries of people sitting at the lowest rank.
Get Latest Business News, Stock Market Updates and Videos; Check your tax outgo through Income Tax Calculator and save money through our Personal Finance coverage. Check Business Breaking News Live on Zee Business Twitter and Facebook. Subscribe on YouTube.