Capacity utilisation of plants stands above 90 pct at present: Hemant Sikka, M&M Ltd
Demand for the tractor is more than what we have seen in the last several years. There are three-four reasons for this. Production of Rabi crops has been good, this time and they have been cultivated well with the support offered by the government amid the lockdown, Hemant Sikka, President - Farm Equipment Sector at M&M tells Zee Business Executive Editor Swati Khandelwal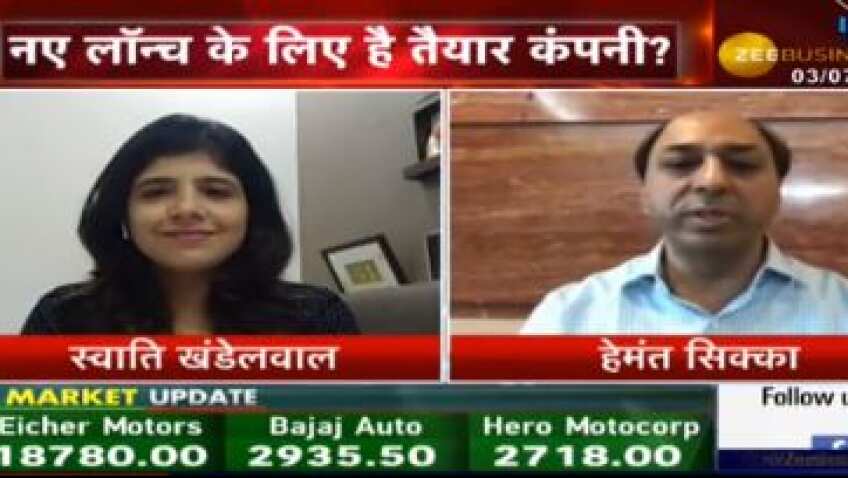 I feel that the production level will go up in recent future and demand will also go up in the next 3-4 months because the farmers believe that their future is protected, Hemant Sikka said
Written By:
Jitesh Kumar Jha
Updated: Fri, Jul 03, 2020
09:09 pm
new delhi, ZeeBiz WebDesk
Hemant Sikka, President - Farm Equipment Sector, Mahindra & Mahindra (M&M) Ltd, talks about the tractor sales number of June, demand, capacity utilisation and CapEx among others during an interview with Swati Khandelwal, Zee Business. Edited Excerpts: 
Q: Your tractor sales numbers in June has exceeded the street expectations by more than 6%.What led to this increase in demand? Do you think that this demand will sustain in time to come?
A: Demand for the tractor is more than what we have seen in the last several years. There are three-four reasons for this. Production of Rabi crops has been good, this time and they have been cultivated well with the support offered by the government amid the lockdown. In addition to it, the farmers are getting a better price for their crop when compared to the past. Thus, the crop has been good, they were harvested well and the farmers have got better prices for their produce.  
Besides, the monsoon has been good across the country and it has been 22% better this June when compared to the previous year's June. So, the good rain is making the farmers believe that the Kharif yield will be better than before. So after having a good Rabi crop and earnings from it, if the farmer sees that he is going to earn well in the future with the Kharif crop, then naturally buying a tractor is the first preference of a farmer. And in the same view, we a strong demand for the tractors is visible to us.  
Q: Do you think that this demand also includes the pent-up demand and may come down in a quarter or two?
A: April-May-June season is the strongest season for tractor demand. So for the purpose, all companies, be it Mahindra or some other company from the tractor industry, try to increase their production in February and March to meet its demand. However, the lockdown was imposed suddenly on 22 March. This imposition of lockdown has not allowed companies to increase their production level, after which they didn't carry on their production activity. Due to this, our stock levels are low, while there is an increase in demand. So, when the demand is so high and production is low then naturally the demand is looking very strong. I feel that the production level will go up in recent future and demand will also go up in the next 3-4 months because the farmers believe that their future is protected. At the same time, the government has also increased its investments in rural areas. So they, the farmers, are earning good and is being supported by the government as well as the tractor companies are increasing their production. In light of these things, I feel that the strong demand for tractors will remain intact in the coming months. 
Q: What is your current capacity utilisation level and also talk about the labour support that you are getting at present are you facing any shortage on this front?
A: You have asked a good question because when we started our production on 8 May – this is the first time in the industry in which it faced a lockdown of not 3-4 days but of complete six weeks. Safety aspect becomes a major concern when a manufacturing unit or a plant is started after a long gap of six weeks. Our plant and the supply chain across the country should be appreciated for ramping themselves in such a situation. It is very difficult to suddenly start production at a plant after doing nothing for complete six weeks. Capacity utilisation of plants stands above 90% at present and all our suppliers have also ramped up themselves completely. I would like to thank our suppliers for ramping up themselves in a short span. Our team is also working hard and our plants are running at full production. I have already informed that 90% plus the level of production efficiency has been achieved at our plants. 
Q: Tell us about the product launch plans for the year and what kind of work is happening on that front? 
A: The best-selling tractor of Mahindra is termed as H1 series at our place and is sold in the market by the name of Bhoomiputra and Sarpanch. A few days ago, we have relaunched it under the name, XP Plus series. It is better than that, we are providing additional 2 horsepower in it, the warranty has been increased to 6 years and added many features like power steering, auxiliary valve, which was earlier not available in this range of tractors. Interestingly, the response towards XP Plus series is very good. In these 2-3 years, I had words with our dealer partners and every one of them is very happy because our customers are very happy with the XP plus series and its sales are increasing. But even during the lockdown, we didn't push launch/es of new products behind. You would have seen that just three weeks ago, we have launched XP Plus series, i.e. Sarpanch Plus range, through digital mode in Maharashtra and we are getting a good response for it. We will launch the product in other states as well as soon as there is an increase in our production.
Q: Tell us about the kind of CapEx that has been lined-up for this year and next year as well as capacity expansion plans. 
A: As far as new product development is concerned then we haven't reduced our expenses. We are assuming that the demand for the tractor is very good and the customers want new tractors from us. So, we haven't reduced our expenses on the new tractors on which we are working at present. But as far as capacity utilisation is concerned then we are well placed at the moment. We would like to reach that level by improving our efficiency by spending whatsoever is required. Apart from capacity utilisation in terms of efficiency, where we would like to spend something, there is no need to establish a new plant at this moment.
Q: Mahindra & Mahindra (M&M) has made several acquisitions in the farm equipment space, even at the global stage. Tell us about the kind of response that you are from there and how they are contributing to your business? 
A: If we talk in a common language then it seems that there is a lockdown in India due to which the overall business has declined but we have seen that farm business is doing well in the country. We have noticed the same trend across the world, for instance, we have a tractor company in Turkey and have seen tremendous sales there. The tractor industry in Turkey has grown 60% this year and along with that, there is an increase in the demand from our Erkunt Tractor Company.
See Zee Business Live TV Streaming Below:
We have seen the same trend in our American company and our sales have remained good even over there in the quarter that ended in June. Thus, a good and strong demand is being created in America as well. So, the demand trend in the farming sector that is visible in India is being mirrored in our companies based in Turkey, Brazil and the US.  
Get Latest Business News, Stock Market Updates and Videos; Check your tax outgo through Income Tax Calculator and save money through our Personal Finance coverage. Check Business Breaking News Live on Zee Business Twitter and Facebook. Subscribe on YouTube.