Buyback fails to cheer investors as nine brokerages downgrade Infosys since Sikka's exit
Vishal Sikka, CEO and MD, Infosys' resignation has sent shivers down investors' spine as the stock lost nearly Rs 27,000 crore in value. Moreover, a Rs 13,000 crore first-time-ever share buyback has so far failed to cheer sentiments as the stock continued to lose value on Monday August 21, 2017.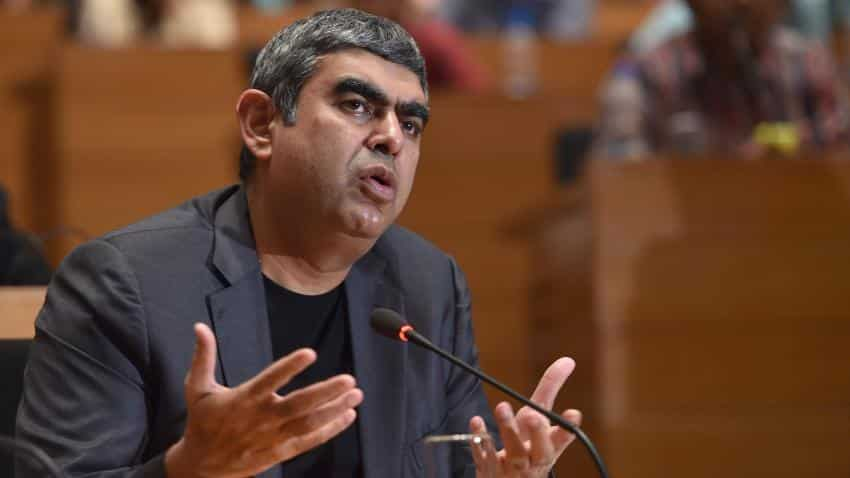 Infosys CEO Vishal Sikka announces the third quarter (October-December) results of fiscal 2016-17 in Bengaluru. Photo: IANS
Updated: Mon, Aug 21, 2017
10:46 am
Mumbai, ZeeBiz WebDesk
Key Highlights: 

Vishal Sikka resigns from his post on August 18,2017
Infosys lost nearly Rs 27,500 crore market cap
Infosys touches three-year low of Rs 881.15 per piece
Nine brokerages including JP Morgan and Nomura have downgraded Infosys Ltd since its CEO and MD Vishal Sikka quit last week. 
The stock price of Infosys opened at Rs 882.55 per piece on BSE – a level which was last recorded in 2014 thus trading at a three-year low.
Analysts at Kotak Institutional Equities stated that the exit of Sikka comes at a time when the business model of IT business is experiencing increasing protectionism as well as secular and cyclical headwinds.
Since Friday, Infosys has lost nearly Rs 27,500 crore in market capitalisation. The company's market cap which stood at Rs 2,34,552.5 crore on August 17, 2017 has now reached to Rs 2,07,186.42 crore on Monday. 
Brokerages like JP Morgan, HDFC Securities, Edelweiss Financial Services, ICICI Securities, Nomura and Antique Stock Broking have already downgraded Infosys after Sikka's resignation. 
According to Sandip Agarwal and Pranav Kshatriya of Edelweiss Securities, four uncertainties have been created after the CEO's exit. They are – impact on Infosys growth; make finding a new CEO tough; derail some of Dr. Sikka's key initiatives; and dent employee morale, triggering more exits.
While Apurva Prasad and Amit Chandra, analysts at HDFC Securities said, "We believe the discord between the Board and founders may impact senior management performance. This increases the risk of top-level attrition, especially recruits from SAP and other cos working out of Infosys' US offices."
Infosys chairman R. Seshasayee on August 18 clarified that there will be no change in the company's share buyback plan.
Infosys' board approved the proposal to buyback its fully paid-up equity shares at a face value of Rs 5 each for an amount not exceeding Rs 13,000 crore.
Buyback offer comprises a purchase of upto 11,30,43,478 equity shares aggregating up to 4.92% of the paid-up equity share capital of Infosys at a price of Rs 1,150 per share. 
The duo at HDFC Securities said, "While better capital allocation (buyback) and the uptick in operations are positives, leadership transition and the risk of senior attrition can hinder growth."
Edelweiss mentioned with domestic IT companies shifting focus to small skill‐based rather than large acquisitions, the need to maintain huge cash pile is waning. 
It added, "This implies higher distribution, either in the form of buybacks or increase in dividend payout. Reduction in cash will lead to higher RoCE, which will entail sector rerating."
Liquid assets including cash and cash equivalents and investments of Infosys were Rs 39,335, crore as on June 30, 2017, rising compared to Rs 38,773 crore as on March 31, 2017.

ICICI Securities said, "Though shareholder value creation through a buyback is a step in the right direction, we would be closely watching the company's revenue growth guidance of 6.5-8.5% (in constant currency terms) for FY18E in the midst of recent developments.

ALSO READ: