Budget 2019 will have special focus on agriculture: Manoj Mishra, CMD, NFL
Doubling farmers income requires a major thrust on remunerative prices on their output, says Manoj Mishra, Chairman & Managing Director (CMD), National Fertilizers Limited (NFL), during an interview with Zee Business.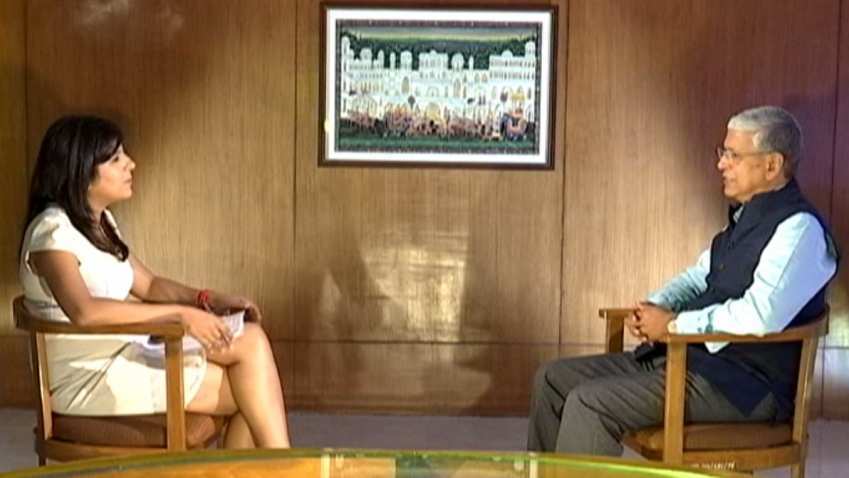 Mishra said that doubling farmers will help them in investing in costly fertilisers. Image source: Zee Business
Updated: Thu, Jul 04, 2019
04:58 pm
Mumbai, ZeeBiz WebDesk
Doubling farmers income requires a major thrust on remunerative prices on their output says Manoj Mishra, Chairman & Managing Director (CMD), National Fertilizers Limited (NFL). During an interview with Swati Khandelwal, Zee Business, Mr Mishra said doubling farmers will help them in investing in costly fertilisers. Excerpts: 
Q: What are your expectations from the Union Budget that will be presented on July 5, 2019?
A: It seems that this time the budget will have a special focus on agriculture. Being from the fertilizer industry, I expect that the fertilizer budget will be increased. You may know that fertilizer subsidy carryover liability has crossed the mark of Rs30,000 crore. And, we expect that the fertilizer subsidy – which has gone up to Rs70,000 crore in the last five years - is increased, so that all the outstanding liability comes to an end. 
Secondly, urea is an O-regulated sector because it started on a cost-plus basis, under which the cost was revised in every three years, it also included reasonable profits. But, the fixed cost has not been revised in the last 15 years (since 2002-03). But energy norms, which is a big part of our expenditure, is mopping up in at regular intervals and is being recovered. In addition, there is an absence of policy to recover the investment being made by the industry. 
In addition, the industry is investing in energy saving but there is an absence of a policy to compensate for the returns. Contesting the same, the industry wants that urea - like P&K - should be included in the NBS. Obviously, it will be made in phases because Direct Benefit Transfer (DBT) was launched in 2016 and has been launched across the country and the initial glitches have been resolved to an extent. If the government doesn't wish to bring the farmers in the first phase then it can do it with the retailers, who are available in a large number (approx. 2-2.50 lakh). Retailers don't have a major stake in DBT, but fertiliser companies have a certain stake in its systematic issues delay the subsidy payment of the fertiliser company. 
Q: Do you think that the government's target to double farmers income by 2022 will impact your business, if yes, then how?
A: Doubling farmers income requires a major thrust on remunerative prices on their output. The government has also brought several schemes for the purpose. When it comes to us then we provide input to the fertiliser sector. Thus, the doubling of farmers income will help them to spend more on their input and chose higher level input and buy more fertiliser and we are looking at it in the same manner. Apart from this, every fertiliser companies including the NFL is paying attention to other fertilisers too. Farmers depend mostly on urea, but we will also be providing P&K fertiliser to them. Interestingly, P&K fertiliser is priced more than urea and the increased income will enable them, the farmers, to buy costly fertilisers. 
Q: How will you fund the ongoing capacity addition and what is the CapEx for it?
A: I would like to talk about two major CapEx. The first is related to the energy saving scheme and its CapEx stands around Rs800 crore and we have received the funds from State Bank of India at 90:10 debt-equity ratio. Thus, lenders are happy with us and our performance. The second investment is being made on the joint venture in Ramagundam Fertilisers & Chemicals Limited (RFCL) and it is a project of around Rs6,000 crore and it is being developed at our 75:25 debt-equity ratio and we own 26 per cent equity shares – of around Rs400 crore - in it and we have ploughed back it from our self-generated profit.  
Q: How will get money for entering new segments? Are they really capital intensive?
 A: I have talked about Urea, which is a capital intensive it requires a lot of capital. I also informed about the new project that will need an investment of Rs6,000 crore. It stands at Rs6,000 crore because it came in process in 2015. But the new projects will need an investment of around and more than Rs7,000 crore. Thus, they will need big investments and for the purpose, we have developed a strategy of not doing it completely through our own balance sheet – as we don't have such huge sums – and went through a joint venture, where we have used just 26 per cent of our equity. I would like to inform that NFL reserves 100 per cent marketing rights of RFCL and we will be selling our own Urea in the process, which will be sold under its brand, 'Kisan'.  
Q: The government has plans to go shut down the sick fertiliser companies and monetize its assets under PSU asset monetisation plan. Does NFL have any of such asset which can be divested by the government?
A: As far as the NFL is concerned then there are talks related to offering for sale (OFS), but we don't have asset surplus, which can be monetised to earn good revenues. We don't have surplus land, but I would like to talk about OFS and there were talks to bring 20 per cent OFS but it is the government's call and I think it will be introduced after the market comes back to its normal. Interestingly, despite this stake sale, the government's equity will be higher than 51 per cent. 
Q: Do you think that it will happen in the next few months or will take time?
A: I feel that it will happen after certain reforms are introduced in the urea sector. As share market is not able to read our ratings in a correct sense and that's why the regulation in urea is needed. For instance, the share prices have remained almost intact despite our profits increased from Rs45 crore of 2014-15 to Rs463 crore in 2018-19, almost 10 times, which means it hasn't factored in but the share market knows better than anyone else and they would have planned something for it. 
Q: You have shown steady growth, but do you think that this Rs463 crore will turn up to be Rs2,000 crore in times to come, if yes, then what will be needed for it? 
A: See, I am not saying that the profitability will come up from Rs400 crore levels to Rs2,000 crores but would like to expand our business. The low base was available because we were not present in the P&K sector but were consolidated into the urea sector. So, despite turning the low base into the higher base, we are trying to increase it still higher. I am not saying that the Rs400 crore levels will change in Rs2,000 crores but we will keep our growth steady provided policy regime doesn't see any major change. 
Get Latest Business News, Stock Market Updates and Videos; Check your tax outgo through Income Tax Calculator and save money through our Personal Finance coverage. Check Business Breaking News Live on Zee Business Twitter and Facebook. Subscribe on YouTube.