Bosch Group India's CapEx is Rs450-600 crore: Soumitra Bhattacharya, MD
Soumitra Bhattacharya, Managing Director, Bosch Group India, says "the fiscal year 2019-20 will be a year of degrowth".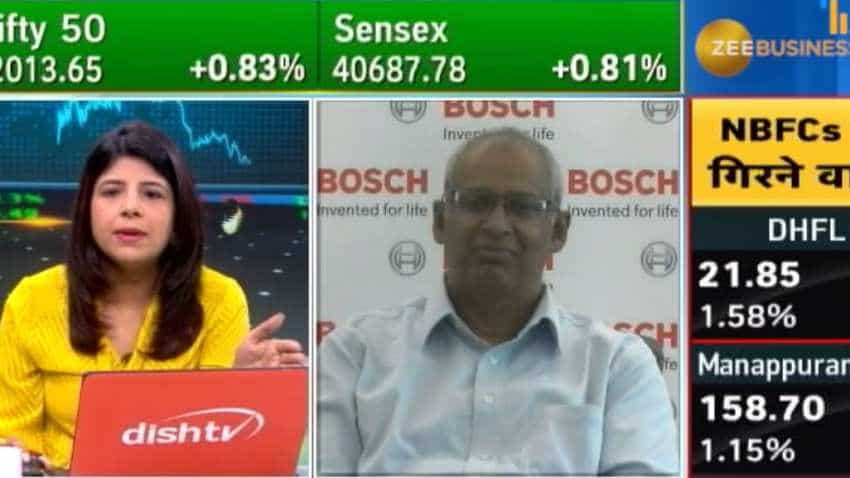 We spend around Rs450-600 crore in a year for Bosch limited and that is a shot of CapEx plan and for the next couple of years including this year, said Bosch MD.
Written By:
Jitesh Kumar Jha
Updated: Tue, Nov 26, 2019
06:23 pm
New Delhi, ZeeBiz WebDesk
Soumitra Bhattacharya, Managing Director, Bosch Group India, says "the fiscal year 2019-20 will be a year of degrowth". Bhattacharya in an exclusive interview with Swati Khandelwal, Zee Business, said, "We spend around Rs450-600 crore in a year for Bosch limited and that is a shot of CapEx plan and for the next couple of years including this year". Edited Excerpts:
Do you think that Bosch's performance in the last two quarters was good or it can be improved and did the slowdown has had any impact on your business?
Naturally, the impact of the slowdown will travel from the OEM's to tier ones like us. In the last quarter, our growth which stood at -26% had a direct correlation with the approximately industry's growth of -20%. On comparing the growth of October 2019 Vs October 2018, we found that there is a difference of just 2% and it was a result of heavy discounting on vehicle sales. We all know that Diwali is considered a very auspicious time to buy things. And a heavy discount with it acts as a small incentive for the buyers. In summary, I would like to say that we are not out of the woods of the industry. The green shoots are very small at present but in the mid-term and long-term, the positivity for India including the automotive market is the visible but fiscal year 2019-20 will be a year of degrowth. And, we have seen high-degrowth in HCV and LCV. In the case of the passenger cars, we have seen degrowth in the segment for the first time in the last 10-12 years. Finally, OEMs will have to clear their inventory as BSIV vehicles will not be applicable from April 1, 2020, in terms of production and sales, however, its registration process will go on.
See Zee Business Live TV streaming below:
Are you hoping that you will close this year slightly on the positive note than the first two quarters of the year? And, how the festive season trends had an impact in terms of the top line, bottom line and margin?
Bosch doesn't provide guidance but can provide industry as well as our view on generic terms. There are some important points when it comes to industry view like I have said that there is a reduction in inventory levels of the OEMs but it is not applicable with all old inventories yet as they haven't taken completely out from the system. Elimination of the inventory is an important aspect as there is a clear cut off of April 1, 2020, about the transition and shift from BSIV to BSVI. Secondly, the government has said that the ongoing registration for BSIV is valid for registration period and that is a very important point but the public is not completely clear about it. And, we have seen in the last six months, which may increase, that there is indecisiveness in public and consumers about should they go for BSIV or BSVI vehicle or electromobility. So, there is a need for clarity in terms of government policies and statements, as this will bring back confidence including customer's spend.
Thirdly, we believe very strongly that Bosch as a technology-agnostic provider and in the process, we develop diesel, gasoline and CNG and we are also into electromobility. So, all technology is valid including diesel. And, after the introduction of BSVI, we have said the cost of a vehicle of 1.5 litres and above after including exhaust-gas treatment (EGT) is not very expensive, it is still manageable. For instance, the Indian public who once bought the passenger cars at entry-level (in range of Rs6-9 lakh) have graduated to Rs8-11 lakh. Thus, the difference of Rs1-1.50 lakh created due to EGT with meeting the BSVI emission norms is not too huge with this base of Rs8-11 lakh. Besides, almost everything is being offered by a technology-agnostic provider like Bosch. And, electromobility is sure to come but the Internal Combustion Engine (ICE) will remain dominant. Our calculation suggests by 2030 ICE in different forms will be 80% and electromobility whether pure or hybrid will be 20%, i.e. in a bigger pie, ICE is still dominant and very negligible electro mobility currently, it will go up. Lastly, when electromobility will come - Bosh has almost every technology for it - then in our view, it will come in three-wheeler and two-wheelers first and later in passenger cars but shared mobility. So, it will come slowly but this will all take time and ICE will stay very prevalent.
Let us know about the order book levels of your company in the automotive segment and maximum business will come from? Also, update us about the kind of response that you have received in the non-automotive segment that includes air purifier?
When it comes to Bosch's technology - thanks to our engineering and local engineering efforts - then we have more than 500 engineers working only on ICE in Bangalore and other parts of India. And, we as Bosch Limited are giving end-to-end solution right from the conception to SOP for all our valued customers. So, we are among the few players who can give not just manufacturing technology or sales but we also perform research and development (R&D). You will be happy to know that 59,000 engineers are engaged in R&D work at parent organisation Bosch out of which approx 20,000 are located in India, which is the largest facility outside Germany for R&D as a centre. Thus, we work for India as well as the world. In the case of the BSVI, the acquisition has been one of the best and highest. So, for us, it is very important to support the Indian story of a seamless transition from BSIV to BSVI. It is a very difficult task as we as a technology provider work with our OEMs and valued customers rapidly. If the effort made in case of the BSIV is X then it will turn up to be 4X and 5X in the case of BSVI. There is a huge difference in terms of efforts and energy to make it happen. Second, very strict emission norms and fuel norms, for instance, the sulphur content in the fuel in the case of BSIV stands nearly 50ppm (per part million) while in case of BSVI it turns up to be 10ppm. So, fuel availability across India with 10ppm sulphur is an important aspect and it should be made available across India for a transition to BSVI. The government is working very hard. OEMs are working very hard to meet this timeline. This transition from BSIV to BSVI that is happening in a gap of three years (April 1, 2017-April 1, 2020) has never happened in this world. Germany which is a very advanced country transition from EURO IV to EURO VI - they didn't skip EURO V, took around eight years against which India is doing it in just three years. It will explain how challenging task is it and Bosch is engaged in it.
Can you share the numbers of your the order book? And, how much focused you are on the non-automotive business and do you see good growth in any specific segment of the air purifiers?
I can provide a generic answer, we have the highest orders for BSVI acquisition and that is a very positive thing and it will be visible after BSVI is rolled out in terms of sales also. But, we can't provide a number as we don't give guidance. As far as non-mobility is concerned, then power tools come under our listed company and we are the leaders in power tools and we will post double-digit growth this year and can also improve our market share. Our offerings in power tools are very wide and we are bringing IoT solutions in it. Aftermarket, which we can call partly non-mobility, greatly mobility then we have the largest aftermarket in India and we are doing reasonably well in it. There is slide degrowth because the market has degrew a lot but I feel that next year we will be back even stronger with positive growth. Our building technology (BT business) includes video, audio among others and we are very very strong in the segmented market and we don't fight the grey market because BOSCH gives just not audio and video but we also provide intelligent solutions as we apply senses, IoT, data analytics and we are everywhere whether in the Parliament, the PM's office and residence, as well as in metros, for example, Delhi Metro. So, we believe that while we will grow strongly in mobility and the case of non-mobility, we will grow at a rate even faster than mobility.
What is your CapEx for the year and FY21 and how you will fund it?
We have got a very strong internal cash flow. Bosch Limited like our parent, worldwide we are debt-free. So, our parent is about 78-79 billion Euro and all through our history of 133years the company has remained debt-free. Similarly, Bosch India is also debt-free from the time we came into Bosch Limited from the time, we came into existence. We use our internal cash flow for CapEx as well as for our financial investment. So, we spend around Rs450-600 crore in a year for Bosch limited and that is a shot of CapEx plan and for the next couple of years including this year. And, we - entire Bosch Group in India that has 11 legal entities and the sister companies work very closely with Bosch Ltd - spend about Rs500-700 crore depending upon which year we spend. We have turned a brand new plant in Bidi and its phase II has been completed. Bidi plant is being developed as a modern plant on IoT including industry format. Similarly, campus in Bangalore, which is about 75 acres of land, is being transformed as one of the smartest campuses in India and we are spending quite a lot of money as we are bringing technology, R&D here. And, by 2022, we will have the smartest campuses in India.
Will you be able to maintain the margins that were planned at the start of the year?
Margins will depend on the market situation and we want to have a very strong operating cash flow and you can see that our EBIT or the operating profit, if I takeout the one-time exception of the deferred tax and EVR that we are providing, then it is still at the double-digit level. So, we want to maintain strong double-digit margins at EBIT. As a professional company, we will provide for EVR where it is required and the deferred tax was just a one-time because of the reduced corporate tax.
Get Latest Business News, Stock Market Updates and Videos; Check your tax outgo through Income Tax Calculator and save money through our Personal Finance coverage. Check Business Breaking News Live on Zee Business Twitter and Facebook. Subscribe on YouTube.