Why did ASCI pull up Patanjali's commercials?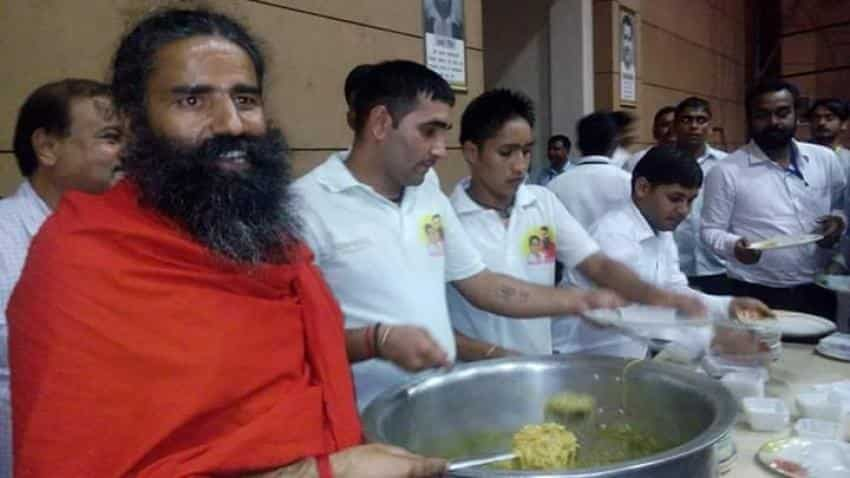 Haridwar: Yoga guru Ramdev serves Patanjali's newly launched atta noodles in Haridwar on Sep 3, 2015. (Photo: IANS)
Updated: Sun, Jul 10, 2016
09:07 am
Mumbai, ZeeBiz WebDesk
The Advertising Standards Council of India (ASCI) pulls up many companies every now and then for misleading and false advertising. Baba Ramdev's Patanjali—one of the fastest growing company in the country—is now at the receiving end. The reasons may leave you perplexed.
While it is not unusual for a brand to lie about their products, Patanjali decided to take it a step ahead and sell lies about competitors.
A reason ASCI, the advertising watchdog, once again pulled Patanjali Ayurved for running "misleading" ad campaigns that disparages competitors' products.
ASCI said that Patanjali's advertisement to sell its mustard oil were grossly exaggerated. It said, "
The misleading ad under the scanner is 'Kachi Ghani Mustard Oil' which claims that rival companies are selling mustard oil adulterated with by solvent extraction process with neurotoxin containing Hexane."
Patanjali, according to ASCI, then denigrated the entire fruit-juice market by making false implications and inadequate substantiation. It said, "The claims in the advertisement (in Gujarati) as translated into English, "Will you make the mistake of drinking expensive juices containing less pulp or will you drink cheap and good Patanjali fruit juices which are full of pulp to become healthy and to save money" accompanied by reference to the prices of other branded juices, by implication unfairly denigrates the entire class/category of fruit juices."
The milk sold by the Ramdev's Patanjali also came in ASCI's purview. It said, "The claims in the advertisement (in Hindi) as translated into English state "Infertility is increasing in cattle", "Cattle is being butchered", "Other companies mixes up 3 to 4% urea and other non-edible things in their cattle feed" and "Patanjali Gaushala's cow that gives 25 Liters milk", were not substantiated and were misleading."