Axis Bank's Q2 net profit rises by 36% yoy; divergence of Rs 5,633 crore in gross NPA
The bank recorded standalone net profit of Rs 432.38 crore in Q2, higher by 35.50% as against Rs 319.08 crore a year ago same period.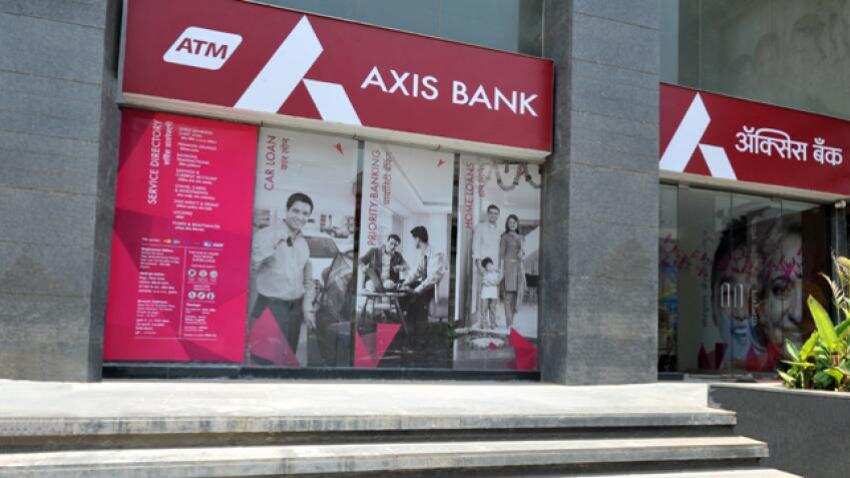 A branch of Axis Bank. Photo: Official Website
Updated: Tue, Oct 17, 2017
05:00 pm
Mumbai, ZeeBiz WebDesk
Axis Bank in its second quarter ended September 30, 2017 (Q2FY18) result disappointed analysts, despite witnessing nearly 36% year-on-year rise in its net profit.
The bank recorded standalone net profit of Rs 432.38 crore in Q2, higher by 35.50% as against Rs 319.08 crore a year ago same period. However, this Q2 result was a decline of 66.88% from Rs 1,305.60 crore of the preceding quarter.
A Bloomberg poll of analysts projected PAT (profit after tax) of Axis Bank to be at Rs 1,320 crore this Q2.
Net Interest Income came in at Rs 4,539.62 crore, registering gradual rise of 0.57% year-on-year (YoY) but decline of 1.65% on quarter-on-quarter (QoQ) basis.
Net Interest Margin during the period stood at 3.45%.
While provisions and contingency were at Rs 3,140.41 crore – lower from Rs 3,622.74 crore of Q2FY17 but higher from Rs 2,341.93 crore in Q1FY18.
NPA and Divergence recognitions: 
Gross non-performing assets (GNPA) in value terms stood at Rs 27,402.32 crore versus Rs 16,378.65 crore in Q2FY17 and Rs 22,030.87 crore in Q1FY18. In percentage terms GNPA was at 5.92% in Q2 higher from 4.17% in Q2FY17 and 5.03% in Q1FY18.
Gross slippages for Q2FY18 stood at `8,936 crores, of which corporate slippages stood at `8,110 crores. Net slippage (before write-offs) in retail and SME stood at `292 crores and `219 crores respectively. 
Axis Bank mentioned that a total of nine accounts were identified by the Reserve Bank of India as on June 30, 2017 - now fund-based outstanding in these accounts stand at Rs 4,867 crore and all are now considered as NPAs. 
Of these 9 accounts - one belonged to steel sector contributing Rs 1,128 crore of NPAs, while 3 accounts were in power sector amounting to Rs 1,685 crore, one account was in IT/ITES sector valuing up to Rs 1,685 crpre and remaining four accounts comprised of Rs 911 crores.
The bank said, " Axis is the lead banker in only 1 of the above 8 consortium accounts. Axis Bank is the sole banker in the IT/ ITES account. A significant part of this account is expected to get repaid soon, post a business sale transaction, for which a binding agreement is already in place."
Provisions of Rs 1,618 crore was created for these accounts during the quarter. 
Interestingly, as on September 30, 2017, Axis Bank has total loan outstanding of Rs 7,041 crore against the defaulters identified in the second list of RBI for Insolvency and Bankruptcy Code (IBC) 2016.  
Incremental provisions of Rs 505 crores on these select accounts have been made during the quarter taking the total provisioning against these select accounts to Rs 3,886 crores with an improved provision coverage ratio at 55%.
Moreover, Axis Bank identified divergence of Rs 5,632.80 crore in gross NPAs as on March 2017. The bank reported GNPA of Rs 21,280.48 crore in March 2017 compared to GNPA of Rs 26,913.28 crore as asserted by RBI. 
Following which, divergence of Rs 1,315.70 crore was also witnessed as on March 2017 - as the bank reported provisions of Rs 12,205.72 crore versus RBI's asserted provisions of Rs 13,521.42 crore during the period.
Deposits and Loan growth: 
CASA deposits grew 24% year-on-year and constituted 50% of total deposits. While retail term deposits and CASA together contributed 83% of total deposits.
Total deposits stood at Rs 416,430.56 crore in Q2, growing by 9.53% from Rs 380,187.16 crore same period of previous year. 
Going ahead, retail loans grew 23% YOY and accounted for 45% of Net Advances. While corporate loan growth rebounded to 10% YOY led by working capital up 36% YOY. 
Net advances were at Rs 410,170.76 crore - which rose by 16.13% from Rs 353,169.94 crore during the similar period of previous year. 
Mobile banking spends grew 78% YOY, card spends grew 67% YOY.  Share of digital transactions remains strong at 67%.
Also, shareholders' funds of the Bank grew 4% YOY and stood at Rs 56,172 crores as on 30th September 2017. Under Basel III, the Capital Adequacy Ratio (CAR) and Tier I CAR as on 30th September 2017 were 16.32% and 12.36% respectively.  
Lastly, Axis Bank stated that it has completed its acquisition process of 100% stake in Freecharge on October 06, 2017. It added, "The acquisition of Freecharge would help Axis Bank to augment its digital capabilities significantly and will help the Bank leapfrog its digital journey by multiple years.