Axis Bank will increase its stake to 20% in Max Life Insurance: Prashant Tripathy, MD& CEO
Prashant Tripathy, Managing Director & CEO, Max Life Insurance Company Limited, talks about the March quarter numbers, COVID claims situation, the value of the new business and the presence of Axis Bank on its board among others during a candid chat with Zee Business Executive Editor Swati Khandelwal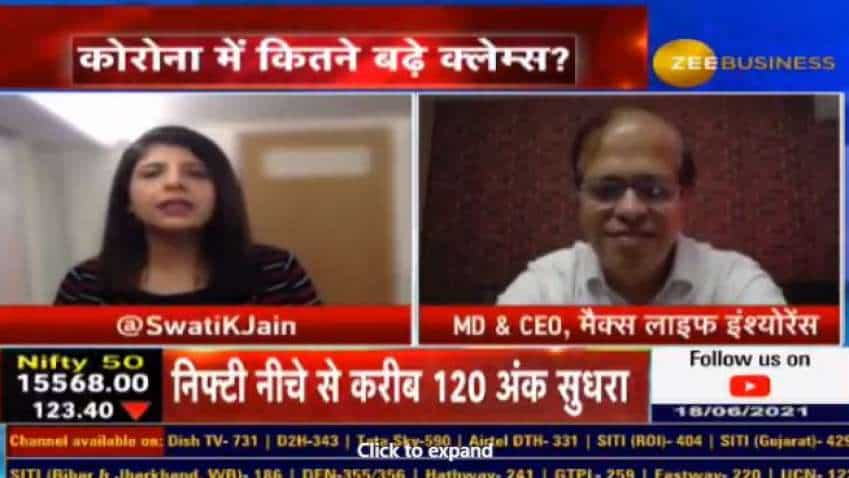 " First of all, I would like to talk about the last year, when we settled around 20,000 individual claims of which around 7% claims were related to COVID," Prashant Tripathy says
Written By:
Jitesh Kumar Jha
Updated: Mon, Jun 21, 2021
04:38 pm
New Delhi, ZeeBiz WebDesk
Prashant Tripathy, Managing Director & CEO, Max Life Insurance Company Limited, talks about the March quarter numbers, COVID claims situation, the value of the new business and the presence of Axis Bank on its board among others during a candid chat with Swati Khandelwal, Zee Business. Edited Excerpts: 
Q: Max Life has posted good numbers in the quarter ended March 2021. How will you summarize the quarter and what are the major highlights? Also, what impact the slight disturbance that was seen in the first two months of the first quarter will have on your business?
A: When the lockdown started last year, there was a slight decline in the first quarter. But insurance as an industry showed its improvement on a quarter-on-quarter basis and the last quarter was very strong for the entire private sector companies. There is a big parameter in our industry on which things are measured and it is sales growth or annualized premium equivalent (APE) growth. This growth stood around 40% for the entire industry in the fourth quarter which is quite strong.
See Zee Business Live TV Streaming Below:
There has been an upward trend and Max Life Insurance has performed well throughout the year and the last quarter as well. Our overall growth in the fourth quarter has been around 36%. Across the year, our APE growth stood at 19%, which was quite high in comparison to the 8% growth of the private industry. At all the parameters whether it is the value of the new business or new sales, Max Life Insurance has performed very well on every parameter. So, overall, not only in the fourth quarter but across the year, Max Life's performance was very good across the year. Your observation is right about what is happening this year. The first two months of the New Year has passed, and the growth seems good in both months.
If we will talk about the private industry then on the APE basis, there is a growth of around 35-36% and Max Life's growth stands around 56-57% in the same period. So, we have registered good growth in the first two months. If I will talk about my observation, then the month of May was quite slow compared to the month of April. Private industry growth in May stood around 5% and the Max Life's growth was 12% because COVID has a huge impact in these two months. I think there will be a good recovery in the market and the insurance in June as compared to May, as the lockdown affects eases.
So, I feel, awareness about the insurance industry and the insurance as a category has improved a lot in the last fifteen months as compared to the past and its impact is visible on the growth of this business, and it is just not limited to our business, but it is spread across the industry. I am very confident and also optimistic that as the months go by, the performance of the industry will be visible.
Q: Out of total claims what is the percentage of COVID claim of the company?
A: First of all, I would like to talk about the last year, when we settled around 20,000 individual claims of which around 7% claims were related to COVID. Although, you know that the first wave was much less as compared to the second wave. So, the way you noticed this year that there is an impact of COVID WAVE-II and gradually, it is visible in our claims. COVID claims are more this time as compared to the last year and the trend is upwards. We have observed that when the instance – deaths – takes place then the claims come after 6-8 weeks, so, it is difficult to tell that how many claims will be registered this year now. We are observing it and having our eyes on it. I would like to inform on behalf of the company that despite the high number of COVID claims last year, we kept our claim aid settlement ratio very healthy and improved on a year-on-year basis.
So, the commitment of the Max Life Insurance and the entire industry has been very good towards the consumers and we will honour those claims. Our company believes that this is a one-time event and we have to observe and manage it. We have to just let it pass. So, we at our company, Max Life Insurance, last year, created a big resolve of around Rs 500 crore to handle the CORONA claims and I feel that through that resolve, we will be able to manage the extra claims of this wave as well as the further waves that would come.             
Q: If we talk about the value of a new business, it grew around 40%, this year, almost doubled in 3years. Is this growth sustainable or it is a one-time because of covid impact?
A: Max Life Insurance's value of new business trajectory not only last year but in the last five years, it has been quite strong. If you will have a look at the rally of the new business of the last five years, then our growth has been around 25-26% of new business growth consistently over the last five years. So, if you are growing at 25% then the value of your new business will grow by around 2.50 times to three times in five years, and it has happened with us. Last year was unique in itself because we focused more on the value of a new business because although it was not expected that the sales growth will be at such a fast pace, but it happened.
So, the value of the new business increased because we managed our product mix smartly and we paid more attention to protection, where margins are more. At the same time, we also increased the penetration of protection from 8.50%, which stood at the value basis of the new sales, to more than 10%. We also increased the share of the design of our non-par products, which are the guaranteed designs, compared to the last year and also had control over our expenses.
These three things helped in increasing the value of the new business by 39% last year, which is quite solid as compared to other companies. I would say that it will be difficult to maintain the ratio of around 39-40% year-on-year but I believe that in the coming years, we will be able to manage the value of new business around the cumulative growth of the last five years, which is quite healthy in itself. 
Watch Full Interview Here:
Q: With Axis Bank coming on board as co-promoter with a 12.99% stake, what kind of synergy it will create for the company and how much it will help your distribution network?
A: We have a deep and very old relationship with Axis Bank. They have been our cherished distributor partners for the last 11 years. On average, it has had a contribution of around 55-60% in our new sales and it was higher last year. We are very excited and happy for us that now they have become our shareholders and promoters and will gradually take increase its share from this 13% to 20%. So, this was a milestone event in itself for Max Life Insurance and I am thankful to Axis Bank management who took this decision to join our board.
As far as synergies are concerned, I can see synergies in many areas like their presence on the board and participation in our strategic decisions being very business focused and having deep knowledge about the life insurance industry. So, their presence will have a positive impact on our strategy. Secondly, to date, we had a distribution relationship with them but now they have become our parent organization, so, now they will just not have attention on growing the company through new sales but also around margin products and digitization among other areas.
Now, their brand name will come into our tagline, which will have a positive impact on us. So, the relationship has moved to a different trajectory, and I feel it is a big reason due to which Max Life Insurance will grow for a number of years by leveraging that platform.
Get Latest Business News, Stock Market Updates and Videos; Check your tax outgo through Income Tax Calculator and save money through our Personal Finance coverage. Check Business Breaking News Live on Zee Business Twitter and Facebook. Subscribe on YouTube.