Auto sales expected to remain good between July to September quarter: Rakesh Sharma, ED, Bajaj Auto
Rakesh Sharma, Executive Director, Bajaj Auto Ltd, talks about June 2021 sales numbers, export markets, CV segment performance, capacity utilization, price hike, product pipeline, among others during an interview with Swati Khandelwal, Zee business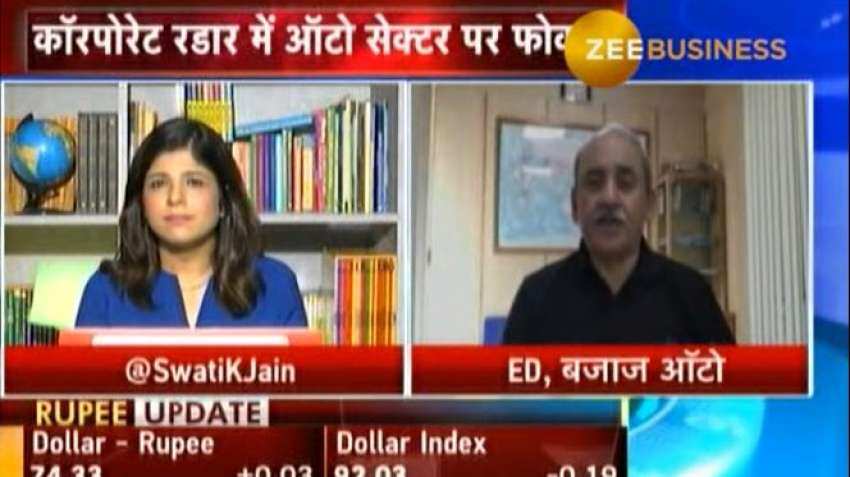 "Performance of the June quarter was slightly ahead of the expectations. We were apprehensive that the COVID restrictions, particularly in South India, where the second wave of COVID came later," Rakesh Sharma said
Written By:
Jitesh Kumar Jha
Updated: Wed, Jul 07, 2021
04:05 pm
New Delhi, ZeeBiz WebDesk
Rakesh Sharma, Executive Director, Bajaj Auto Ltd, talks about June 2021 sales numbers, export markets, CV segment performance, capacity utilization, price hike, product pipeline, among others during an interview with Swati Khandelwal, Zee business. Edited Excerpts:
Q: Firstly, June sales were large as per street estimates. This gives a sense that demand is back on track. Do you think that similar performance is expected in the future and is it sustainable or a good fillip can be seen from here?
A: I think, the performance of the June quarter was slightly ahead of the expectations. We were apprehensive that the COVID restrictions, particularly in South India, where the second wave of COVID came later, will hold back us a bit. But, there was good progress in North, West and East. This signifies that as COVID retreats, the vaccination programme progresses, the pent-up demand comes back very soon. So, it seems that the way things are going, demand will definitely come back in the period of July, August and September and we will get a chance to see strong demand. The best thing about this is that our three-wheelers business, where we have a huge share and leadership share and three-wheeler business has returned smartly in June. We thought that maybe the retail will pause at 5,000 units but have crossed the retail of 7,000 units. A big driver in this is the efforts of the government to take CNG to different places and opening new stations and it has contributed a lot to this because CNG models are quite good.
See Zee Business Live TV Streaming Below:
Q: On the front of exports, the performance has been a bit muted. So, let us know about the expectations on that front?
A: Performance is not muted. Every month we were crossing the mark of 2 lakh units, and this time, it didn't cross the 2 lakh mark because in logistics there is a lot of shortage of containers in the shipping lines. All the containers have been diverted to service the US and China trade and the availability of containers is quite low. Because of this, 10-15% of the orders are pushed to the next month and there is ceiling conditions are created particularly in the Latin American business. We are working on contracts and hopefully, they will be shorted out in the next 1-2 months. Or else, exports are quite steady. To date, few of our big markets like the Philippines among others have not opened till date. So, if the COVID reduces in those countries in the next two-three months and the markets of the Philippines and ASEAN start opening then I think exports will do better from this.
Q: Commerical vehicle segment was a segment that was not performing even the last time when we talked and you have addressed earlier and said that there is a good response in the segment. But has it reached the pre-COVID levels and if seen segment-wise then where the growth is more?
A: The comment that was made was related to the expectations and it was not like that and there was a smart improvement in the CV business segment. However, the CV business - in terms of the three-wheelers business – is quite low from the pre-COVID levels and it will take time to reach those levels. Like last time I said that in retail financing – as 95% of business is financed – the financers are quite cautious because during the lockdown or amid low traffic the capabilities of the driver to repay the EMIs weakens and the retail financiers are having a close look on the aspect. Therefore in the CV business, there is one more complication and that is retail finance.
So, the CV business has to deal with the COVID issue and retail financing issue. So, there will be a slow and steady improvement in it but the performance of Jue was better than our expectations and this is a good sign. Within the CV business, as I have said that CNG segments are doing well and the cargo segment is also doing well because there is a huge surge in deliveries of the e-commerce deliveries and home deliveries and services that people are buying cargo vehicles. So, the cargo segment and CNG segment within the CV business are performing well.
Q: How is capacity utilization looking at this time, i.e. are your plants running at full capacity? Also, what is an update on the expansion plans that were announced and are they on track? Overall what CapEx has been lined up for these expansions?
A: How the capacity will be fully utilized when there is a problem of demand. Currently, demand is still below the 2014-15 levels. So, full capacity utilization is not easy this year. So, capacity is ahead of the demand and there is no problem with it. For the premium segment, particularly from international markets, the demand of our collaborator KTM is huge and to service them and the electric vehicles, we announced a new plant a few months back and its work is on track. It will take time but we have started its work.
Q: Is there any room for a price hike as raw material prices have increased and certain companies have taken a price hike and are there and there are possibilities of further price hikes, if yes, what is the quantum and what is the timeline?
A: All companies have taken price hikes from July 1 to 3, 2021, because the price of steel, precious metals and packing material have increased a lot and it should be recovered. However, we, the industry and Bajaj Auto has not recovered the cost completely but there is a need to be a bit cautious because we have to see that the demand is coming back and the way it is happening as well as how the competition manages its prices. We will take the next round of price increase after understanding both things but I can say that from this cost increase the price has not been recovered completely.
SEE FULL INTERVIEW HERE:
Q: What is the launch pipeline especially in electric vehicles? What are the important big launches in India and the international market in FY22?
A: The pipeline is full and we are just waiting for that bit of equilibrium and peace to be reached in the market. It is very necessary as new products bring engagement and excitement among the customers in the auto industry. There is a bit of sluggishness in the market due to the COVID and economy and it is important to encourage it and for this purpose, we have a full pipeline for that. Many launches are spanning across all segments, i.e. in entry-level, mid-tier level of 125cc, where we have presented two-three new models in it like Pulsar NS 125 and going forward in the sports segment up to 250cc something will come. So from 110cc to 250cc, introductions will start from our side. I think, starting from August-September to January, February and March, in every month or every alternate month some product will be launched.
Get Latest Business News, Stock Market Updates and Videos; Check your tax outgo through Income Tax Calculator and save money through our Personal Finance coverage. Check Business Breaking News Live on Zee Business Twitter and Facebook. Subscribe on YouTube.