Amit Kalyani says I am Ready to pay taxes, but it should be used for something good
Amit Kalyani, Executive Director, Bharat Forge, during an interview with Zee Business, spoke about India's growth prospects, India Inc. expectation from the budget and domestic slowdown in the automobile industry.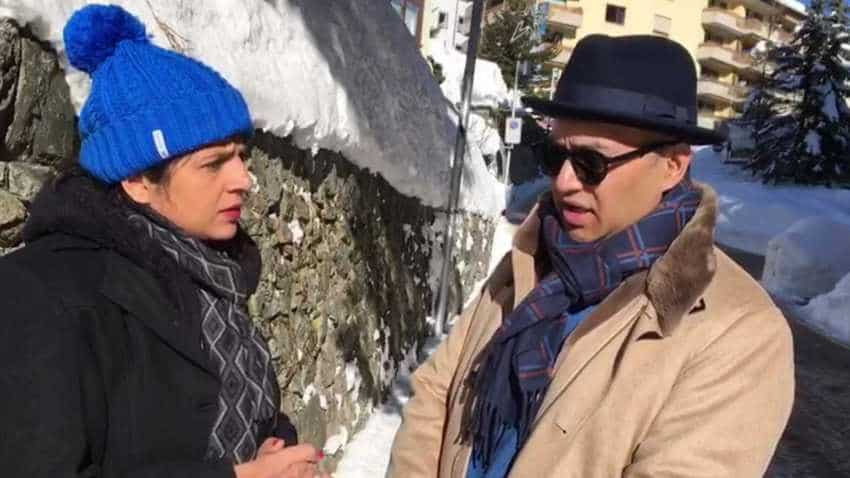 The government has launched good policies like Make in India, Skill India and other social initiatives, said Amit Kalyani. Image source: Zee Business
Amit Kalyani, Executive Director, Bharat Forge, during an interview with Swati Khandelwal, Zee Business, spoke about India's growth prospects, India Inc. expectation from the budget and domestic slowdown in the automobile industry. Edited Excerpts: 
Q: India is emerging as a bright spot and an important market to some extent, but there is a demand for stable policy. What is your opinion on India's growth prospects and how will it pan out in future?
A: Absolutely, India is a bright spot and people are willing to engage themselves with India and increase their business. But, what is India? India is not just Delhi. But it is a country with multiple locations, where people are living and working. And, multiple stalls of different states like Andhra, Telangana and Maharashtra among others, in Davos, Switzerland, has informed the global community that they will have to choose different locations for investment. Now, they will have to look at the locations that provide strong leadership and favourable policies for their investment. These are the steps where people on both sides, the states and the industry, are proactive for the purpose and are meeting with each other. Now, they are looking at India as several states. 
Q: Budget is around the corner and it is going to be a vote on account, but India Inc. always have certain demands from the government. What do you think that they should do to grow and promote business?
A: The government has launched good policies like Make in India, Skill India and other social initiatives in the last 5-10 years. But, there is a need for a stable policy, like monetary policy and banks should be strengthened through recapitalisation as India needs investment. Capital investment will help the economy to grow and will also generate employment opportunities in the country.  
Q: Any recommendation on Taxation?
A: Truly speaking, I don't have any problem in paying taxes as I am earning. But the tax should be used for something good like infrastructure, education, healthcare, sanitation, cleanliness and environment. The environment is a big thing and you can sense it in Davos where you are breathing clean air. I feel the whole world should put the planet first and on the priority list. 
Q:  RBI policy will be announced soon. Do you think that this is the right time for a rate cut?
A: I will not talk about rate cut or increase but will say that we are living in a digital world where things move at a very fast pace and we can't be in a situation where we take a long time to make a decision. I feel, if you want to cut it or increase it, it should be done quickly. I mean, if there is a rate cut and there is any spike in inflation than the can correct it also. Because, we are not living in a time, where we had the luxury of taking that slow approach. 
Q: This was a tuff year for the automobile industry as there was a domestic slowdown in India. How will you sum-up the year? 
A: It has been the best year for us as the domestic market remained positive for seven to eight months and the export market remains to be a good one. The strategic steps that were taken in the last 3-4 years have helped us to enter new sectors and produce new products. Interestingly, these products are developed with the support of the self-developed and home-grown technologies and patterns. In addition, the Make in India and other policies has benefitted us by allowing us to enter new sectors. I am only hoping that this trend continues and this business, which has seeded now will grow into a larger business. 
Q: Tell us about your approach for FY2019-20 and additional growth that you will achieve in it?
A: See, the global situation was quite different when we started on our strategic plan and you are aware of the prevalent condition in America, as the government has been closed/shut down over there. This is an unprecedented move and one cannot plan or forecast such events. We are not aware of the kind of effect that this crisis will have. Apart from this, our company is very strong on all fronts, financially, technologically and good customer base made up of credible people. That's why one should find opportunity in adversity as weaker players will face difficulties when a roundabout will be seen in the sector. Secondly, several auto companies are not investing internally, and they want to outsource more and more. So, you must strategically make sure that you are part of that initiative. 
Q: Let us know about the kind of impact that this ongoing global volatility will have on your business? 
A: The thing we are talking about is limited just to words as we have not seen a meaningful impact of the crisis till date. On looking on the truck business in the US you will find the presence of a huge order backlog over there. If it continues to exist then the next year will also be a good year. 
Q: But, what about China?
A: We don't have any direct exposure in China and we have no plants neither we export anything significant to China maybe 10-20 million. But, the vice president of China who was here in Davos has said that China will continue growing and will have a steady growth path. Look, they manage their economy very well and is a huge economy and have certain tools available to them that makes them far more effective in terms of implementation than we have. 
Q: Let's talk about the defence where you have initiated several JVs with several countries including Israel.  But India's order pipeline has dried in recent past. Will it have a major impact on your domestic defence business?
A: It has been almost 6-7 years since we incubated into the defence business and have developed several products and have prepared several products in the artillery segment, few of which have been tested so far. I feel they are good and globally comparative products and someday those orders will come through. 
Q: Let us know about the order book?
A: We have now focused on two areas of defence and they are capital, which is large purchases, and on the revenue side, where we have grown our business to close around Rs400 crores. So, things are working and growing but in a country that imports the amount which we do is not even a drop in the ocean. And, that's why we will have to continue making progress and developing new products and grow them. 
Q: So, you are hoping for a good year?
A: We are an eternal optimist as we have to work with the system. These are all strategic area and there are complicated technologies, which is nothing something where you can go and buy. It takes time. 
Watch this Zee News video
Q: CapEx for investment for next year?
A: We have a CapEx of Rs 850-1000 crores for three years and they are last year, this year and next year. 
Get Latest Business News, Stock Market Updates and Videos; Check your tax outgo through Income Tax Calculator and save money through our Personal Finance coverage. Check Business Breaking News Live on Zee Business Twitter and Facebook. Subscribe on YouTube.
Updated: Mon, Jan 28, 2019
04:10 pm
Davos, ZeeBiz WebDesk