Alembic's product pipeline for FY22 is quite strong: Rajkumar Kumar Baheti, CFO
Rajkumar Kumar Baheti, CFO, Alembic Pharmaceuticals, talks about the pressure on Sartans sales in the US, Outlook on India business, RBI's announcement for COVID related healthcare infra, API business, cancer drug Umbrasilib and bottom line and margin guidance for FY22 among others during an exclusive interview with Zee Business' Swati Khandelwal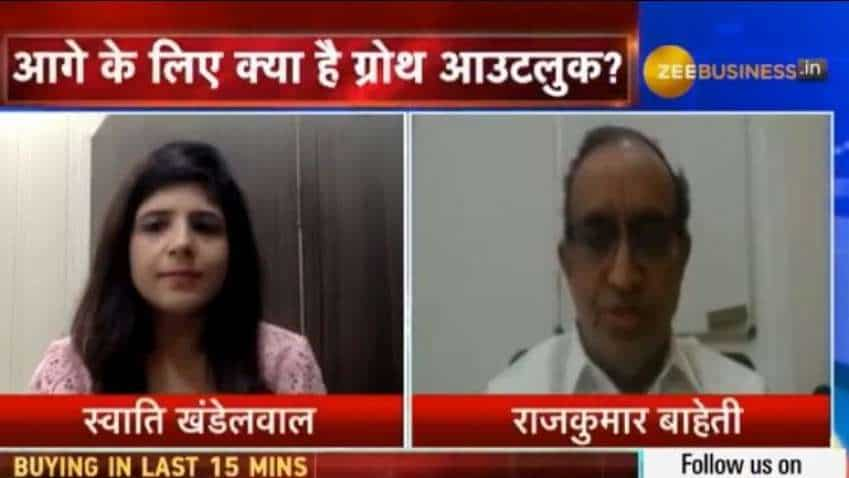 "It is so that we don't have any COVID specific products in our pipeline. Our product is Azithral that is quite beneficial in upper respiratory infection," Rajkumar Kumar Baheti said
Written By:
Jitesh Kumar Jha
Updated: Thu, May 06, 2021
06:55 pm
New Delhi, ZeeBiz WebDesk
Rajkumar Kumar Baheti, CFO, Alembic Pharmaceuticals Ltd., talks about the pressure on Sartans sales in the US, Outlook on India business, RBI's announcement for COVID related healthcare infra, API business, cancer drug Umbrasilib and bottom line and margin guidance for FY22 among others during an exclusive interview with Swati Khandelwal, Zee Business. Edited Excerpts:
Q: US sales have been under pressure due to Sartans sales hit. You gave quarterly US growth guidance for $55-60million, which is lower than your average quarter sales of $73-74 million. By when should we expect it normalizing?
A: Your observation is correct margin has declined a bit. You were talking about the US business, which should be seen in the context that there was a lot of disruption in the country in the last two years and we took good advantage of that opportunity and ramped up our business quickly. We knew that such kind of disruption will not always be there in there in the market, when the supply chain of other companies will restore, then there will be pressure on the margins. But, we got the opportunity and we took advantage of it. Now, the situation has normalized, the supply of Sartans among others has improved. But, our market share in terms of volumes is maintained but prices have softened a bit, which was expected. 
See Zee Business Live TV Streaming Below:
The positive thing is that, other than Sartans, the US base has build-up well and we are launching almost 15-16 products every year. We launched 20-21 products last year and are launching 15 more products associated with it this year in the US. With these launches, traction will continue to increase. So, the 70 million that we did last year was backed by a strong performance of Sartans, which will not be at that level anymore. But the rest of our business is growing very well. 
In this, I would like to tell to your customers that in the last 2-3 years, we have invested a lot in new facilities. With these facilities, we have also started filing at the USFDA, now, we are waiting for the visit of the USFDA and audit but it has delayed a bit due to the COVID. One of our facilities has been audited and they visited even during the COVID an exception and we have received 4-5 observation and we have compliant to it and now, we are waiting to hear from FDA. So, as soon as our new facilities are inspected and approvals are granted, new products will be launched with them, especially, we have great expectations in general injectable. We have a long product pipeline in it. But I think that it will be possible only in the second half (H2) of 2022 and we will reap its benefits in 2023-24. 
Watch Full Interview Here:
Q: What is your outlook on Indian business and how promising the Indian market is looking? In the recent announcement RBI has allotted Rs 50,000 crore liquidity for COVID related healthcare infra till March 2022. How do you see this for the overall pharma space and what is your observation for your business from this?
A: It is so that we don't have any COVID specific products in our pipeline. Our product is Azithral that is quite beneficial in upper respiratory infection and there is the first line of treatment for people suffering from cough and cold. So, we saw a good jump in it last year as well, when COVID was in its initial phase, then it flattened and now we are getting good traction in it since March-end or April. Apart from this, we do not have any COVID specific drug. Obviously, the domestic business of the companies that has COVID drugs is good but other than COVID our specialty business has improved a lot. We are in cardiodiabetology, ortho, gastro, women healthcare, gynaecology and all these segments are performing better than the market and in the coming time, I feel, more traction will be seen in this category.
Last year, I would say that the first two quarters were washed out because the doctors were not able to practice, clinics were closed and patients were not getting the medical services but this time, the situation is bad for the COVID affected patients but services are uninterrupted for rest of the diseases. Most of the doctors have been vaccinated for COVID and they are practising very comfortably either in their clinics or in hospitals. Non-COVID has declined a bit in the hospitals, in terms of elective surgeries among others; otherwise, the work is going on. Accordingly, we will perform better in pharma sales this year, I am talking as an industry, and Alembic also expects a good performance. 
Q: API business was quite impressive and it saw a 38% YoY growth. Should we expect this growth to continue going forward?
A: Rightly said, we have four growth drivers and we have talked about the US business and the Indian business, the other two growth drivers are a non-US regulated market business, which is termed as ROW international generic and the fourth is API. These two businesses have also performed well in 2020-21 because their base was quite low in 2019-20. We had more supply pressure in the US and there were certain issues related to serialization of supply chains in 2019-20 and we reaped its benefit in 2020-21. I expect that these two businesses will perform well in 2021-22, although, the growth numbers will not be the same as it was in 2020-21 because it is on a much higher base. But the two will grow and they are a profitable business. 
Q: What is the update on cancer drug Umbrasilib ramp up in the US Markets?
A: The drug was developed by our joint venture Rhizen Pharma and out-licensed it to an American company TG Therapeutics and they have received the approvals for two indications by the USFDA and they have also launched it. However, the market size for both these indications is small. They have also filed for an indication for the third drug of cancer and its market share is quite good and according to them, they will get approval for CLL, which is the name of an indication, by the second half of this financial year and then the market will grow at a good speed. But, I feel, the initial launch has been a good one and the product is quite safe and side-effects are minimum and they are quite effective. So, FDA has granted accelerated approval to it and had earlier rated it as a drug. So, this product will do good, but it was launched in February-end or March, so it is early days, we have to still see it for some more time. 
Q: What will be your bottom-line growth and Margin growth guidance for FY22?
A: As I have said, our EBITDA margins were better than the industry in the last two years and it was above industry standard. Our EBITDA margins were around 30% last year and around 28-30% in the year before. These margins are not sustainable and I have informed it earlier as well but I believe that our core business will do well and we have provided an EPS guidance of Rs 50 and today, we are standing by that guidance of Rs 50 per share EPS for 2021-22. 
Q: The new plants that are about to commence. By when should we expect its returns and can we see it in FY22? Has the overall CapEx cycle has been completed and you are focusing on consolidation?
A: It is a good question. As I have said that we invested in four plants, which are general injectable plants. We expect with it as one inspection of the plants have been completed and we have also worked on its compliance observation. I expect that we will be able to launch products from that plant in the second half of this financial year. However, the FDA inspection of the other two facilities is pending and we have not got a date for it and in this situation, a physical inspection is not taking place. So, it is difficult to say anything about by when the inspection will happen and approval will be granted. However, we are completely ready for it and the plants will be commissioned as we get clearance from the FDA. The plant is ready for commercial rollout. 
Get Latest Business News, Stock Market Updates and Videos; Check your tax outgo through Income Tax Calculator and save money through our Personal Finance coverage. Check Business Breaking News Live on Zee Business Twitter and Facebook. Subscribe on YouTube.