Air Conditioners will contribute 30-40% to our sales in next 3-4 years: Vikas Gupta, MD, PG Electroplast
The company has announced a CapEx of Rs 300 crore for manufacturing ACs via the PLI scheme.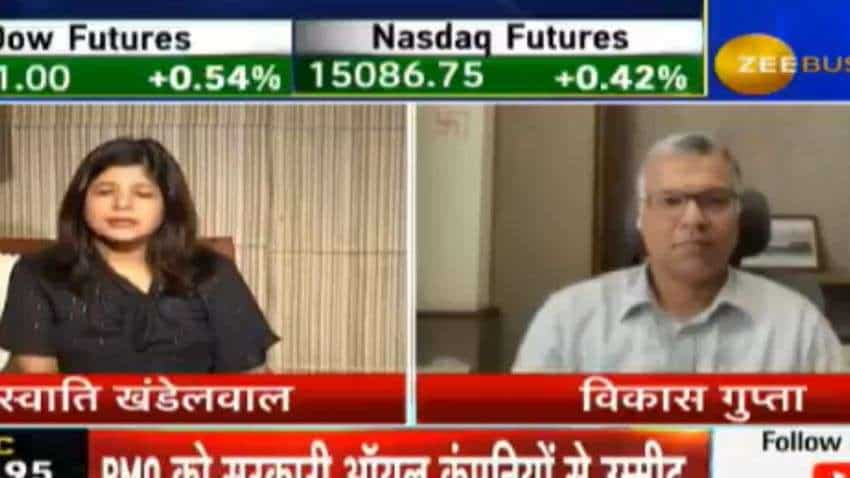 The company has announced a CapEx of Rs 300 crore for manufacturing ACs via the PLI scheme.
Written By:
Jitesh Kumar Jha
Updated: Thu, Sep 23, 2021
10:24 am
ZeeBiz WebDesk
Vikas Gupta, Managing Director (Operations), PG Electroplast, talks about the announced CapEx of Rs 300 crore to manufacture ACs under PLI scheme, revenue mix of the company, capacity utilization, export markets, eCommerce platform, order book and margins among others during a candid chat with Swati Khandelwal, Zee Business. Edited Excerpts:
WATCH | Click on Zee Business Live TV Streaming Below:
Q: The company has announced a CapEx of Rs 300 crore for manufacturing ACs via the PLI scheme. Tell us about your plans and what prospects are visible here?
A: We have participated in the PLI scheme and have already committed a CapEx of Rs 300 crores for it in the next four to five years. Basically, we are participating in the scheme intending to contribute to the government's vision of Atmanirbhar and Make in India and the PLI scheme will be a gamechanger for the white goods industry. In the current financial year, we have already committed a CapEx of Rs 120 crore, which is under execution. We have plans to create the components for air conditioners as per the scheme guidelines and cater to all big brands in India and ultimately look at the export market also as an outcome of the scheme. 
Q: Your company is into diversified electronic manufacturing set up. So, can you give us a sense of revenue mix? 
A: If we will have a look at the company's journey of the last five to six years than earlier, we were focusing more on plastic moulding but in the last four to five years, we are undergoing a transformation journey in which we are focusing more on product business because we have to align our vision with the vision of Government of India. The government is already focusing on Make in India and have already announced various initiatives to promote local manufacturing. So, we are moving more into product manufacturing. We have started doing washing machines, air coolers, air conditioners. So, if we will have a look at the product mix then plastic moulding will stay a substantial part of around 30-40% in FY22 and FY23. But the product business will play a main dominating role and stay the main growth driver for our company in the next 2-3 years. Air conditioners will definitely play a significant role in that. So, air conditioners will contribute almost 30-40% of our sales in next 3-4 four years. 
Q: How much is your current order book and what sort of growth do you expect by the end of the year? 
A: We are getting very good traction for all the products that were recently launched from the customers that we have at present. We have just completed the expansion of our washing machine products as well as capacity. We are getting very good traction and we have launched a fully automatic washing machine also for some of our marquee clients. As I have already told you that we have committed a CapEx of around Rs 120 crore in our air conditioner business, so, it will also give a good business volume to us by the last quarter of this year and the first quarter of FY23. So, if you will look at our overall guidance then we see healthy growth in FY22 and seeing major growth in FY23. For FY22, we are targeting a growth of around 25-30% in our sales revenue as compared to FY21. 
Q: Update us on the current capacity utilization levels? Going forward, apart from the CapEx you have talked about earlier, do you have any big CapEx plan? 
A: We have already expanded our capacity in the washing machine and in that we are getting a capacity utilization of almost 70-80%. So, in the washing machine category, we will be undergoing a CapEx cycle in FY23. In air conditioners, we have committed a CapEx of around Rs 300 crore for a period of four years out of that Rs 120 crore is happening within this year. The balance will happen in a staggered way over the next three to four years. We plan to invest in our design and R&D capabilities, so have to make this ODM business into a sustainable business model and ultimately also to tap into the export market also. Once we are able to achieve, a certain level of economies of scale. 
Q: What is the company's vision for the global and export market and by when do you feel that a substantial chunk of your business will come from the export market? 
A: Currently, we are seeing our electronic manufacturing industry in India then there is a disability of almost 8-10% vis-à-vis China. So, the PLI scheme announced by the government will give an incentive of around 4-6%, which will help us in bridging that disability to a certain level. But in the next 2-3 years, I think, a major focus will be on the domestic market and we have to achieve a certain level of economies of scale then I think we will become competitive. Seeing, the current geopolitical situation also and supply chain disruption post-COVID-19, I think, there is a very strong opportunity for India to grab the China Plus One opportunity. So, I think, the next 2-3 years will play a very critical role for us to develop India as a good export hub for White Good appliances. 
Q: What prospect of growth your company sees from the export market on a medium to long term basis?
A: I think, in the next 2-3 years almost around 10-15% of our sales should be coming from exports. We have already started discussions with some clients for our washing machines, we have done some test exports also. We are talking to other clients also. In the next 2-3 years, we should be able to get a number of around 15% of our sales coming from exports. 
Q: Raw material prices have shot up across industries. How do you plan to maintain margins going ahead and what would be your guidance on the margin on a short to long term basis?
A: Overall cost environment has been quite hostile for our industry as there has been a substantial increase in the commodities. There has been a multi-fold increase in container freight coming from China also. So, that is tremendous pressure on us and we are in continuous discussions with our clients and I think that we have been able to pass on that burden of cost in a phased manner to our clients. So, when it comes to margin guidance then we are trying to maintain an EBITDA margin of around 8-9% in the current FY22.
Q: Tell us about new customer acquisition specifically from the eCommerce channels and what growth opportunities are visible on the front?
A: If you will have a look at the pattern of sales then it has changed because of the COVID in the first wave and second wave. There is a lot of traction on eCommerce, there is a shift of sales from a general trade or conventional channel to eCommerce. We are aligned to that thought and we are already working with one big eCommerce client and are into a discussion with other clients also. So, we see a lot of traction for our products and we are in discussions for another product category also. We are already doing washing machines with one of the large eCommerce in India and are in discussions with that eCommerce player for other product categories also. I think, eCommerce will play a very dominating role in the coming 2-3 years and will be a big growth driver for our company as well. 
Get Latest Business News, Stock Market Updates and Videos; Check your tax outgo through Income Tax Calculator and save money through our Personal Finance coverage. Check Business Breaking News Live on Zee Business Twitter and Facebook. Subscribe on YouTube.