After Bhushan Steel, Thyssenkrupp moves, Tata Steel wants to take next step to reach comfort level
 Despite Tata Steel's deleveraging exercise through the joint venture (JV) with Germany's industrial group  Thyssenkrupp  AG and improving cash-flow in the domestic market, its net debt to Ebitda ratio continued to remain elevated at four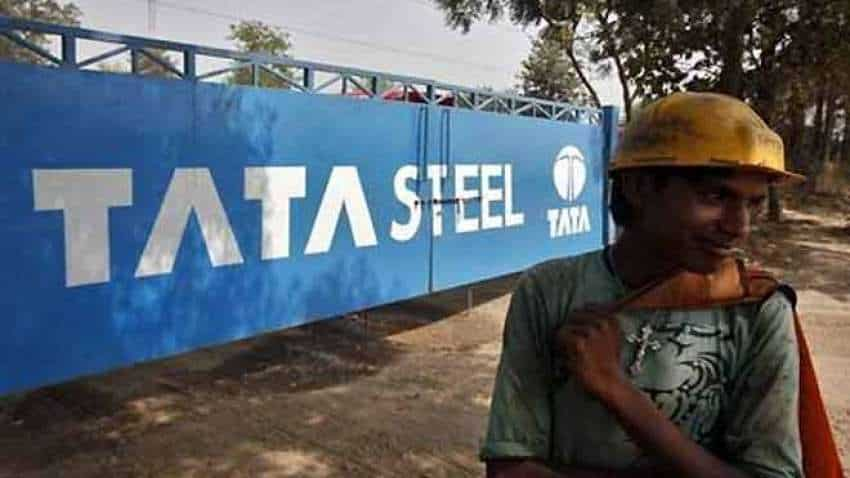 he Tata Group steel company has entered into a definitive pact with Thyssenkrupp to combine their European steel businesses in a 50-50 joint venture (JV). Image source: Reuters
New Delhi: Despite Tata Steel's deleveraging exercise through the joint venture (JV) with Germany's industrial group Thyssenkrupp AG and improving cash-flow in the domestic market, its net debt to Ebitda ratio continued to remain elevated at four.   T V Narendran, global CEO and managing director, Tata Steel, told DNA Money that post last week's deal with Thyssenkrupp and its recent acquisition of bankrupt Bhushan Steel, Tata Steel's net debt to Ebitda (Earnings before interest tax, depreciation and amortisation) ratio stood at four.
"In the long run, we want to be below net debt to Ebidta ratio of three. Post the deal, we will be around four rather than three but we have plans to bring it back to three or below three because we are very comfortable with that level of net debt to Ebitda ratio. It is not that four is a dangerous level, but in a cyclical industry it is always good to be at or below three," he said.
The Tata Group steel company has entered into a definitive pact with Thyssenkrupp to combine their European steel businesses in a 50-50 joint venture (JV). The two had already inked a memorandum of understanding (MoU) for the deal in September last year.
The JV agreement makes them the second largest European steel firm with a combined capacity of 22 million tonnes per annum (mtpa) and a turnover of 17 billion euros, next to only AccelorMittal. Narendran said with the JV, the Tata Steel Europe will be able to shift Rs 20,000 crore (2.5 billion euros) debt from its parent company's balance sheet to the JV's balance sheet on completion of the transaction.
He said it will ease the interest burden for the Tata Steel by Rs 1,000 crore. "We will get these benefits on a relative basis. On an absolute basis, our debt will depend a lot on the situation in India like the acquisitions that we have made and things like that," he said.  Recently, Tata Steel acquired bankrupt Bhushan Steel through a bidding process under Insolvency and Bankruptcy Code (IBC) at Rs 35,000 crore.
This has raised its net debt on the books from Rs 69,000 crore to Rs 1.04 lakh crore. The will come down by Rs 20,000 crore to Rs 84,000 crore once the Thyessenkrupp deal is closed. Narendran said the JV with German steel major was a step in deleveraging its balance sheet. According to him, the new entity will be self-sustaining and not depend on the parent company for cash flow and investment needs.
"Tata Steel's Indian parent company will not have to support Europe business for capital infusion. Over the last few years, we had to support Europe off and on with capital infusion. To that extent, whatever cash flows or whatever free cash we have in India will support our growth ambitions in India itself," he said. According to him, the acquisition of Bhushan Steel would turn cash positive very soon despite the "lumpy amount" spend in its buyout.
 "The acquisitions obviously need lumpy amounts that we need to pay because these are the opportunity that comes our way once in a while but it will be immediately cash positive. We believe that there will be a temporary bump up on net debt to ebitda ratio. If only this JV had happened then we would have achieved the net debt to ebitda ratio of below three by the end of this year. We are comfortable with the fact that in the short to medium term we may have to debt to ebitda ration going up to four but we believe the cash flow situation, market condition and the competitive position in India that we have as far as investment is concerned will allow us to correct the situation in next couple of years," said Tata Steel top executive.
An analyst with a management consultancy, who spoke anonymously, said the Thyssenkrupp deal may not have been prompted only by the Bhushan Steel acquisition and expect it to be accretive in 18-24 months.
"What is happening for them in NCLT might have been the factor but I don't think that would have been a big factor because this discussion had been going on for a long time. The hope is that the pricing at which they will pick up the plant is going to be fairly accretive. Obviously, there is some work to be done on the plant but one would expect that these plants to be accretive in 18-24 months at the price at which they have been procured," he said.
Updated: Wed, Jul 04, 2018
10:08 am
ZeeBiz WebDesk