Affle India will penetrate in the market though 4V strategy: Anuj Khanna Sohum, CMD
We want to beat the industrial growth rate in the next five by adopting 4V strategy Voice, Video, Vernacular and Verticalisation to reach a billion shoppers on connected devices, says Anuj Khanna Sohum, Chairman & Managing Director (CMD), Affle India.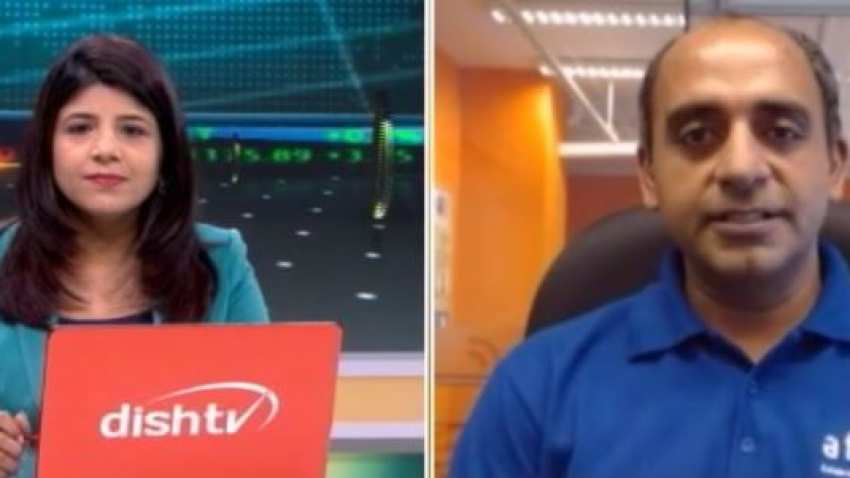 During an interview with Swati Khandelwal, Mr Sohum said, "our patents are related to fraud detection in human and non-human data available on digital platforms, minimizes it and helps in increasing the ROI of the advertisers". Excerpts:
Edited By:
Jitesh Kumar Jha
Updated: Wed, Nov 27, 2019
05:05 pm
New Delhi, ZeeBiz WebDesk
We want to beat the industrial growth rate in the next five by adopting 4V strategy Voice, Video, Vernacular and Verticalisation to reach a billion shoppers on connected devices, says Anuj Khanna Sohum, Chairman & Managing Director (CMD), Affle India. During an interview with Swati Khandelwal, Mr Sohum said, "our patents are related to fraud detection in human and non-human data available on digital platforms, minimizes it and helps in increasing the ROI of the advertisers". Excerpts: 
Q: Your stock has had a fantastic run since listing. Take us through the key highlights and business developments at the company since listing?
A: Affle's IPO has received good support from its investors, whether they are the foreign institutional investors or domestic mutual funds. Fundamentally, our company is an Indian focused technology and consumer intelligence platform company that focuses on mobile and connected devices. Interestingly, the main growth drivers of the internet in the developing markets are supporting our company in terms of the way our business is growing in different verticals like e-commerce, OTT-entertainment, travel & transport, food-tech and fin-tech among others. There are several categories where our customers are increasingly focusing more on mobile in terms of market spends, which has grown on digital and mobile platforms. If you have a look particularly on Indian market then you will find that mobile and digital platforms will grow by 30% at CGAR level across the industry. Interestingly, Affle being a differentiated player wants to keep its growth rate - to increase our market share in India - higher than the industry rate. 
Our team has a long-term goal to beat the industry growth in the next five years, by 2025, and what new initiatives should be adopted for it. So, we have created and adopted a 4V's (Voice, Video, Vernacular and Verticalisation) strategy and would like to talk mainly about two V's of the same. The first V is vernacular and it focuses on how to go deeper in India, home of several languages, by starting with Hindi and slowly moving to other vernacular content in other languages on mobile, so that we get more convergence from the consumers. We have seen that our customers are looking forward to vernacular apps, i.e. local language app, and are launching them in accordance with their futuristic strategy. The second V is Verticalisation, under which we look at deeper data of the customers - fin-tech, banking, OTT & e-Commerce segment - to whom we serve and find ways to integrate our technology with them so that we can provide a better experience to the consumers and advertisers. Thus, this is our strategy. Besides, 50% of our revenue comes from the international market, which is unique in itself because the maximum of Internet companies in India has its focus on India but Affle has a global outlook. 
Q: You have filled 14 patents in the recent past. So, let us know the fields they will cover and talk about their revenue potential that they can generate in future?
A: Our company is almost 14 years old and was started in Singapore in 2005. We are a technology company and is a computer engineer, who launched his first start-up with the second-year computer engineering scholarship. If looked fundamentally then our company is a technology company where more than 50% of employees are qualified software engineers and the same goes with those who are sitting in the top management. When it comes to patent, especially when you are an innovative company, then you will have to introduce unique factors that haven't been created at others place yet or you may implement it uniquely. So, some of the 14 patents that have been filed were earlier filed as patents in India itself and, now, they have been filed internationally in the US market. Thus, we have tried to cover the Indian as well as the US market. The patents relates to fraud detection in the human and non-human data that is available on the digital platform to make sure that the advertisement is shown only to the targeted consumers instead of some robot, machine or a device that has been kept idle like I am talking to you right now and my phone is kept here. It may be that there are some apps on the phone that are still showing ads that I am not watching them. So, they are related to how to minimize such things, fraud and non-human usage of mobile with an aim to increase the ROI of the advertisers. We have a lot of commitments on this side and some of the patents are related to this. 
The new patents that have been filed in Singapore focus on vernacular and conversational marketing. For instance, if you saw a company's ad on the phone and click on it and then either download its app or start a conversation in which the machine and the Chabot interact with the consumer and know about the kind of product in which you are interested in. Suppose you see some ad on a Fin-tech and clicked on it. So, it takes you either on the lead form or you can have a conversation on it to have a consultative approach. So, we are innovating for such initiatives. Thus, we are engaged in conversational marketing, vernacular content and people affinity like I am talking in Hindi at present but when asked to study something then possibly my reading will be a better one in English. 
Watch Zee Business Live TV below
Q: What is the revenue mix between India and outside India markets? Do you see a shift in the future? Where do you enjoy higher margins?
A: We are strongly focusing on the emerging market because countries like India, Indonesia, South East Asia, Middle East, Africa and regions in Latin America or the southern geographies have a unique factor. For instance, there are a lot of smartphone users are there in India maybe 600 million devices are connected with the internet but each of them doesn't shop online and probably the online conversion happens in about 100 million devices out of these 600 million devices. So, if there is a need to focus on the same then our data management platform performs deep distillation of the same, i.e. how to search those 100 million devices from these 600 million connected devices that will definitely make the conversion. And, our technology has a differentiation called 'Deep Data Distillation', which is applicable even in every emerging market as it is needed in India. These markets are similar in nature with large smartphone penetration but online commerce or shopping hasn't penetrated in the same manner. And, this is a place/geography where our technology works well and that's why our international market includes South East Asia, Middle East, Africa and other regions that are termed as an emerging market and they have a significant contribution in international expansion and growth. If you have a look at these markets then will find that the CAGR of advertising is quite big. When it comes to margins, then we will have a balanced approach between Indian and international market in which if we earn a revenue of $100 then our data inventory cost will be kept between 55-60 and similar investment in data inventory cost will be made in the international market. if we look at the bottom line in terms of margin then we posted 29% EBITDA in financial year 2019 (FY19), Which stood slightly below 29% in H1FY20 nut if we have a look on its modelling of overall growth in absolute terms then it is growing well and we would like to post consistent EBITDA delivery between 25 and 29 in the long term. 
Q: Do you have any acquisition plans to grow inorganically? What is your order book and what is your growth outlook? 
A: If you have a look at our business then our performance in H2 will always be better than H1 on an absolute basis because we are a growth based company and that's why the growth that happens in a serialised way on a quarter-on-quarter (QoQ) basis remains very strong in Q3 and Q4. This trend will continue this year as well and we will grow better in the two quarters in terms of revenue as well as on the bottom line in a serialised basis. As far as the order book is concerned then it depends on seasonality and the momentum of industry growth and we will move there in H2 in terms of better performance. Besides, our overall growth focus is on how to deep integrate on data with the customers to whom we are serving through verticalization and how to reach the advertiser to provide better ROI through our technology. This is a conversion business and through verticalization, our returns in H2 will be better than H1. I think the outlook is positive and generally, we don't talk about the order book but we talk on seasonality and results in Q3 and Q4 always remain better then Q1 and Q2 and the trend will continue this year as well. The acquisition is a confidential matter but through a strategic point of view, I can say that the positive cash flow is generated and the 80% of the profit is collected in the same year. So, the positive cash flow that comes through internal accrual will be used for acquisition purpose, but we are selective and should be strategic. 
Get Latest Business News, Stock Market Updates and Videos; Check your tax outgo through Income Tax Calculator and save money through our Personal Finance coverage. Check Business Breaking News Live on Zee Business Twitter and Facebook. Subscribe on YouTube.