Advertisers look to in-app games with $1 billion opportunity by 2020
With smartphones increasing in India due to cheaper Android phones coming into the market online game downloads have sky rocked in the last two years.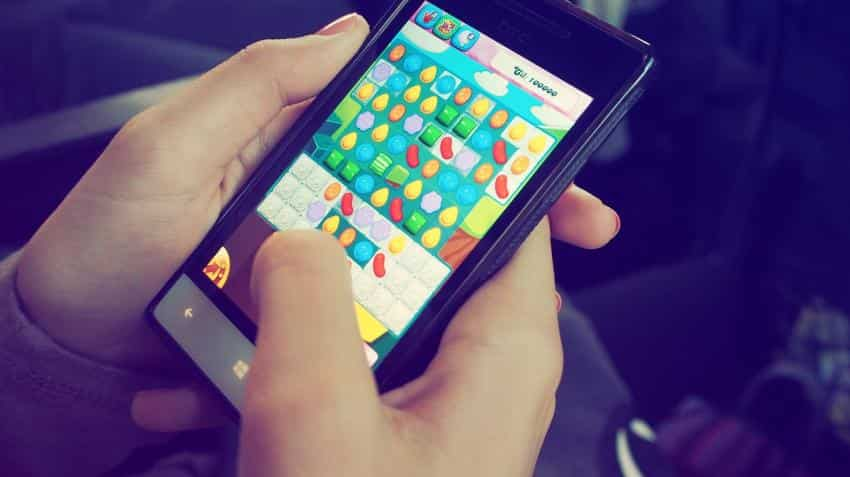 A woman playing popular mobile game Candy Crush on her smartphone. Photo: Pixabay
Updated: Tue, Aug 08, 2017
03:15 pm
Mumbai, ZeeBiz WebDesk
Key highlights:

India joined the world leaders in the gaming industry as it was ranked No.5 globally
total game revenue in India is forecasted to reach as high as $1.1 billion by 2020
In Q2 2016 the total downloads in the gaming industry was 1.6 billion
If it is one thing that can be noticed traveling in local train or bus home is that people are engaged on their smartphones either watching a movie or are playing games. Whether it is Candy Crush, Subway Surfer, Bubble Shooter, Temple Run or even the reinvention of the old board game Ludo which has made its way back on the mobile, people in India can be seen hooked on to some game or the other in their spare time.
India joined the world leaders in the gaming industry as it was ranked No.5 globally by game downloads in Q2 2016, according to an App Annie-Nasscom report. It is now just behind countries such as the US, China, Brazil and Russia. It further said that total game revenue in India is forecasted to reach as high as $1.1 billion by 2020.
While in Q2 2016 the total downloads in the gaming industry was 1.6 billion, India had seen between 300-350 million game downloads on Google Play as well as iOS. This is a 2.1 times growth in the game downloads from the same quarter two years before. Similarly, the time spent has increased by 1.3 times over the two year period, according to the report.
Game downloads are expected to reach 5.3 billion by 2020 in India with the mobile gaming taking off.
Besides this, game revenues have increased by 1.8 times in India to $16 million in Q2 2016 from $12 million in the same quarter in 2015 and $9 million in 2014, the report stated. These revenues are Google Play store and Apple's App Store combined.
According to a recent study by KPMG-Google, the Indian online gaming industry will be a $1 billion opportunity by 2021 from about $290 million in 2016 as it will add 190 million gamers.
The reason the rapid growth in Indian gaming market is the rapid growth of low cost Android devices across lower-tier cities in the country. This can be seen as the bulk of the games downloaded are through Google Play store.
Between Q2 2014 and Q2 2016, game downloads in India more than doubled, with Google Play generating 13 times more downloads compared to iOS, said KPMG-Google report.
Being such a popular source for eyeballs, advertisers are today looking at this as a way to get to their audience. The way brands can do this is through three ways, ie in-app advertisement such as banner ads placed in the game app, in-product or brand placement where brands or products are placed in the game-play, and incentive based advertisement where virtual objects or game-play requisites or access to the game is by watching an advertisement.
Usually the games supported by advertising are offered to consumers for free and a large part of them today depend on ads or partly in the freemium model (balance of ads and in-game purchases).
Most game developers are still dependent on the advertisers and publishers for monetisation. "Today, online gaming industry has started to adapt to the market and is increasingly deriving revenues through 'In-app advertisement' and 'Incentive based advertisement'," said the KPMG-Google report.
This is as in the last few years the volumes have seen a rapid growth but the market is dominated by casual gamers. These are online gamers with limited mobile payment options and low online entertainment spends that have resulted in low monetisation levels.
With a large number people in India still not used to paying for playing online games, in-app game advertising works well in India as it not only gets the rewards of reaching or engaging with a large audience in India, but at the same time helps provide support to the game developer community in the country.
There are now even companies that have come for content creators that help them monetise their games through advertising without disrupting the user experience. Greedy Games is one among them and has advertisers such as Unilever, ITC, Rickitt Benckiser, PepsiCo, Fastrack and Airtel.
Ashish Shah, Founder and CEO of digital ad agency Vertoz says that the most engaging and appealing mobile ads are created first for gaming apps before reaching the larger mobile market, and this represents a huge opportunity for brands.
"As brand advertisers move progressively greater portions of their budgets to mobile, we will see games capture a great deal of that spend—essentially on the grounds that they constitute one of the largest amount of in-app traffic. In numerous ways, game inventory could be the best fit for brands—games represent an incredibly creative environment for brands to access and benefit from, and game users are typically highly-engaged," he said.
Shah further added, "The extremely high level of focus, activity, and interaction that consumers have while playing mobile games delivers incredible outcomes in terms of ad engagement when compared to other media. Both of these things make games a fertile ground for programmatic ad buying that empowers brands to not only identify consumers with high intent, but also to reach them in real-time. So brand advertisers can't afford to ignore in app games if they want to connect with an engaged users on mobile, and looking ahead we can expect to see the relationship between brands and games continue to grow."
Sachin Uppal, CMO, Play Games24x7 - RummyCircle and Ultimate Games feels that a combination of freemium model, in-app advertising and brand partnerships can make games successful for the developers. He however cautions the use of in-app advertising for games.
"In-app advertising unless done intelligently interrupts that relationship. Choosing the right technology partners and the quality of ads and the categories is also a very important part of the relationship building," he says.
"Unless this delicate balance is maintained, in-app advertising will continue to be looked upon as an interrupter, however, if done by understanding it players through the lens of player's interests and valuable rewards, can help in building profitable revenue streams," he said.
Another online game developer Herat Maniar, CMO, Sachar Gaming says, "In app advertising drives immersive experience. Users who interact with these generally are more likely to try your app based product. In-app advertising or app monetisation in India is in very nascent stage, currently many of them are monetising internally by promoting their own products or offers to the players. We are also working on the lines of monetisation by tying up with leading brands on our app. We have approached couple of large brands, which is under progress. However, going forward this is a big opportunity and revenue generator."
ALSO READ:
Get Latest Business News, Stock Market Updates and Videos; Check your tax outgo through Income Tax Calculator and save money through our Personal Finance coverage. Check Business Breaking News Live on Zee Business Twitter and Facebook. Subscribe on YouTube.