We are not talking of cancellations, but postponing media spends: Sunil Kataria, GCPL
Sunil Kataria says that demonetisation has resulted in the wholesale business coming to a standstill and has resulted in impacting nearly 40% of the FMCG sector revenues.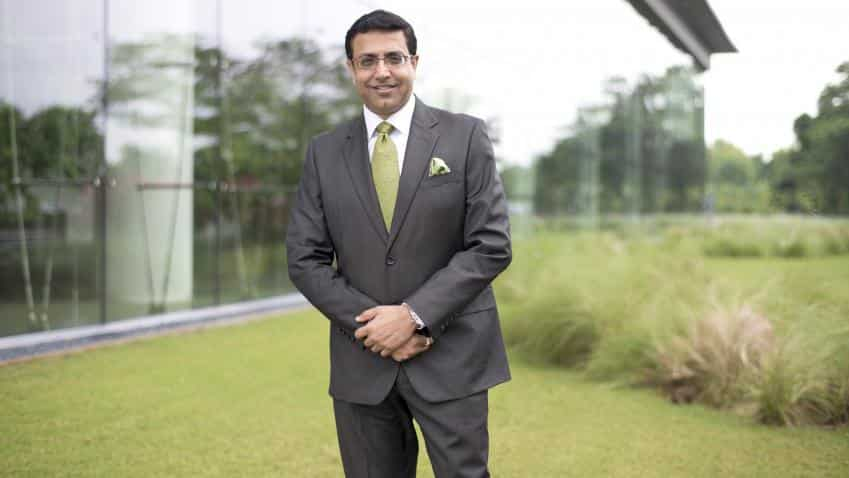 Sunil Kataria, Business Head – India and SAARC, Godrej Consumer Products Ltd (GCPL) and Chairman of ISA. Photo: GCPL
The recent move by the government to demonetise the old Rs 500 and Rs 1,000 notes has left many industries still reeling from the impact of the lack of liquidity. Consumer sentiment towards spending has come under severe strain and left many companies in the dark whether it will gain back the momentum it had before demonetisation.
One such industry is the FMCG sector has been impacted severely as the wholesale business has come to a standstill, says Sunil Kataria, Business Head – India and SAARC, Godrej Consumer Products Ltd (GCPL). He explains as the wholesale business is driven by cash transactions it has come to a standstill after demonetisation. The wholesale business contributes around 40% of the business.
Kataria also being the Chairman of Indian Society of Advertisers (ISA) said, "It makes sense for FMCG advertisers to look at moderation of demand creation, which would mean rescheduling or postponing media spends."
The advertising industry is looking to loose Rs 2,000 crore of business during Q3 as FMCG including other advertisers look to moderate their spends, according to a DNA report.
Kataria spoke to Collin Furtado on the impact of demonetisation, decline of ad spends, rural spends and Good Knights recent campaign.
What is impact of demonetization on FMCG companies such as yours? What will be the level of impact on Q3 and Q4?
So Q3 the impact will be there definitely, because it has badly impacted (us) right now. It is anybody's guess on what will happen in December. The challenge for FMCG companies is that roughly 40-50% depending on which kind of company and category you are in, that is the size of the business which comes in from wholesale. So one thing which has got impacted badly for all FMCG companies is the wholesale business, which has kind of just come to a stand still. Because the wholesale business in India has a parallel economy that is run on cash component. And that has really come apart because there is no cash in the system. While from the companies everything is automated, we have to transaction on invoice. But many transactions which happen between wholesale and rural retailers, they may not be happening on transparency.
The wholesalers are completely stranded. With this transparency coming in they are stumped what to do. Wholesale is going to stop and that contributes around 40% of the business. On the retail side we are finding that the first two weeks were very bad. But we have some liquidity coming and some recovery happening, but it is nowhere close to the pre-demonetisation levels as yet.
The two channels which have jumped a lot but form a small part in India is the modern trade and e-commerce. Now they are growing through the roof. But they put together may not contribute to more than 10% of business of the company. The 10% is going through the roof but the 40% of wholesale and 50% of retail are both in bit of a jam right now.
We expect things to improve in December with liquidity coming back. My expectation is retail should come back soon. And its recovery depends on how fast this 86% of currency can be rebuild. If the government can get that back hopefully by January end we will see retail normalcy coming back. The joker in the pack will be how the wholesale business recovers. We expect Q4 to be better, but how much I don't know right now.
How are you mitigating the impact of demonetisation?
We have done a couple of things. We have put more focus on modern trade and e-commerce. We are also helping our distributors by opening up some credit lines. Plus we are seeing certain categories which are less impacted and making sure that their supply chain doesn't get disturbed in terms of transportation, etc. For instant protecting your family from mosquito infestation is more important than buying a deodorant. So we are being slightly more nimble and reflexive on the supply chain.
What is the rural impact due to demonetisation?
Right now the impact is on both rural and urban. This a question of wholesale because a large part of India is based out of urban. While it feeds the rural but it gets accounted in urban areas. I would say there has been an impact in both. Unfortunately rural was not doing well over the past 12 months. This time there was a bumper monsoon and we had a very good quarter. It was very clear for FMCG companies that now with harvesting happening the rural incomes were bound to come back. Now demonetization has hit both rural and urban, so the road to recovery will definitely take more time.
How much are advertisers cutting ad spends?
One challenge which all advertisers are facing right now is that you are not able to replace stock in the system. The role of advertising is to create demand. So the challenge is stock liquidity and consumer liquidity. So in this context it definitely doesn't make sense when your top-lines are going to be under such serious pressure that is not of your own making you have to moderate demand creation. No point creating a demand when the consumer says I don't have money and in some cases when the consumer has money you don't have stock levels. So in this case I think each advertiser has to make their own call. But it makes sense for FMCG advertisers to look at moderation of demand creation, which would mean rescheduling or postponing media spends. We are not talking of cancellations, we are talking of postponing of media spends.
If in Q4 demand comes back it is just a matter of postponement which can be made. It is not only FMCG, but other such as Automobile, Telecom, Real Estate which have been badly hit and would moderate their ad spends. Definitely the advertising industry will be impacted due to this. How much and how fast will depend on how fast the recovery will be across sectors. One thing good about the advertising industry is that even in bad times they always find out some or the other industry which gets a benefit out of it. So one thing which you are seeing is the mobile wallets and m-commerce companies.
How much does Good Knight sales contribute to the revenues of GCPL?
It contributes roughly around 40%.
What is the objective of the Good Knight campaign that you looking at?
Out of home as a category in India is very small. It is only about 3% of the total category of Household Insecticide (HI). It never really got developed. It is a Rs 130 crore category. As a country we have more civic issues where vector borne diseases are the highest and happen through dengue mosquitoes which come out during the day time. The biggest concern is how do they protect their kids from dengue mosquitoes, as they are day time mosquitoes. Plus we observed the category was not developing because of some issues like the product format has not changed over the years. Children just don't like applying because of the smell of the cream and its safety on the skin.
So the idea of fabric roll on came in. It is first of all a product which you don't have to apply on the skin. Then we said why not apply it on clothes and came up with simple four dot process on the fabric with the roll on and is non-stainable. And finally it has a good fragrance.
We realised we had a great product but finally it is also about habit creation. Then we had an insight where due to the outbreak of dengue mothers didn't want their children to go out and play. This was a big insight as to why you should restrict children from playing outside. A lot of studies have shown that outdoor playing of the child is very good for a child's developed. So that idea got translated into the creative idea of Khul Ke Jiyo Ghar Ke Bahar. So we wanted to create a habit and teach the regiment so it the line became Ek, do, teen, char, Khul Ke Jiyo Ghar Ke Bahar.
What are the mediums that you are using for the campaign?
TV, radio and digital. We did one print campaign to start with also for the introduction of the product. There was a huge campaign on digital on children's day for them to go out and play. We made it into a children's play concept.
What are the ad spends for this campaign?
We have spent more than the benchmark that we have otherwise on Good Knight. Because this is a category which we have created for us. We are playing two roles, ie we are introducing a new concept all together which people don't know. For FastCard too we had taken that stand of being very aggressive because it was also habit creation. With this product too we need to play the role of habit creation. Here the task is to create out of home usage. So the spends are similarly in that kind of range. What this difference in this case will be the role of digital in this campaign is much better. For FastCard the digital spends was much smaller.
Get Latest Business News, Stock Market Updates and Videos; Check your tax outgo through Income Tax Calculator and save money through our Personal Finance coverage. Check Business Breaking News Live on Zee Business Twitter and Facebook. Subscribe on YouTube.
Updated: Tue, Dec 06, 2016
01:09 pm
Mumbai, ZeeBiz WebDesk