Tata Steel, Air India deal not profitable to Tata Group, says ex-Chief of Strategy Nirmalya Kumar
Nirmalya Kumar, former Chief of Strategy at Tata Group speaks about the current strategy of the company and what he would have done differently.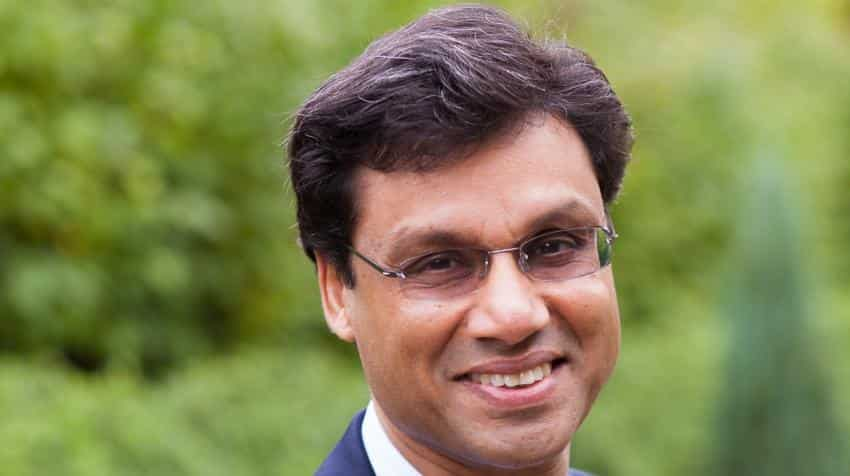 Nirmalya Kumar, former Chief of Strategy at Tata Group speaks about the current strategy of the company and what he would have done differently.
Key Highlights

Tata Steel-Essar Steel deal may drive up debt of Tata Group by up to Rs 60,000.

Air India deal will not give adequate return on capital.

Tata Group may be planning more exit of companies.
A year has passed since former Tata Sons Chairman, Cyrus Mistry was sacked unceremoniously on October 24, 2016. Former GEC member, Nirmalya Kumar joined us in the Zee Business studio on Tuesday and spoke about the year gone by and the Tata Group.
 
Kumar was the Chief of Strategy at the Tata Group for a period of three years since August, 2013 before he too was asked to resign from the board last year.
His blog post – How Cyrus Mistry was fired as Tata Chairman, published last week recalled instances the day Mistry got sacked. The post was written from an insider's perspective of the events that transpired at Bombay House that day.
Kumar is now Professor of Marketing at Lee Kong Chian, Singapore Management University and Distinguished Fellow at INSEAD Emerging Markets.
Here are the excerpts from the interview we had with Kumar:
1. How has the past year been for you outside of the Tata Group?
It's been a year of change. I had to move from India back to London and had to look for a job. I got job offers from three schools one in Europe, another from a top school in India and from Singapore. I decided to choose the one from Singapore because it was closer to Calcutta where I could visit my mother at least once a month.
2. Do you see any major changes in the way things are being done at Tatas currently? And what are they?
Broadly the strategy is the same. Now of course overtime the difference will start. They are considering acquiring Essar Steel assets. I don't think that Cyrus would have been for that deal. You have to remember that Tata Steel already has a debt on its books of something like Rs 80,000 crore.
If they do this deal they will increase the debt by around Rs 40,000-60,000 crore and the balance sheet can't take it.
One of the past problems of Tata Steel is that when the market starts picking up they go in for these big deals fuelled by debt. And then of course the balance sheet gets overstretched. Second thing that happened is Tata Steel has unfortunately raised money from its shareholders at the peak. So the shareholders have not done very well in terms of returns.
3. Can you elaborate on other deals done differently Kumar shed light on the Tata's acquisition of state-run Air India deal.
This (Air India disinvestment) is something that Cyrus and I would have never thought of doing.
4. Why is that?
There has been no example of somebody taking over a nationalised airline company turning it around and making an adequate return on capital. Answer to your question is a zero null set.
5. So you don't see this Air India deal profiting Tatas in anyway?
I would not touch it with a 100 foot pole.
6. You also spoke about the new management taking leaves out of your own strategy document. Could you elaborate on what deals are being implemented?
In the strategy document 2025 we had said four things in our strategy. Number one, future proof the winners like TCS, Titan, Voltas. Make sure that they don't run into any major problems in the future.
Number two turn around the hotspots. This meant close down telecom. Do the merger of Corus with Thyssen (ThyssenKrupp). And there were others which I can't disclose.
Number three was have growth platforms which can grow faster than the overall portfolio. For example the finance group, as finance is very big in India so we felt we could grow that portfolio much faster than overall Tata portfolio.
Number four was to start new companies which may not be very big in the next 10 years but bigger in the future. This also included more exits we planned but I can't talk about this now.
7. How did you react to Tata Sons alleging that Mistry's actions have thus far harmed the reputation of the Tata Group?
I would say nobody, not even Tata Group itself can disagree that the biggest harm to Tata reputation has been done by firing of Cyrus Mistry without due process.
I don't think this is even a question I can answer without laughing about it. I don't think even Chandra (Natrajan Chandrasekaran, current Chairman of Tata Sons) can answer this question in any other way. Please ask him if he disagrees with me on this.
8. There have been two boardroom battles that have gone sour in the past year. What do you think are the lessons that can be learnt from them?
Both the Infosys and the Tata battles are rather unfortunate because they tell you that promoters even after they leave, they don't want to leave. If you don't want to leave don't leave but if you have left don't try to remote control the next CEO because that doesn't ever work.
Big unfortunate part of these battles is the young people that work for the Tata Group and Infosys used to walk around saying "You know we are slightly different. Unlike the rest of you guys that work for Lala companies."
Unfortunately these battles prove that both Infosys and Tatas are both 'Lala companies.'
 
('Lala companies,' Kumar explained were those where there is a 'Lala' who sits there and controls everything so the processes are not important.)
9. Do you think family businesses can welcome professionals from outside?
They can welcome professionals but they have to know how to manage them. They haven't learnt that.
10. How do you rate corporate governance in India? And what are the challenges that we still have to overcome?
Corporate governance is still very weak. In terms of textbook answers its very strong. So a lot of compliance but in reality and spirit there is no corporate governance.
The main reason for this is that independent directors (on the boards of companies) are not independent. They need the promoter's votes to be voted in.
Independent directors have got the message from the Tata fiasco that you are everything except 'independent.'
Get Latest Business News, Stock Market Updates and Videos; Check your tax outgo through Income Tax Calculator and save money through our Personal Finance coverage. Check Business Breaking News Live on Zee Business Twitter and Facebook. Subscribe on YouTube.
Updated: Thu, Oct 26, 2017
04:37 pm
Mumbai, ZeeBiz WebDesk