Can Tim Cook convince PM Modi to take a bite of the forbidden 'refurbished' fruit?
Tim Cook will visit India this week on his maiden voyage to India and is expected to meet Prime Minister Narendra Modi as he seeks to grow Apple's sales.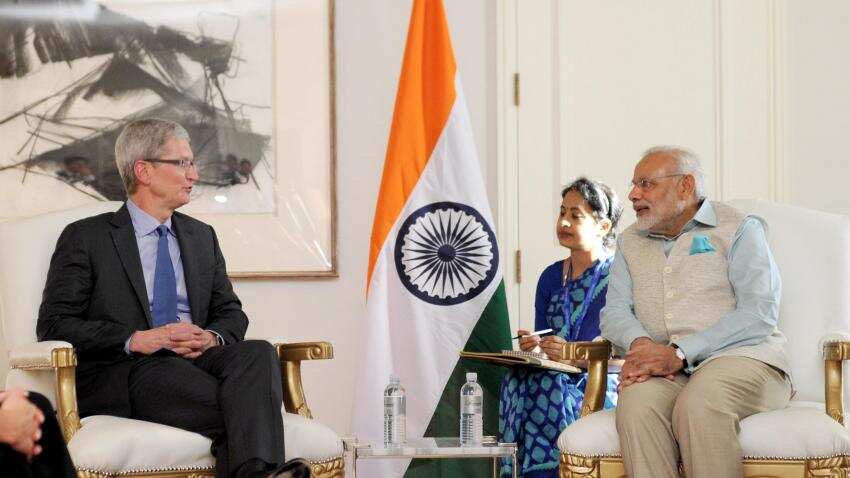 Apple CEO Tim Cook calls on Prime Minister Narendra Modi in San Jose, California. Photo: IANS
Updated: Tue, May 17, 2016
10:56 am
Mumbai, ZeeBiz WebDesk
Apple Inc Chief Executive Tim Cook will embark on his maiden India tour on Tuesday. He will meet with Prime Minister Narendra Modi on the second leg of his Asian tour as the company seeks to revive its iPhone sales.
Cook's visit, directly from a trip to China, comes at a crucial time as Apple is looking for new growth markets after posting its first-ever decline in iPhone sales in the January-March quarter.
This is also at a time when India has only recently denied the Cupertino-based company the permission to sell refurbished phones, which was Apple's key strategy to widen the iPhone's appeal to price-sensitive local consumers in the country.
In several markets, Apple takes back older iPhones when the customer upgrades to a higher model, adds certain updated features to it, and resells it. These 'refurbished' phones are then priced lower than the market price. 
On his first visit to India, it is not yet clear whether he would discuss the refurbished iPhones topic with the officials in New Delhi.
A Reuters report said India is keen to know if Apple has any plans to set up production facilities for the local market, which would be a boost for Modi`s "Make in India" programme.
"If they can make in China to cater to the Chinese market then they can make for Indian markets here," a source was quoted as saying in the report.
Maharashtra, also run by Modi's Bharatiya Janata Party, is already in talks with Apple products maker Foxconn Technologyfor setting up an iPhone plant in the state.
Refurbish market in India crucial for Apple sales
Apple has had a keen eye on the Indian market after its sales growth in China declined drastically. This leaves India, which is the world's second largest mobile population, and hence its interest.
In the Jan-Mar quarter, India was also the only market where iPhone sales grew, as much as 50%.
Cook recently said he sees a "huge market potential" for its products in India and the technology giant is "really putting energy" in the country which will begin rolling out high-speed wireless networks this year.
However, the company's strategy to grow iPhones sales in the country was cut short when the government rejected its request to import and sell refurbished iPhones to the country, according to a LiveMint and Bloomberg report.
A similar request from the company was rejected in 2015.
Apple currently accounts for just 2% of the Indian phone market shipments and has been looking at new ways to increase growth of iPhones in this market.
Selling refurbished phones would allow the company to price it at a much lower rate, and attract the price-conscious market in India.
The refurbished market was seen as the only way for Apple to tap into the sub-Rs 20,000 smartphone market, experts say, something that could give a massive boost in the company's dragging sales.
Neil Shah, Research Director at Counterpoint Research said, "The rejection of import of refurbished iPhones by Apple is a big blow to the company's current portfolio strategy for India. This means that Apple will have to either continue selling the three-generations-old iPhone 5s which was its most popular and bestselling iPhone model in Q1 2016."
He further says that Apple will have to sell the iPhone 5s at a discounted price to keep the production line and service support open which would be a nightmare operationally and financially.
Is 'Make in India' the answer for Apple?
If Apple decides to phase out the iPhone 5s then the cheapest smartphone from its portfolio will be the iPhone SE at Rs 39,000. This Shah says, is beyond the reach of 98% of the market, and means that Apple's projected volume growth in India will take a hit for the near to mid-term.
This is unless it reduces the price of the iPhone SE and brings it to a level which is below Rs 30,000 like its pricing in the US.
For doing that, Apple will have to start assembling in India or selling its phones through e-commerce channels directly to consumers to save on margins. This benefit then can be passed on to the customers.
Only recently, a government panel exempted the company from adhering to the 30% local sourcing norms. However, this is still subject to an approval from Finance Minister Arun Jaitley.
What this means is that, considering Apple has state-of-the-art products, where local sourcing is not possible, the company will be exempt from sourcing 30% local sourcing. This will let the tech giant set up single-brand retail stores in the country.Currently, all the iPhones are imported for the Indian market.
While this comes as good news for Apple, the government's decision to deny it the right to sell refurbished phones will severely hurt its sales in India.
For a company which remains adamant when it comes to pricing, it remains to be seen how Apple will pave its way to grow sales in India.
(With inputs from Reuters)