Ever seen an exploding Lamborghini Miura SV? These pics will leave you stunned!
Ever seen your dream car disintegrating into bits and pieces? Renowned Swiss photographer Fabian Oefner observed iconic Lamborghini Miura SV disintegrate for over two years and the outcome is something that will simply blow your mind. Take a look:
Exploding Lamborghini Miura SV: Meet the creator - Fabian Oefner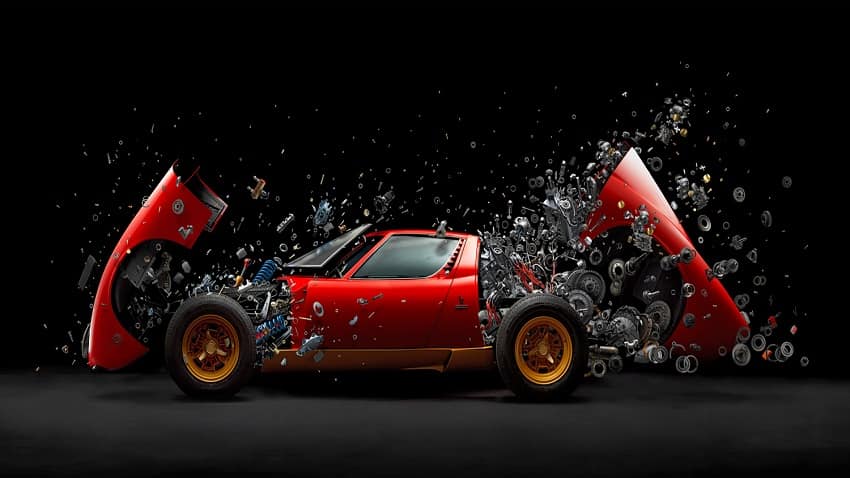 Fabian is known for fusing the fields of art and science, creating images appealing to heart and mind. He constantly explores the boundaries between time, space and reality, creates fictional moments and spaces, that look and feel absolutely real, yet aren't.
For the first time, Fabian Oefner has created one of his highly acclaimed Disintegrating images with a real car - the iconic Lamborghini Miura SV from 1972. (Photo credit: Fabian Oefner; Pics available exclusively at M.A.D.Gallery)
Exploding Lamborghini Miura SV after Disintegrating and Disintegrating II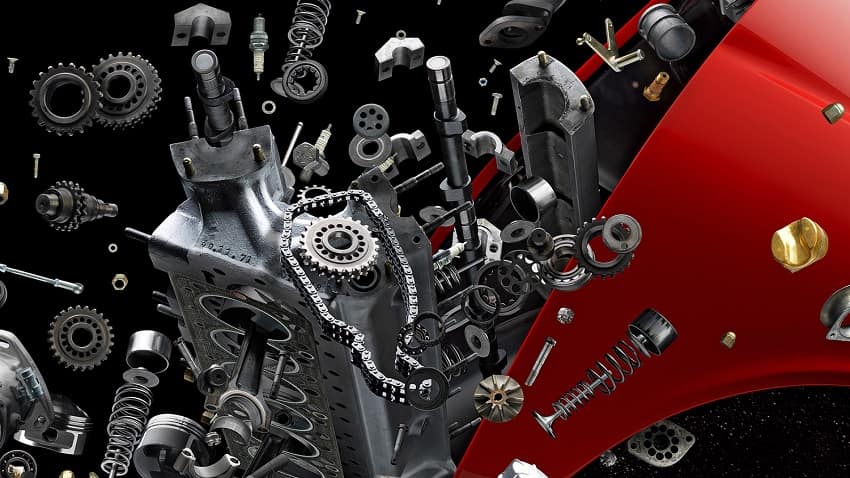 Exploding Lamborghini Miura SV: Making of the image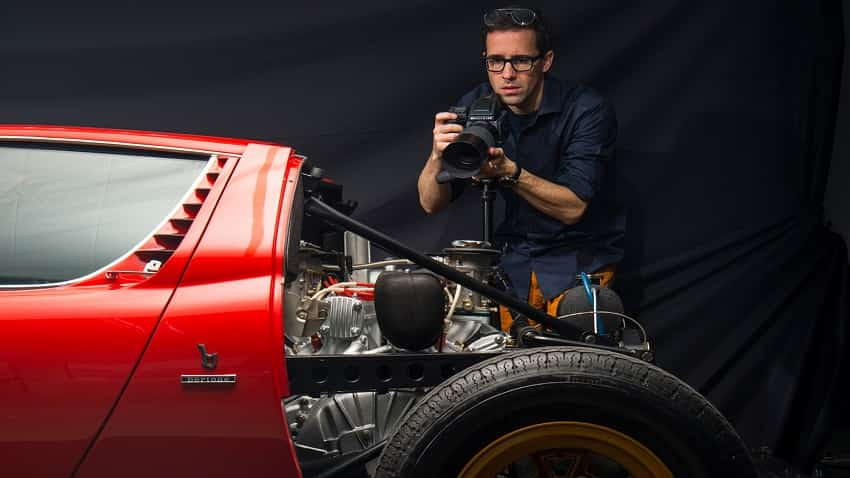 The creation of the image took almost two years. M.A.D gallery said, "During that time, Oefner and his team travelled to the workshops surrounding the Lamborghini Factory in Sant'Agata/Italy to capture each piece of the car as it was being restored. The final image, consisting of more than 1'500 individual photographs shows a new level of hyper-reality, that is unprecedented in the artist's previous work." (Photo credit: Fabian Oefner; Pics available exclusively at M.A.D.Gallery)
Exploding Lamborghini Miura SV: First time, image with a real car
In an interview to the Lamborghini magazine, Fabian said, "It had always been my dream to create an art piece with a real car. One day, a friend said to me, 'I have a Miura and I'm having it restored. Why don't you take the opportunity to create one of your Disintegrating images?' And of course he didn't have to ask me twice to work on one of my favourite cars, to get to touch every single screw and piece of that legend, and put them into a final composition... that's a dream come true!" (Photo credit: Fabian Oefner; Pics available exclusively at M.A.D.Gallery)
Exploding Lamborghini Miura SV: What Fabian says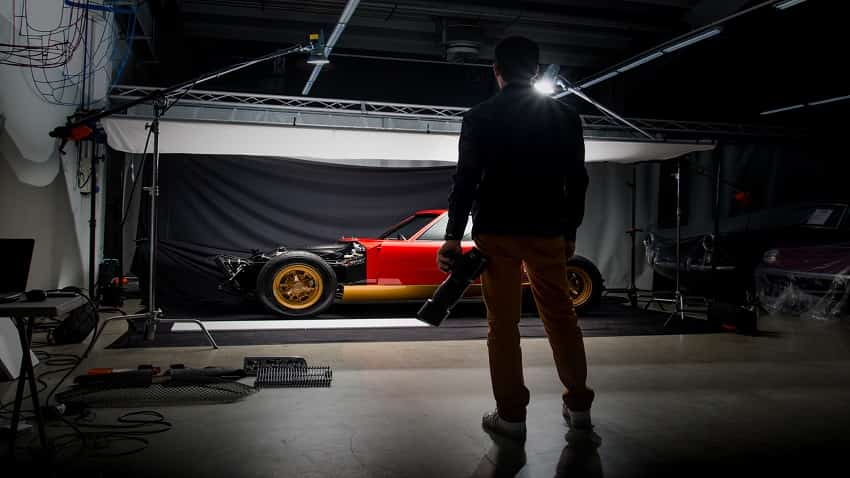 Fabian further said, "It took two years and thousands of photographs to realize this work, from the first time the idea came to me to the final printed image. I depended on the restoration times of the workshop and the challenge was to always keep in mind the vision that I had at the beginning." (Photo credit: Fabian Oefner; Pics available exclusively at M.A.D.Gallery)
Exploding Lamborghini Miura SV: How Fabian fell in love with Lamborghini
After spending a lot of time with Miura, Fabian actually fell in love with the iconic car. "When I started working with this car, I was seeing it "just" as the icon we all know, a Lamborghini Miura. But as the days went by, it became more and more special, and at the end of the process I knew every single detail of it. To me, it's not just a Miura anymore, it's become a bit like a person. Now it rolls on the road, finished and fully restored, and every time I see it I'm like, 'Oh, I know you!." (Photo credit: Fabian Oefner; Pics available exclusively at M.A.D.Gallery)
Exploding Lamborghini Miura SV: Big leap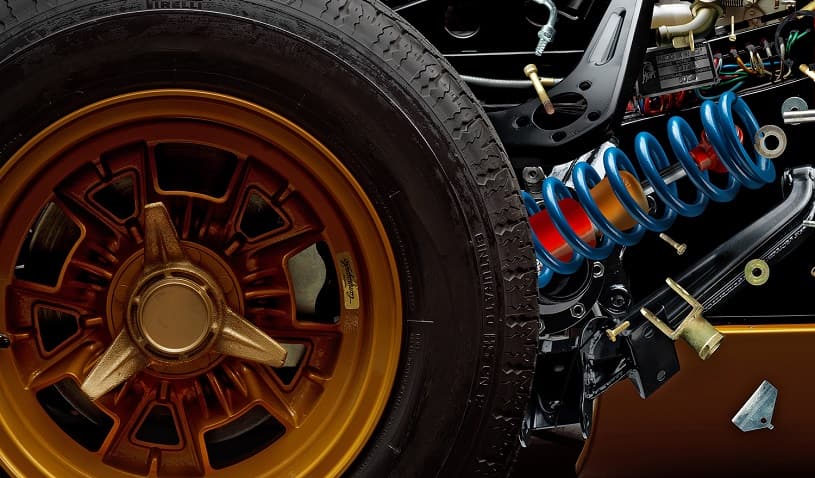 In the same interview, Fabian talked about the big leap between the scale models and the real Miura. He said, "That's quite different, yes. I worked on the scale models in my studio, which is very quiet, and creating was almost a soothing process. With the real car it got a lot more complicated: I was in the workshop where you'd have constant noise. Beside me, I had people working – and that was the most beautiful experience of this whole endeavor! – whom I was just asking, "Can I please have a little corner?" Also, keep in mind I did this in July, so it was 44°C in the workshop, I was sweating, and it smelled like gasoline in the air. It's way more tangible when you do it with the real thing. Now, when I look at the photograph, all the smells and the ambiance of the workshop come back." (Photo credit: Fabian Oefner; Pics available exclusively at M.A.D.Gallery)
Exploding Lamborghini Miura SV: MAD Gallery speaks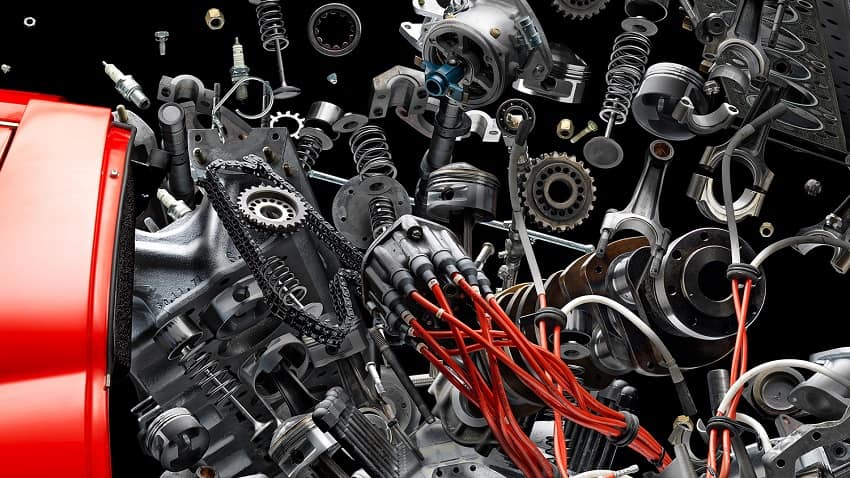 Maximilian Büsser, M.A.D.Gallery Founder and Curator said, "Fabian Oefner's works are perfect examples of how mechanical art can be powerfully beautiful. Seeing objects we are so familiar with broken down into thousands of pieces, challenges the viewer's perception of these items. 'Disintegrating X' truly encapsulates M.A.D.Gallery's concept of celebrating the art of mechanics." (Photo credit: Fabian Oefner; Pics available exclusively at M.A.D.Gallery)