Why are two-wheeler sales struggling but car sales aren't?
Two-wheelers continue to reel under demonetisation impact as February 2017 saw sales decline by 0.01% decline in comparison to the same month last year.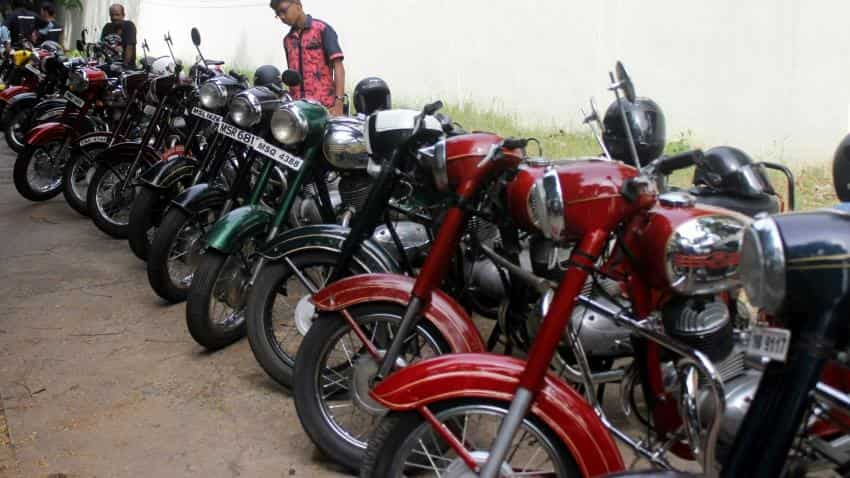 A person looking at bikes parked in parking lot. Photo: IANS
Updated: Fri, Mar 10, 2017
03:37 pm
Mumbai, ZeeBiz WebDesk
While car companies made a quick recovery in sales just after two months (November and December 2016), the road to recovery seems to taking much longer for two-wheeler sales.
Two-wheelers continue to reel under demonetisation impact as February 2017 saw sales decline by 0.01% decline in comparison to the same month last year. Total two-wheeler sales during the month dropped to 13,62,045 units in February 2017 from 13,62,177 units during the same month last year. In January, two-wheeler sales saw a 7.39% decline in its sales, according to data from the Society of Indian Automobile Manufactures (SIAM).
While two-wheeler sales seem to made a big improvement (although still lower than same period of last year) in February it was mainly driven by the moped segment which grew by 15.99%, Scooter sales grew by 3.7%. Moped sales grew to 77,053 units from 66,432 units sold in the same month last year. Scooter sales in February grew by 4,52,295 units from 4,36,163 units in the same month last year.
For latest updates on the two-wheeler stocks click here.
However, motorcycles still posted a 3.13% decline in sales during the month. Motorcycle sales dropped to 8,32,697 units in February in comparison to 8,59,582 units in the same month last year.
Ever since the government took the decision to demonetise high currency notes in November, sales of two-wheelers have seen a drastic decline. In November 2016, two-wheeler sales were down by 5.85%. In comparison domestic passenger vehicles grew by 1.82%.
According to an ICRA report, demonetisation and the resulting liquidity crisis resulted in volume compression of 11.3% during November 2016 to January 2017 over the corresponding previous. Furthermore, with BS-IV emission norms coming into effect from April 17, there have been some inventory correction taking place across OEMs starting February 2017, it said.
"Overall, the domestic two-wheeler industry closed the first ten months of FY2017 with a growth of 8.3%, which although better than the industry growth rates over the past four fiscals, remain a far cry from the double-digit growth reported prior to November 2016. The impact of demonetisation appears to have moderated; with the industry limping back to normalcy as reflected by smaller volume contraction in January 2017 and expectations of flattish February and March 2017. For FY2017, ICRA expects the domestic two-wheeler industry to close the year with a growth of about 7-8%," said the report.
The full impact of demonetisation was felt in December as two-wheeler sales plummeted by 22.04%. Two-wheeler sales stood at 9,10,235 units compared with 11,67,621 units in the year-ago month. 
Motorcycle sales that month dipped 22.5% to 5,61,690 units last month, from 7,24,795 units a year earlier. Scooter sales declined by 26.38% as sales stood at 2,84,384 units from 3,86,305 units sold in the same month last year.
Bajaj Auto managing director Rajiv Bajaj criticised the idea of demonetisation  and said that there has been double-digit de-growth of the industry purely and directly as a result of demonetisation. "The experience of Bajaj Auto has been no different from that of the industry. It has hit us hard, whether it is the motorcycle industry or three-wheelers. Especially, so for three-wheelers which is cash dependent," he had said.
"If the solution or the idea is right, it will go like a hot knife through butter... If the idea is not working, for example demonetisation, don't blame execution. I think your idea itself is wrong," said Bajaj.
In January 2017 mopeds saw the largest decline of 28.83%, while scooter sales too saw a 14.5% decline in sales. Motorcycle sales seem to be improving despite the decline. It posted a 6.07% decline in sales during the month.
It was not only sales that was impacted but even many jobs were lost as Bajaj said. "A large supplier of mine who supplies to Bajaj and others like Yamaha and Honda told me in December that he alone had to let go 3,000 people as a result of downturn in demand across all his customers. If I extrapolate a little bit and wonder how many people they had let go altogether that number would be between 5,000 and 10,000," NDTV reported citing Bajaj as saying.
But what is reason that car sales bounced back earlier and two-wheelers continue to struggle? The answer is cash. 
"As the ticket size is low, people prefer to make two-wheeler purchases in cash rather than take a loan," said an analyst who wished not to be quoted citing company policy. 
He said, "If you take a look at Hero MotoCorp, which is the largest two-wheeler manufacturer in the country, it is largely dependent on rural sales. In these place two-wheeler purchases are made by cash and demonetisation has taken sales for a toss."
Another automobile analyst said that while financing in the form of loans exists for two-wheelers, the penetration is comparatively less in rural areas. "Less than 40% distributors in rural areas offer loan financing options. Now this has improved after demonetisation. But even then many in these areas still prefer to make their purchases in cash."
So how long will two-wheelers take to recover? 
One of the analyst expects two-wheeler sales to recover by March. "Sales of two-wheelers should post a low single digit growth in sales by next month," he said. However, the other analyst said that the recovery for two-wheelers may take place only by April or May.
Get Latest Business News, Stock Market Updates and Videos; Check your tax outgo through Income Tax Calculator and save money through our Personal Finance coverage. Check Business Breaking News Live on Zee Business Twitter and Facebook. Subscribe on YouTube.