#ShiftingGearsWithSwatiK: Ducati Panigale V2 will be launched soon in India, says Bipul Chandra, MD
Ducati will launch three bikes this year in India, including Ducati Panigale V2, revealed Bipul Chandra, Managing Director (MD), Ducati India, during a candid chat with Swati Khandelwal.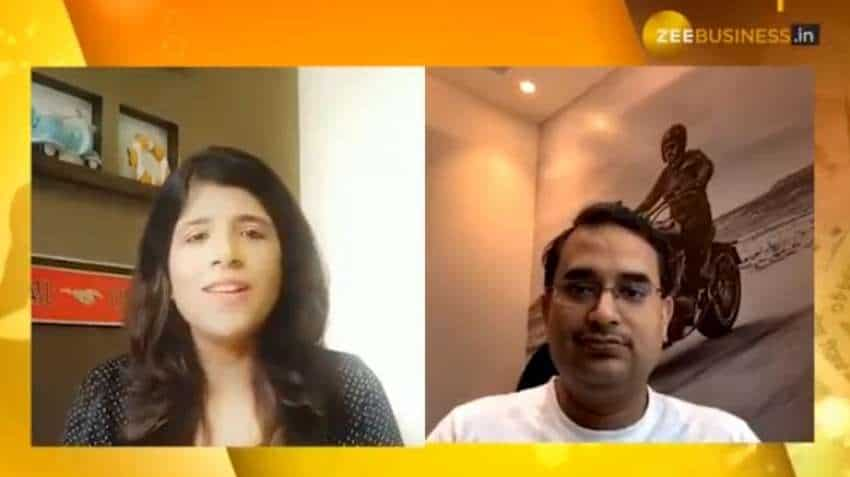 Bipul Chandra also said, "We cater to the needs of the consumers after taking feedback from them, but based on specifications that are allowed."
Written By:
Jitesh Kumar Jha
Updated: Sat, Jul 04, 2020
06:07 pm
New Delhi, ZeeBiz WebDesk
Ducati will launch three bikes this year in India, including Ducati Panigale V2, revealed Bipul Chandra, Managing Director (MD), Ducati India, during a candid chat with Swati Khandelwal, Zee Business, in a Facebook live session. Importantly, Chandra also said, "We cater to the needs of the consumers after taking feedback from them, but based on specifications that are allowed." The chat was live on Zee Business Facebook page on June 3, 2020.
Talking about the vow related to three launches in India, including Ducati Panigale V2, Chandra said, "A promise is a promise. If we have talked about three products, then they will be rolled out. We have already planned out things, but our situation got spoiled a bit due to COVID. Our factories were shut down and it delayed our launches. But yes, now, we are on track. So, Panigale is around the corner, then we will launch one more bike at a later stage and one more bike will be launched towards the end of the year. So, overall, three bikes will be launched as already promised. They are on track and we will be bringing them to the country soon."
See Zee Business Live TV streaming below:
These three bikes will be launched in three different categories, namely superbike, tourer and heritage. However, Chandra did not reveal the names of these products, saying that some anticipation should be allowed to be built up in the customers to let them enjoy the period till the bikes are rolled-out.
When asked about the response for Superleggera V4 bike in the global market, Chandra said, it is an amazing product. We always say that is the stuff that dreams are made of. He added, "Superleggera is an Italian word for super-light and it is the lightest bike in the category having the best power and is a beauty in itself. If I will say that it is an Italian beauty then probably I will be repeating myself. Our engineers have worked on every aspect of the bike, whether it is the look, technology and the materials used in the bike among others. The report that has reached to us about the final product is amazing in itself. The only issue is that the bike is limited to 500 units, so probably we cannot give it to all our discerning customers."
Speaking about the penetration of the brand in the Indian market in the last five years - it entered India in March 2015 - and challenges it faced here and how important it is for Ducati, Chandra said, "We are just a step ahead of the five-year mark, these years have been great learning for us. We have learnt several things as a manufacturer in the Indian market and consumer behaviour and the kind of bikes they are looking for and their usage. In the case of India, we are graduating from commuter bike at one level to the superbike at another level. We are getting a very different marketing scenario where both things co-exist. India is an important market for the superbike category for Ducati parent. It is one of the developing markets, the potential here is huge, although the industry is not growing much in the last few years. And because of BS-IV end of timeline and COVID, the year has turned difficult but despite the fact of looking at constant or lesser numbers across the industry, we are bullish about the Indian market and that's why you will see that we are bringing our globally available products to India too unless there is something which is against the rules like there are certain products that we cannot bring to India because of import norms."
As far as learning is concerned, Chandra said that Ducati takes learning from India seriously and depending on the situation, products will be changed accordingly. He said, "Our company knows that we are not into push strategy and it is not necessary to sell every product in India that we have created. We take the choice of the customer very seriously and order the products according to the requirements and offer the same to the customers. I think that it is a very very important message out there that we don't believe in volumes, i.e. we need these volumes, but we will provide what you require."
When asked about the way in which he deals with the competition from other global brands present in India, Chandra said, "Competition is always good, at least the customer has a choice and they are in a position to weigh the options and take a very-very informed decision about what is best for them. We do not say that having competition in the market is making life tougher for us rather, we are happy that the customers go to different showrooms, brands and afterwards when they come back to us they know what they are buying and they know what they are investing in. At the same time, having different brands in the market gives us a motivation to bring our best product or better than whatever we launched last year or the previous model. This is a positive sign. There are certain categories, wherein I would say that we are ahead of everyone like our V4 segment, i.e. our Panigale segment. I don't think that there is anyone even near to us. So, this is a very positive sign for Ducati and the kind of enquiries we are receiving at present speaks about a healthy order book for us."
Talking about the kind of response, the company is getting, Chandra said, "As a salesman, I would never be happy with whatever numbers I get. I always want some more numbers. So that goes without saying that whatever volume we do in India there is always a scope of betterment, but yes looking at the market we are operating in, we are satisfied with the volumes we have and they are meeting our business plans. Thus, there is no point of feeling sad about it, that's why we are quite happy."
He described heritage as the best seller segment for Ducati as it clocks the maximum numbers from it. He also said that a couple of days ago while looking at the contribution of all brands across the years it was found that whatever has been sold is almost equal in number and the difference is very slight. Chandra added, "So, although I am saying that Heritage contributes to the maximum numbers or volume but the difference between the Heritage segment and other segments is very minuscule. So, that way we are very fortunate and happy to have a customer base of the people who like our way in a way that all our categories are being given equal respect and there is an equal contribution from all the categories."
#ShiftingGearsWithSwatiK is a Zee Business exclusive series that has been created to reveal the extent of COVID-19 impact on the world's leading auto brands, their pivot strategies in the New Normal and much beyond that.
Get Latest Business News, Stock Market Updates and Videos; Check your tax outgo through Income Tax Calculator and save money through our Personal Finance coverage. Check Business Breaking News Live on Zee Business Twitter and Facebook. Subscribe on YouTube.