Recovery will come in the three-wheelers segment only after the lock-down opens Rakesh Sharma, ED
Rakesh Sharma, Executive Director, Bajaj Auto Ltd, talks about April 2021 sales numbers, Q4FY21 numbers, margins, Chetak Electric, product pipeline, commodity price hike and its impact on the company among others during an interview with Zee business Executive Swati Khandelwal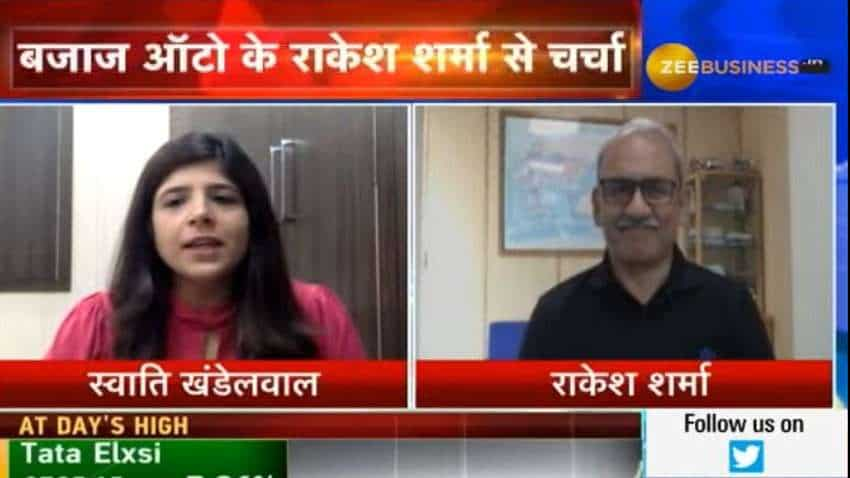 "Demand in the overseas market has returned very well and we have a strong presence in it due to which we have benefited a lot from it
Written By:
Jitesh Kumar Jha
Updated: Wed, May 05, 2021
06:42 pm
New Delhi, ZeeBiz WebDesk
Rakesh Sharma, Executive Director, Bajaj Auto Ltd, talks about April 2021 sales numbers, Q4FY21 numbers, margins, Chetak Electric, product pipeline, commodity price hike and its impact on the company among others during an interview with Swati Khandelwal, Zee business. Edited Excerpts:  
Q: April numbers are quite good amid these difficult times. How will you summarize it and going forward what kind of momentum is visible as there is a slight slowdown in production?
A: Rightly said, it is a very difficult situation. I will term April numbers of Bajaj Auto as very good numbers at this juncture, there is only one reason for this and that is exports. Demand in the overseas market has returned very well and we have a strong presence in it due to which we have benefited a lot from it. And, you can see that 2.50 lakh units have been exported. I would like to make it clear that of this around 25,000-30,000 is the flow of last year but the underline rate of 2 lakh to 2.20 lakh momentum is continuing for us.
At the same time, I would like to speak about two other factors of the export market and they are (i) our spread in exports is quite large and it spreads from a 100cc motorcycle to 400cc high-end KTM bikes. They go to 70 countries including Africa, Europe and the US and due to this a lot of risk mitigation happens. Because when your spread is quite good and you are spread geography and product-wise, so, amid ups and downs our capability in dealing with them increases. (ii) If we will have a look at our top 15 markets in export that accounts for 80-90% of our sales, then we are either number one in these markets or are positioned at number two and with good shares.
See Zee Business Live TV Streaming Below:
So, this strengthens our export business at a time when the domestic business has been weak due to the COVID and it is not clear that what will happen. This boosts the morale of the company, its vendors, employees and contract labour. 
Q: In your Q4FY1 numbers, the revenue has beaten the street estimates. What led to this and how do you see revenue growth for FY22 amid robust export growth?
A: Your first question was related to the revenue growth that happened last year in terms of revenue growth per vehicle and the biggest credit goes to premiumization strategy. Throughout the year, we tried to work harder in premium segments and sell it more. In any segment, it has been our endeavour that if we are in the 100cc segment then we should move the customer towards 110cc and if there is a customer of 110cc, take him towards 125cc. With this, the company's market share in the 125cc segment has increased from 7% to 19%. Due to this our average visualization has increased a lot. So, 80% of the credit goes to this. The rest 20% goes to export business where prices are slightly higher as a whole and its weightage in company's portfolio has increased due to which benefitted the company in its revenue realization. 
Your second question is about the situation in FY22 and guessing it at this point is very difficult. At least in the context of the domestic market, I can say that in the Indian market everything will depend on how the COVID situation and vaccination programme moves ahead. So in it, we will see things month-on-month and will try that it increases. In the context of exports, we have seen a tempo of more than two lakhs and above and we will try to maintain it. It seems that it is more visible at present. 
Watch Full Interview Here:
Q: Margins stood at 17.7% which was meeting the street estimates. Going forward, what is your outlook on the margins, especially, when cost pressures are increasing and to protect them will you opt for price hikes, if not, then what impact will happen on the margins? What is the margin range in a couple of quarters?
A: If we look at the whole year between FY20 and FY21, then the entire margin percentage has improved. But if you will make a comparison between the third quarter and fourth quarter of the same year, the margin has dropped a bit because there have been cost increases, as you said, commodity prices, like Steel among others, has increased. But, we did not passed-on these cost increases in their entirety. As far as we estimate, we have seen that we have taken price increase more than the competition, in India as well as internationally. Internationally, Indian competition operates at a lower price than us despite this we have not passed on the entire cost increase because demand is a bit soft in this environment.
So we want to study the impact the first level of price increase has had on the demand reaction and then we will take any step on price. Going forward, due to cost material price a cost increase of around 3-4% is visible in the next few months. And from April 1, 2021, we have taken some price increases but it is around 1.50% and we have not recovered in the entirety of 3%. We will see how COVID moves on and demand returns, what competition does and then will take any step. So, there will be downward pressure on the margin. But, the rupee has weakened a bit but as our exports will reach to 55-60% in this quarter, which will benefit a bit. What we will lose due to the cost increase will be recovered a bit due to exports. At the same time, our premiumization drive will continue and it will help us in increasing our realization in vehicles above 125cc where we have a focus.
Today, the company is getting around 60% of its business from 125cc plus segment, which stood at 45% last year. So, this movement will also benefit us a bit in recovering the cost. Thirdly, the government has given indications that policies related to rod tape and retrospective MEIS will be announced. So, we have a big export business, so Bajaj Auto will benefit greatly from it. It will be our endeavour to keep the margin maintained. 
Q: Let's talk about the verticals, specific, on the domestic front, commercial vehicles sale is struggling to cross the board. What is your outlook on a commercial vehicle? Also, you get your highest margin on the three-wheelers but the sale is sluggish there as well. When do you expect a recovery in the three-wheelers and commercial vehicle segments? 
A: Three-wheeler is a very good business for Bajaj Auto and it provides good margin and we have a huge market share in it. But, it is a matter of regret is that the recovery that we were seeing in which three-wheelers sales were increasing from 1,000-2,000 units from November-December and we also established strong market leadership in it. We are the market leader in the diesel segment now. We are strong number two players in cargo and we have a good market share in CNG, petrol small three-wheelers.
But, the recovery that was happening has been impacted since March end and has declined due to COVID. Thus, lockdowns have a direct impact on the three-wheelers because people do not move out, schools are closed and offices are shut down due to which the three-wheelers drivers do not get passengers and do not earn which leads to failure in repayment of the EMIs.90% of the three-wheelers are bought in finance and if they do not have the power to pay the EMIs then no one will even think about buying a three-wheeler. So, you saw a huge decline in the three-wheeler business in the month of April and expect that it will fall further in May.
Thus, as long there is a lockdown, then the three-wheelers business will be impacted a lot. However, we expect that the three-wheeler business will increase as soon as the lockdown reopens and it will benefit a lot as our market share is quite good. Also, the government's scheme of setting up the CNG pipelines is progressing well and wherever CNG is reaching, people with diesel vehicles are converting their vehicles into CNG vehicle and in CNG, we have an 80% market share. Bajaj Auto is benefited from it. Interestingly, we will be able to harvest these factors only when the lockdown will be opened. 
Q: You have talked about the premiumisation of the products. Let us know about the type of products on which Bajaj Auto will focus in FY22 and what kind of changes will be introduced in the existing portfolio? Tell us about the segments where you are seeing opportunities where a good margin will be available? Also, update us about the response that you are getting on Chetak Electric?
A: We will implement the same strategy in products that I have talked about with you in the past as well and today also have discussed it and it is related to premiumisation in which we will try to win the customer on the name of a better product. However, the lockdown has been effective in the month of April and May and the situation has turned serious. We have already put certain upgrades to March-end and April in 100cc and 110cc. So, we are trying to provide an electric start to the customers of a kick start. Similarly, we want to provide better disk brakes to the 100cc customers who are using drum brake, as it is a more safe and comfortable vehicle. In 125cc, we have launched a more stylish, powerful and costliest vehicle in the segment. It is available in good colour schemes.
We have refreshed the colour scheme in Pulsar. At the entry level, we have recently presented a tuff bike, CT110X in the market. So far, I have talked about four-five things. In the next six months, we will introduce a new platform. As far as Chetak is concerned, you would have known that we had stopped its booking last year itself because we got a good response and there were issues related to the supply chain because there was a shortage of semiconductors. Ever since the semi-conductor shortage has taken place, we faced a lot of problems related to component supply and customers were getting frustrated a bit as they have made bookings but the company was unable to say anything.
This is why bookings were stooped. When we got some clarity, then at the time of Gudi Padwa, the bookings were reopened in Pune and Bangalore, these are the two cities, where we are at present and had such a tremendous response that the site crashed in the first two hours. After that, we closed booking after two days as a lot of bookings were received. Those, who are our international suppliers, who are supplying these components, have said that they will be able to make any commitments only in the May-June period. After this, we will open the bookings completely from June-July and will try to increase our distribution footprint. We have dispatched 500 units last month and are trying to reach four figures but can't say anything in May but will try to reach the four figures in June and fulfil it, June-wise. Chetak has progressed well and we have got good support from the customers but the issue is related to the supply chain and we have to study it. 
Q: What kind of impact COVID can have on production as several auto companies have announced plant shut down or stoppage? How Bajaj Auto will manage the production?
A: On the demand side, we have a lot of benefits on the export side and we have demand on that front. However, demand has declined on the domestic side and the stock level is not that high – it is high but not to such a level – but we will have to fulfil it to some extent. Overall, there is a requirement on the demand side. On the operation side, we have a very good dialogue with the local administration and we have support, so that the wheels continue to move, of course with complete safety, we take care of things, testing centres, sanitization, distancing and monitoring. Factories are quite safe.
So, we have not felt yet that there is a need to shut down either from the demand side or from the operation side. So, the factories are operational, vendors are working, they are being trained with complete safety. It is necessary as many people are dependent on production, including the transporters, contract labours and employees. So, we believe that we should continue the process in a safe manner.
Get Latest Business News, Stock Market Updates and Videos; Check your tax outgo through Income Tax Calculator and save money through our Personal Finance coverage. Check Business Breaking News Live on Zee Business Twitter and Facebook. Subscribe on YouTube.