Mahindra & Mahindra wants to supply the world's best technology to Indian farmers at low cost: Hemant Sikka, President, Farm Equipment Sector
Hemant Sikka, President - Farm Equipment Sector, Mahindra & Mahindra (M&M) Ltd., talks about the tractor sales number of August, demand, capacity utilisation, CapEx and product pipeline among others during an interview with Zee Business Executive Editor Swati Khandelwal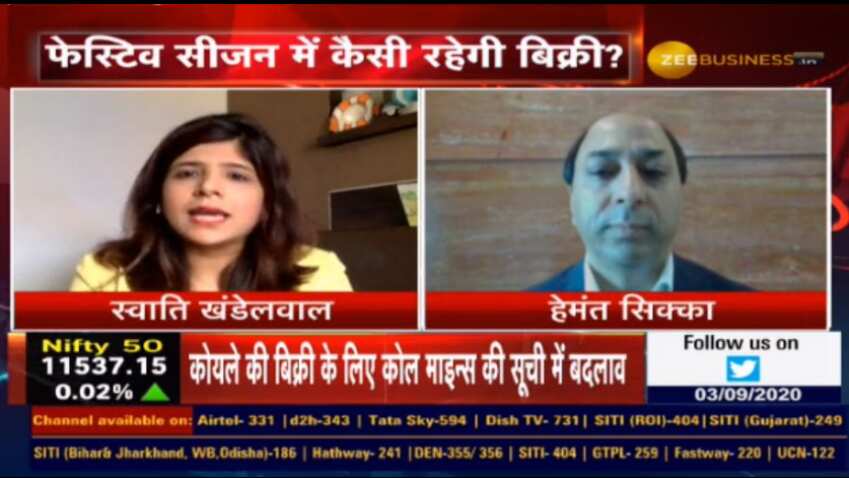 "We have launched a rice transplanter a few months ago and it was brought from the Mahindra Mitsubishi Agri Machinery Company," Hemant Sikka said
Updated: Fri, Sep 04, 2020
05:18 pm
new delhi, ZeeBiz WebDesk
Hemant Sikka, President - Farm Equipment Sector, Mahindra & Mahindra (M&M) Ltd., talks about the tractor sales number of August, demand, capacity utilisation, CapEx and product pipeline among others during an interview with Swati Khandelwal, Zee Business. Edited Excerpts: 
Q: Your domestic sales of tractors rose by 70% to 23,503 units in August 2020, which is your highest ever August sales. How will you summarize it? Do you think that this is a pent-up demand or robustness will be seen and consistent performance will be seen?
A: We had very good sales in August and our tractor business grew by 70% in the month. This August has been the best-ever August till date, even the previous month of July was the best-ever July for us. So, we have been able to successively report our best-ever performance for two consecutive months. If seen carefully, there are obvious reasons for it. Rabi crops were harvested during the lockdown and this was a time, when the governments, both state government and central government, supported the farmer from all aspects. They also categorized agriculture into essential services. This categorization led to good harvesting of the Rabi crop and they were sold well in the market (Mandis) and the farmers received good prices for their produce. So, a good amount of money is available with the farmers at this point.
Secondly, monsoon is also panning out very well and right now monsoon is 10% better than the LPA (long-period average). So, when the monsoon is good, it is very clear that the sowing of Kharif is going to be well. In fact, 8.5% more Kharif has been sown this year when compared to the last year's sowing. Increase of 8.5% means a huge growth, due to which the farmers are feeling great and is confident that his cash flow will remain good even in coming future. This is why they are coming out and buying the tractors as they always wished to have with them. Therefore, robust demand is created and all our plants are functional at 100% capacity. If you remember than last time when I had a chat with you then I spoke about the supply chain issues that we were facing but now it has been eased out. So, the supply chain has eased out, plants are functioning at 100% capacity, the farmers have money at present and they wish to have their tractor due to which the demand is good. So as all these factors have worked together and allowed us to post a 70% growth in our business in August.
Q: You said that August was the best-ever August and July was the best-ever July. Do you think that the trend will continue and we will get a chance to see a new record is created in September as well? What are your expectations with regards to volumes for the upcoming festive season, do you think that it can be the best festive season for the company?
A: It is a very good question and I will give an interesting answer to it. The month of September can't be the best September because 'Shraadh' period has begun and this time the period will be in place till September 17, 2020. Shraadh is a time when many people in many parts of the country do not buy new products. When the Shraadh will come to end the 'Adhik Mas' month will start, which comes once in three years, and will last till the middle of October. So, when compared with the past few year's then you will find that every festival has been pushed back 2-3 weeks this year, for instance, the Navratras started in September last year and this year it will start on October 17, 2020. Accordingly, we will see that the sales of September will shift to October this year. That's why I will request your audiences to not compare this year's September with the last year's September and compare this year's September and October's performance with the same months of last year. It will help you in finding growth in the company, which will be a good growth but comparing September with September – because Shraad falls in this month and Navratras are not there and Shraadh is followed by Adhik Mas – will be an unfair comparison. So, the two months should be jointly compared with the combined same months of last year in which you will find that the Tractor industry has done pretty well and Mahindra Company will also do good.
Q: What volume is expected by the end of the year? Amid demand surge, do you have capacity expansion plans on the cards, if yes, then tell us the kind of arrangements that will be made there, in terms of kind of expansion and CapEx among others?
A: If we think about capacity expansion now then its outcomes will not be readily available because capacity creation takes time. It has a gestation period in which if you order a new machine then it takes around 8-9 months for the machine to reach you. So, whatever the capacity will be created will be used in the future seasons. The OEMs who will start the installation of capacity now will not be benefitted from it at least in this season. Therefore, our colleagues are working day and night at the plants that we have to increase the production and are making small improvements to increase efficiency, as it benefits immediately. So, we have initiated many projects, termed as Kaizen project, on the front and are also implementing the ideas of our workmen to increase our efficiency. Our company will be benefitted by it in terms of improvement in capacity. But the major capacity utilization will remain at around 100% and any major capacity enhancement can't be made in this season.
Q: Do you think that there are rooms for a price hike at present and also tell us the last time when the tractors price was hiked? What trends are visible on the price front as it will help you in improving your margins and profitability?
A: You must have seen that our margins were very good and robust when the last quarter's results were announced and we will maintain it in the future as well. As you know that the commodity side is not quite high at present and is under manageable limits. This is why we want to fulfil the demands of the farmers at present and meet the demand. So, we are not thinking about the price increase at present. Commodity side is benign and is going well that's why I don't think that there is a need for a price increase. Our margins quite good when the first-quarter results were announced and that will be maintained further.
Q: How is the product pipeline and is there any addition in it. You have also created tie-ups with global companies like Sampo and you are getting benefitted by it. So, what kind of synergies and integration is going on with the international market?
A: Last time also you asked about the kind of work that is happening on the new product development side and I informed you that we have launched a new tractor XP plus and we are getting a good response for it from the customers. After that, we also launched SP plus, plus series of Sarpanch series. It was launched digitally and we are receiving a good response on it. Gradually, we are promoting our new tractors of XP Plus and SP Plus series in every state. They are being liked by the customers and we are getting maximum orders for the same. At the same time, I would like to inform your viewers that many tractors of the plus series will reach to the markets by October-end and you will find them being used in the farmlands and the villages. So, we are introducing new products and they are being accepted by the customers.
Secondly, you also asked that are we planning to bring some new technology from Sampo or other subsidiaries that we have in the international market then yes, we are trying to do so. We have launched a rice transplanter a few months ago and it was brought from the Mahindra Mitsubishi Agri Machinery Company. Interestingly, we received a very good response for it in the last sowing season that ended two-months ago. In fact, we were not able to meet our demand, so, we are increasing its production and will try to make it available in huge number in the market by the next sowing season.
Apart from this, we are also working a lot on the harvesters' segment as its demand is very high at present. We also want to increase our capacity in the segment. For the purpose, we are working with the suppliers and trying to increase their capacity. So, we are adopting these new mechanisms to increase the capacity of not only the tractors but of entire farm machine that is termed as far equipment as a whole i.e. availability of the tractor and its equipment. We are working a lot on their capacity and are launching new products to support the farmers. But if we plan to launch the same products of Sampo, Japanese products, in India than the cost will go up like anything. This is why we want democratization of the technology, i.e. the world's best technology reaches to our farmers at the low prices. This is our goal and target.
See Zee Business Live TV Streaming Below:
That's why we do not bring any product of Sampo or Mitsubishi Agri machinery directly to India. We localize them at a low cost and then bring them to India to make sure that our farmers can get the world's best technology at low cost. 
Get Latest Business News, Stock Market Updates and Videos; Check your tax outgo through Income Tax Calculator and save money through our Personal Finance coverage. Check Business Breaking News Live on Zee Business Twitter and Facebook. Subscribe on YouTube.