Electric vehicles will bring new opportunities for companies: Nishant Arya, JBM Group
Nishant Arya, Executive Director, JBM Group, speaks about the acquisition of Germany-based Linde-Wiemann and its benefits, focus on technology and innovation, strategy to face the competitors and slowdown concerns during an interview with Zee Business.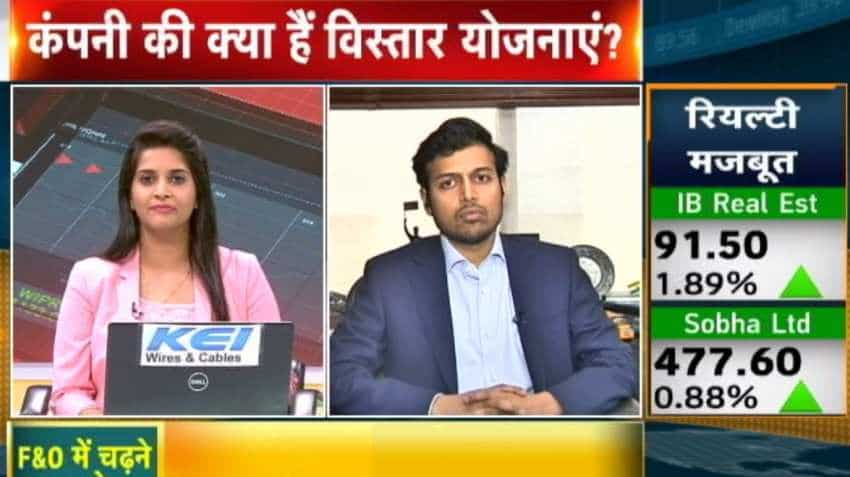 Nishant Arya said the company has a very clear strategy for technology and innovation. Image source: Zee Business
Nishant Arya, Executive Director, JBM Group, spoke about the acquisition of Germany-based Linde-Wiemann and its benefits, focus on technology and innovation, strategy to face the competitors and slowdown concerns during an interview with Pooja Tripathi, Zee Business. Excerpts: 
Q: Talk about the impact that the acquisition of Germany-based Linde-Wiemann GmbH KG will have on your revenue and the kind of synergy that is expected from it?
A: Linde-Wiemann is a $700-million company with an annual turnover of about Rs5000 crore. It has its presence in eight countries like Germany, Spain, the US, Czech Republic, China, South Africa, Turkey and Hungary. 
It is positioned on all strategic locations and is catering to the high-end customer, medium-end and volume-end customers. It is a complementary partner for JBM Group and the group will reap benefits of the acquisition as it has maximum focus on passenger vehicles. Interestingly, technologies of Linde-Wiemann, like lightweighting, hot forming, tubular parts, are based on passenger vehicles. They are also focusing on the electric vehicle battery system. All these are upcoming technologies and it will help us in enhancing our business in existing and upcoming projects and add value to it. 
Q: Several companies in auto-ancillary space are focusing on new technology and innovations. Then, what is your company's strategy for innovation and technology?
A: The company has a very clear strategy for technology and innovation. We all know that BS-VI norms, to be launched next year, will take the safety, emission and crash norms to the next level. And, in that view, we have prepared ourselves in lightweighting technology, chassis technology and body technology and increased our competency in the segment. 
Apart from this, we also have our eyes on electric vehicles, which is going to be a focus area for the country and FAME-2 has been launched for the purpose. FAME-2 has a clear roadmap for the two-wheeler, three-wheeler passenger vehicles and buses. In fact, a subsidy will be given on 10-lakh two-wheelers, 5 lakh three-wheelers, 55,000 passenger cars and 7000 buses. Plus, a subsidy will be provided on 2,700 charging stations that will be created across India.
This is a roadmap for three-years, and more opportunities will come in our way as soon as the industry gets momentum and increase its penetration. Thus, these factors will benefit us because JBM Auto, initially, was one of the leading companies that had its focus on electric vehicles. We have launched our electric bus in the market and they have completed its test-run in Delhi. Now, we are focusing on ecosystem creation by working in an integrated way on charging system, battery technology and controller technology. We are providing a holistic end-to-end solution to the end customer. Simultaneously, the technology will help us in meeting the demand for passenger cars customers and two-wheeler customers in the future, when there is an expansion in the market. 
Q: What is your strategy to face the competition from your peers and competitors, who are quite aggressive on acquisition?
A: India is producing around 4 million cars, at present and the numbers are likely to go up to around 13.4 million by FY2026. And, if we look at these numbers then the market will grow by more than 300 per cent. Thus, everybody will have the opportunity to grow. JBM Group is the largest player of the country in all segments where it has its presence, may it be the body or the chassis, for all segments of the two-wheeler, three-wheeler, four-wheeler and commercial vehicles. We have expanded our technology base and Linde-Wiemann's acquisition was made in the same line. It brings technology, customer base, portfolio and global platform strategy to us. It will benefit us in designing our global platform strategy. 
Apart from this, we are also moving away from value and cost perspective to total-cost ownership as it is important for every customer who looks towards your integrated approach. Under, this approach we are providing everything from engineering designs to tooling, wending, dais, fixtures, components and systems. We also take the warranty responsibility for all the mobile components and we are working on it with our customers. We, in the last 5-6 years, have expanded our capability in the domain. Last year, our top line in tooling division stood at Rs85 crores last year and this year, it will go up to around Rs145 crores, which is a substantial jump. Maybe, it has a small turnover, but its EBITDA margin stands around 30-35 per cent, which is a significant contribution to our bottom line. Similarly, good growth has been noticed in the bus division and this year, we are executing an order of 200 buses in Gurugram. In addition, we are also working on electric buses in several cities.  
In addition, we have launched several products in the components division for different customers. It can be seen in the western region, northern region, southern and central region, where JBM motors have its presence. We are taking benefit of that. In the last five years, we have grown quite substantially in the commercial vehicle segment with key players. In this financial year of 2018-19, we have grown by more than 30 per cent in the first six to seven months (April to November). Similarly, growth for three-wheeler has been more than 25 per cent. So, we have been trying to see how we are able to understand the market and align ourselves accordingly. 
So, we are well positioned, and we are working in line with the automotive mission FY26, which is for 13.4 million vehicles instead of focusing on the next financial year or coming two-three years. How we can align ourselves with that with respect to technology, capacity, know-how and executing projects with an integrated approach for our customers in India and globally. 
Q: Has the ongoing slowdown concerns of the auto sector has had an impact on your business or not?
A: See, volatility and changes in the market are always seen as a positive as well as a challenging time for any company. Thus, challenges come on the way but what matters is that how we prepare ourselves well as it is something that is in our scope. So, that is what we are doing on a constant basis. The automotive sales have impacted in the last five months and I feel that the impact can be felt in the next two quarters also. So based on that we are quite frugal as an organisation and looking forward to ways to reduce and optimize our variable costs and at the same time, enhance the value which we were giving to the customers so that they are also benefitted from the same. And, we really see that how we are aligning ourselves with the market dynamics whether it is optimisation of the inventories or manpower cost or total sales and seeing that if one division is getting impacted then how as an organisation we can give a holistic solution to our customers where they have opportunities to perform better.
Watch this Zee Business Video
So, JBM Auto is a company that has had some impact but not as much as one would see for a pure play auto component company in the sector who is dependent on a few customers. Because in JBM Auto we are more art to part from build to print only. 
Get Latest Business News, Stock Market Updates and Videos; Check your tax outgo through Income Tax Calculator and save money through our Personal Finance coverage. Check Business Breaking News Live on Zee Business Twitter and Facebook. Subscribe on YouTube.
Updated: Fri, Mar 29, 2019
12:50 pm
Mumbai, ZeeBiz WebDesk