Donald Trump car, The Beast: Safest car in the world
Wherever US President Donald Trump goes, his armoured limousine follows. The  $1.5 million Cadillac, dubbed as "The Beast" touches  ground  from US military  airplane  before his arrival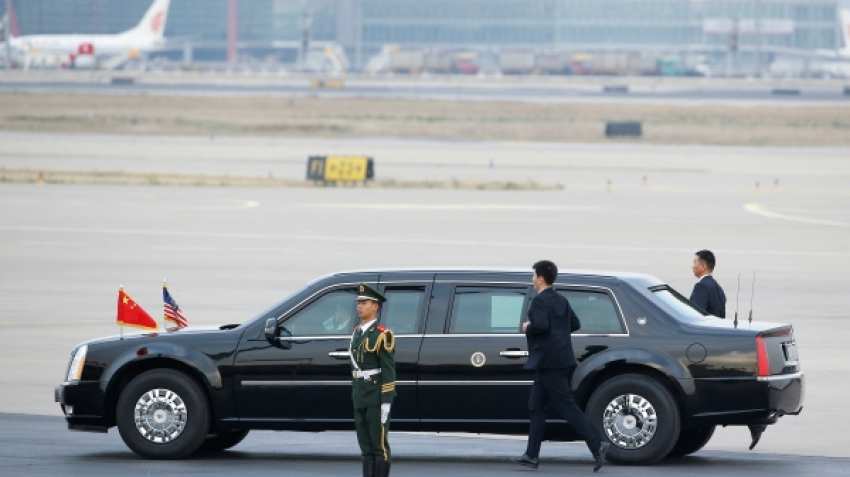 Donald Trump's car is equipped with life-saving, offensive and defensive measures. It is built according to US Secret Service standards. Image source: Reuters
Updated: Sun, Jul 08, 2018
08:30 pm
ZeeBiz WebDesk
Wherever US President Donald Trump goes, his armoured limousine follows. The  $1.5 million Cadillac, dubbed as "The Beast" touches ground from US military airplane before his arrival.  The car is equipped with life-saving, offensive and defensive measures. It is built according to US Secret Service standards.  The Beast – also known as Cadillac One – many gadgets to keep him safe. It even has blood with his exact blood group. The limousine weighs eight tonnes, is bulletproof and able to survive a direct rocket or chemical warfare attack, according to The Sun.
The car also boast of Halon fire-suppression system, used on race cars. 
 
Some secret features that keep Donald Trump safe are:
Cameras: The limousine has night-vision lenses fitted and controlled from the dashboard.
Windows: It has five layers of glass and polycarbonate, which can withstand bullets.
Driver: Specially trained Secret Services officer can perform 'J-turn' to spin car 180-degrees  before continuing, facing forward, without changing the direction, the report said.
Panic button: The car also has alarm, oxygen supply and bags of the President's blood type in case the President needs transfusion.
Weapons: Pump action shotguns and tear gas cannons are carried in the car. 
Bodywork: Body of the car is five inches thick military-grade armour, made from aluminium, steel, titanium and ceramic, covered with fiberglass panels, it said. 
Reinforced tyres. It has puncture-resistant tyres and if destroyed, the car can be driven on wheels' steel pins.
Doors: Eight inch thick armour-plated.
MPG. The car uses diesel and it only gives four miles per gallon.