Digitalization will grow rapidly in the post-COVID market: Shashank Shrivastava, Maruti Suzuki
Shashank Shrivastava, Executive Director, Maruti Suzuki India; Tarun Garg, Director – Marketing & Sales, Hyundai Motor India; and Gaurav Gupta, Chief Commercial Officer, MG Motor India, talks about expectations related to recovery in the automotive sector, plans related to new launches and expansions among others during an exclusive chat with Swati Khandelwal, Zee Business.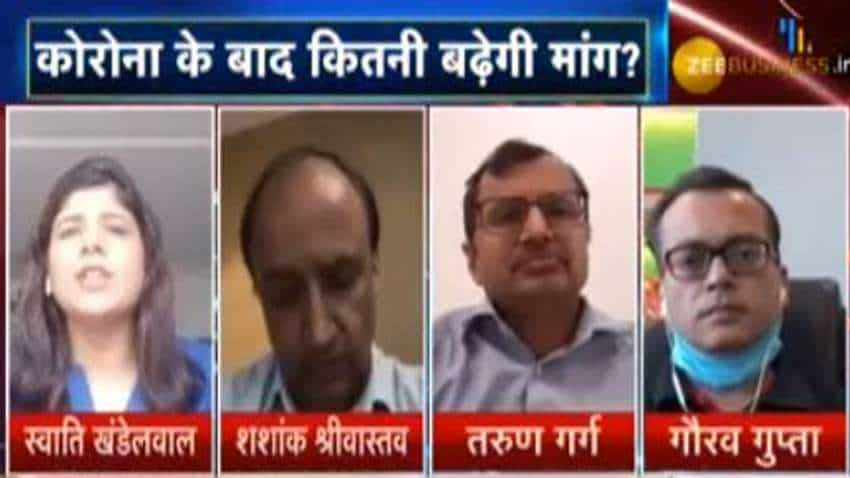 Edited Excerpts:-
Written By:
Jitesh Kumar Jha
Updated: Mon, May 18, 2020
07:59 pm
ZeeBiz WebDesk
Shashank Shrivastava, Executive Director, Maruti Suzuki India; Tarun Garg, Director – Marketing & Sales, Hyundai Motor India; and Gaurav Gupta, Chief Commercial Officer, MG Motor India, talks about expectations related to recovery in the automotive sector, plans related to new launches and expansions among others during an exclusive chat with Swati Khandelwal, Zee Business. Edited Excerpts:-
Q: How India's largest carmaker is dealing and what are your expectations related to the recovery of the sector and a decent number of sales volume can be registered?  
Shashank Shrivastava: There was no retail for about one month and ten days after the lockdown was announced on March 23, 2020. The showrooms have been allowed to open from May 4, 2020, provided they were not in the containment zone. So, the showrooms are opening slowly and around 1,200 showrooms of Maruti are open at present and around 3,500 vehicles have been delivered. So, the trend is returning and inquiry levels are going up but there is an increase in bookings but of course, they are nowhere near the levels at which they used to be earlier. But, it is just a beginning and many of our showrooms are closed still. Maruti has around 3,100 outlets of which 1,200-1,300 are open yet. The volumes will certainly go up as soon as more showrooms in other areas will be opened. 
Q: Hyundai is the second-largest car producer in the country and has also launched a few vehicles in the recent future. So, what is the condition as the lockdown is being lifted slowly and how soon the product will be brought back to full level? The new product also received a good response and what is your outlook for the future?
Tarun Garg: Yes, we have started the production facility and have produced 200 vehicles on the first day. Things are being ramped up slowly. As far as showrooms are concerned then around 40% showrooms and workshops of Hyundai have been opened and it is a good start. When it comes to new products than Hyundai had launched several products including CRETA just before the lockdown was announced. And, the good thing is that we have been receiving customers' response of the customer for CRETA and have received online bookings for the vehicle even during the lockdown. We have received at least 21,000 bookings for CRETA till date, which is good in itself. We have started delivering of CRETA and around 1,100 vehicles have been declared till date. So, I think the launch of new products will increase the enthusiasm of customers. I agree with Mr Shashank that booking and retail are increasing slowly and as far as Hyundai is concerned than more than 3000 bookings have been received and more than 2,000 vehicles have been delivered. Thus, as the showrooms will open, we will move towards the normalcy. The start is difficult but is encouraging. 
Q: What is your learning from the lockdown that was imposed suddenly and had a major impact on your entire supply chain? What are your plans related to revamping the sales and what is going to be the new process of reaching to the customers and what is your view on the new pattern from the consumers' side?
Shashank Shrivastava: Availability of cash flow could have been the biggest problem for the dealers as there has been no retail for almost a month and 15 days. It is a capital intensive industry with high-value products and that's why it would have been a big issue and Maruti Suzuki and most of the OEMs have supported the dealers by providing interest support on the stocks that they had. So in such a way, this problem of the cash flow will decrease as the retail grows gradually and we will support the dealers in this period. We are very conscious of dealers' profitability and we will fully support them under these circumstances. Whether the new approach will move towards digitalization then yes and have seen a trend of the process of digitalization in the last three years, quite before COVID came into existence. Maruti Suzuki has reaped the benefits of its digital platform in the last three years. If you ask the OEMs than you will find the 23-23 touch points out of the 27-28 touchpoints of the consumers' journey with the dealers are digital. Maruti Suzuki's digital platform will allow a customer to book the vehicles and get other details like information and download the brochure among others. So, there is a trend. This trend is going to grow rapidly in the time to come and I think that realization for those people who were under any doubt regarding this process will blow away and everybody will realize that this is the going forward and it will grow at a fast pace. The OEMs will try to digitalise the touchpoints which are not digital yet. 
However, strict SOPs have been adopted for safety perspective at the showrooms that are being started. Things are tested strictly to find that the dealer is meeting all the parameters before allowing them to start working. Then also, I feel that this digitalization will increase rapidly in the coming days. The web inquiries which stood close to 3% around 3 years ago has increased to 20% in March end. Interestingly, most of the inquiries that we received in the last two months were web inquiries. 
Q: You said that there is an encouraging demand from consumers but they are expecting good discounting as their confidence has shaken when it comes to buying a new vehicle and will think a lot before deciding on the prospects of buying a new vehicle. How will you attract them and what incentives and discounts will be provided to them? Also, name the sectors where you feel that it will be demand and the one that will be hit the most in the post-lockdown opening?
Tarun Garg: I believe in a fact and have also seen that if your brand and product is strong then it will pull the demand of the consumer. If I will talk about Hyundai than I was analyzing things that have occurred in the last month and a half then found that CRETA and Venue are doing good in the SUV segment. CRETA is a new entrant in the segment. We have seen a splendid consumer response for NIOS and I20. These four vehicles together have 80-85% contribution to the total sales of Hyundai. It is sending a clear message that the entry-level customers are moving towards NIOS and consumers who are looking towards strong SUV then they are looking towards CRETA and Venue. So, we can't say that there is any particular segment that is not getting customers. India is a big country and you will get customers as long as your brand and products are strong. 
Secondly, how big the concern is, the consumer has some uncertainties about what will happen with the economy and what will happen to his job. So, there are uncertainties and for the purpose, Hyundai has provided an EMI assurance programme in which Hyundai will pay three EMIs of the consumer who will lose his job in next one year and this has fetched good response from the consumers. Similarly, we have provided different finance schemes to the customers in which he can pay less EMI in the start and increase it in the later stage or can also take the loan with a period of 8 years to keep the EMIs very low. 
So, the question is that can we design schemes in accordance to the consumers that can encourage them to come forward and take the vehicle and we have tried to do so and have seen good outcomes of the same. 
Q: MG Motor is a new player in India and the response towards your products has been a good one. The lockdown is being lifted slowly. Tell us about the recovery pattern that is visible to you over the next few months and how difficult was this period of lockdown for you and your partners? 
Gaurav Gupta: Coronavirus, COVID-19, pandemic has greatly impacted not only the automotive sector but the entire country. And, when we are getting closed to 'On and Off', in which the industry can also be turned on. However, this On-Off is not very easy. Switching it off was easy but switching it on will require a lot of readiness of the backend and frontiers. I am talking from my office and our plant has also started working. However, the office and plant have been opened with just 20-25% manpower and that is on-site. But the backend that deals with the production capacity of the suppliers and their readiness for the supply chain as well as readiness of their Tier-II and Tier-III are also important. Currently, many of the suppliers are in the red zone due to which they are not able to supply. So, you will see things gradually, like April month has remained almost zero and the industry will gradually open itself in May. Then things will pick gradually every month and I expect that the growth will hit the last year's level of the industry by the festive season, i.e. by September and October. 
As far as MG is concerned, there is a slight difference in the situation as we have bookings for MG Hectare and electric vehicles and both are required by the customers. We are getting a lot of emails and phone calls asking when the market will open. So, people are interested in taking the cars. And, as Shashank and Tarun were saying that gradual acceptance will start and people will have to start living with this entire situation and start moving forward because there will be a day when we will have to increase our speed. 
Q: From the financial point of view it is going to be difficult to find ways to expand as you will have to focus on cost optimization and rationalization? Do you think that expansions will remain on the track and will go as per the plan or it will be changed? Also, talk about the launches will there be changes in the timelines amid COVID due to COVID? 
Shashank Shrivastava: When it comes to capital expenses or long term investments – if we can separate the ups and downs of the short term form the discussion - then things will gradually become better in time to come and the same was said by other panellists as well. As far as Maruti Suzuki is concerned than our long term assessment of the Indian market and economy then it is very positive and strong yet. And none of our long term investment plans will be deferred. We in the con-call of the results - that was announced a few days back – with the analysts we informed them that our capital expenditure will be around Rs 2,900 crore this year, which is at the similar level as it was last year. 
When it comes to new launches then there will be no change in the plans but yes there can be some development work – as we have faced disruptions for a short term – which may delay things but we will try to make it happen and have plans for the purpose. I can't give forward guidance on products; however, a product will be delayed a bit, which was announced during the Auto Expo that was held in February. We had said that BS-VI model of S-Cross will be launched in March and it has been delayed for one or two months. This is all that I can say on the product, But I think that we have repeatedly conveyed a clear message that we believe in India's story for the economy in a very positive manner in a long term basis. We will continue to have investments and our product plans will continue as it is. 
Q: Hyundai has entered India with a big commitment and has grown enormously in the country. So, what is your outlook for CapEx, launches and exports? 
Tarun Garg: It is good and you would have seen that Hyundai has launched four products, namely Venue, NIOS, CRETA and KONA Electric, in 2019, which was a quite challenging year for the industry. It continued the pace of new launches in 2020 as well and has launched 3 cars, namely Aura, Creta and Tucson as well as Verna in just three months. So, Hyundai has launched 8 vehicles in just 15 months. Hyundai has a positive outlook for India and car penetration is still available in India. Not only new products but we believe that Hyundai has to play an important role in terms of technology in India. 
Q: What are your product plans as we have a lot of expectation from MG Motors? Are your plans for expansion and CapEx are intact?
Gaurav Gupta: It was July 2019 when we started the sale process of MG Hectare in India. And in these 10 months we have introduced MG Hectare in India and then MG ZS electric vehicle (EV) in January 2020. So, we have brought two SUVs in India and Hectare plus, a six Seater car, will be launched in the second half of the year and this information was passed on during the auto expo and a large SUV, luxury premium SUV, MG Gloster will be launched by the festive season and it is on track. Apart from this, we have plans to launch a new SUV in 2021 as well. Thus, our plans for launching four SUVs in two years are safe and intact and we are trying our best to keep them on track. 
Besides, we are quite committed for 'Make in India' and not only for SUVs but also for technologies, where we are thinking about what next can be done in terms of technology in the electric vehicle in India. Similarly, the future commitments, future vendor development base among others are on track and we are very focused on Make in India. 
Get Latest Business News, Stock Market Updates and Videos; Check your tax outgo through Income Tax Calculator and save money through our Personal Finance coverage. Check Business Breaking News Live on Zee Business Twitter and Facebook. Subscribe on YouTube.