Cars in India to become safer but will still be far from it
India still have a long way to go to meet global standards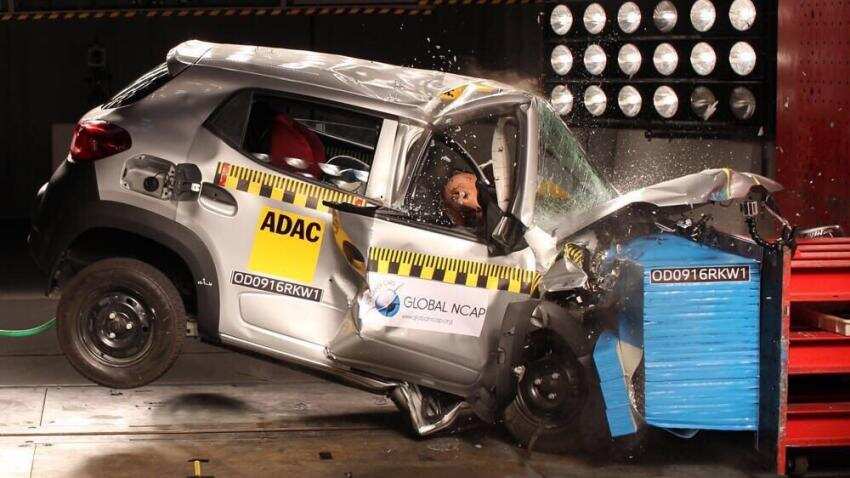 Global NCAP car safety test. Photo: Global NCAP
Updated: Fri, Jun 03, 2016
04:07 pm
Mumbai, ZeeBiz WebDesk
Car safety standards in India will be taken up a notch as the government has pushed automakers for the implementation of airbags, antilock braking system (ABS) and speed warning systems in cars by October 2018.
While this will surely push up the car prices in a sensitive Indian market, the safety standards for vehicles in India still have a long way to go to meet global standards.
It is estimated that the cost of vehicles in India will increase by 8-15% once these safety feature norms are enforced.
Currently in India very few automobile companies provide airbags and ABS in their entry-level models. Let alone any of these global safety features.
Sumant Banerji, in a column on DailyO wrote quoted RC Bhargava, chairman of Maruti Suzuki as saying, "In Japan, airbags were made standard on all cars in 2004 but the rate of accidents was still very high," adding, "If the government decides to make them (airbags, ABS) mandatory, then we will comply but it would make cars more expensive. My worry is, for entry-level cars it could have a significant impact. We want two wheeler owners to graduate to cars as automatically that is a step up on safety. If you make cars expensive, then that will not happen."
The calls for better safety features as standards on cars sold in India came after repeated tests by Global NCAP and Euro NCAP that highlighted the poor safety standards on the same cars sold in India as against their global counterparts.
Hyundai Eon, Mahindra Scorpio, Maruti Suzuki Eeco, Renault Kwid versions 1, 2 and 3, and Maruti Suzuki Celerio all received a 'zero star' rating from the global safety standards body. Read our earlier story: Here are seven cars in India that failed global safety standards.
In response to this, most the automobile companies simply denied that their cars were unsafe and in fact stated that they were following Indian safety standards.
While this mandatory airbags and ABS norm comes as good news, it still brings the question whether implementing these three systems will be enough.
For instance, in the US Federal Motor Vehicle Safety Standards states that cars should have features which are absent in India include:
Child seat and restraint systems
Head restraints
Side impact protection
Roof crash resistance
Impact protection for the driver from the steering
Warning devices and crumple zones to absorb crash energy
While in Europe the European Commission has made it mandatory that all cars have a
Driver seat belt reminder system
Child seat anchorages
Tyre pressure monitoring systems
Energy absorbing bonnet and front bumpers
Stability control systems
Break assist systems