BS-VI is a milestone for us; Royal Enfield will be ready for it by December 2019: Siddhartha Lal, Eicher Motors
There were German, British, American and Japanese bikes and we won two of them and mainly the Bike of the Year, which is a big one, Siddhartha Lal of Eicher Motors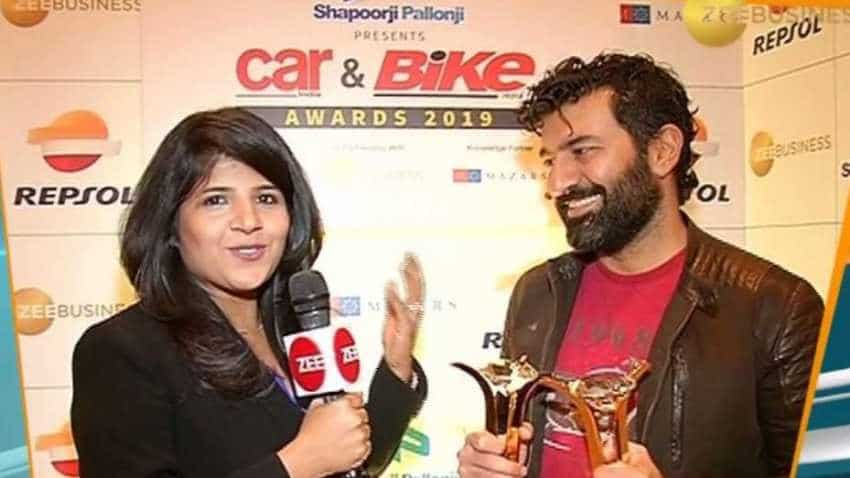 Why I said, Royal Enfield because we can. We came out with a concept named Bobber and everyone loved it, said Siddhartha Lal of Eicher Motors.
Siddhartha Lal, Chief Executive Officer, Eicher Motors, speaks on the car and bike awards 2019, expectations from FY20, BS-VI norms and new bikes among others during a candid chit chat with Swati Khandelwal, Zee Business. Excerpts:  
Royal Enfield has won these awards at the Car & Bike awards 2019 and the best part is that an Indian brand stood out. 
Yeah! That is really cool because 10-12 motorcycles were nominated as the Bike of the Year. There were German, British, American and Japanese bikes and we won two of them and mainly the Bike of the Year, which is a big one. This is important as this is coming out at this moment that what Classic 350 did for Royal Enfield a decade ago in India, we think the Inceptor 650, which won this award, can do for Royal Enfield globally now. Of course, in India as well but also in other markets in the world.
By winning these amazing awards, we also got amazing reviews and response from the market across the world. We can't make enough motorcycles now as we are just back to a nice position. It is a good problem to be here as it is just interceptor that we can't make enough, others we can make enough. 
That is a demand? 
That is a thing that we spent time, we have done the work, we put in the hours and done testing validation and built an enormous team in the UK complemented by a huge team in India and dedicatedly we have been working on this, the interceptor. 
I heard you say that this is just a beginning, hopefully, there will be many more and this many more is a very interesting word. I want to know what more we are talking about?
To be honest many more in the long term (laughs). I also said, if you remember, we do much less things and we want to do them really well. So, it is a bit of both. What I am saying is that you can see us up on the stage receiving awards in next many years because we are going to do few motorcycles, but we want to do them bloody well and we are going to do it soon.
It is really about sustenance and firstly it is about the interceptor right now and the continental GTX twin. So, we just must put our heads down and do the fantastic job of ramp up because the ramping up production and getting more motorcycle out there, getting the service right, because a lot of products come in the market, flashed in the pan and in a year, no one wants them anymore. That is not a case with us we had to keep it moving 10years from now, so everyone should be gagging for interceptors well. It is just not a year or two things. So, it needs a lot of sustenance. Of course, we got other beautiful & sexy motorcycles in the market, but it takes time.  
The industry has seen a tuff year and the recent numbers have shown that and it has also slipped in the month of January. Now, as we get into FY20 are you hoping that it is going to be a better year than FY19, if yes, then what are the key things that you are really watching out for that will help you to push sales and get the industry back on track? 
So, the big thing that has been for the industry is cost. We had a lot of regulations that have been coming like EBS, which is made us bring disk brakes and these all things cost a hell lot of money and the customers are like 3-4 per cent, 'OK' that is how people take in their site, 10 per cent means 'OH!' and 15 per cent 'Oh My God!' like what this guy is talking about and this is what that has pushed us back a bit. People are getting more warmed up to it. But then there is more coming that is BS-VI which is going to bring a huge cost increase again. So, that is the big dampener for us. For Royal Enfield that is the main dampener. 
But, do you know that these are the things that will not change, I mean that they must be accepted?
It will not change but it takes time for people to just warm up to this kind of things. Somebody, who is planning to spend Rs1.20 lakhs have been told that now in Rs1.40-1.50 lakh. That is a lot of money. So, people are warming up to it they are getting a better finance scheme and are doing a lot of things. 
Are you hoping that the FY20 is going to be better?
Yeah! That is a life, and these are normal things in life. So, we are doing a lot of things and have done tons of interesting things. Everyone talks about the bikes and we have the interceptors and the continental GTX and the upgraded Himalayan, which is doing well and is up now as interceptor is in its own little touring bay. So, we have got a slew of new motorcycles.
Thing like Inceptor with this type of buzz brings people into showrooms, they might end up buying a classic because that is a more accessible motorcycle. You get a buzz on the brand and get more people in. So, Interceptor can do a lot for us then just selling a few bikes. It has got the whole energy back in the brand as well. It is a hit product for kids out there riding 100 CC motorcycle there like OH My God! this is a 650 CC bike, i.e. it is a big bike. So, that's a kind of thing but a lot of other things going on. We are doing a lot of things in our stores, we are doing a lot of programming, rides and events. We are constantly working and keeping the buzz high. 
You have proved yourself by upscaling into the 650CC bike. There is room for bigger bikes. Is Royal Enfield ready for more?
No and not yet. We sell a few big bikes in India and others to sell big bikes in India. Wait for a year to answer the question as if the 650CC continues to fly from the shelf as they have been for the first few months. And, in the next few years, we expect to build a huge base of customers with 650 then we have something to upgrade them. 
Why I said, Royal Enfield because we can. We came out with a concept named Bobber and everyone loved it. It is gorgeous concept KX and we called it in 838cc just because someone said that number and it just happened. It would be a bigger bike if it must come out but we haven't pressed the button on it but that could be a bigger potential.
But, just because it is gorgeous, and people love it doesn't mean that it makes business sense that is right. So, I think that that kind of thing will wait for a year or two to see whether we really need to kick our project level as it takes a hell lot of money and resources and right now we are putting that back to middleweight and that's why we are not going into big bikes as yet but we know the direction in which we will go. 
Less is More is a mantra for you and you do activities around events and stores and all of that. In terms of new bikes, I would like to know about the new model or a completely new product that can be seen in the next one to two years?
Yes (laughs). 
Then when and is it into 600cc space? 
No. Right now, the twins are the what they are and that is what you will get. But there will be changes in certain motorcycles, for example, BS-VI is coming and that is a big milestone out there for us. April 1, 2020, thirteen-and-a-half months away and we must be ready before and we will be ready by December 2019. Thus 2019 is the switch year for us for BS-VI and it is a huge transition. And, that will take our time, energy and some motorcycles may come out of that in the regular space. 
 
Get Latest Business News, Stock Market Updates and Videos; Check your tax outgo through Income Tax Calculator and save money through our Personal Finance coverage. Check Business Breaking News Live on Zee Business Twitter and Facebook. Subscribe on YouTube.
Updated: Tue, Feb 12, 2019
12:45 pm
ZeeBiz WebDesk