Audi's first electrified vehicle, E Tron, can travel 400km after being charged: Rahil Ansari, Audi India
Rahil Ansari, Head, Audi India, in a conversation with Zee Business, gives an insight on growth, new launches and policy changes that are needed to boost the sales among others.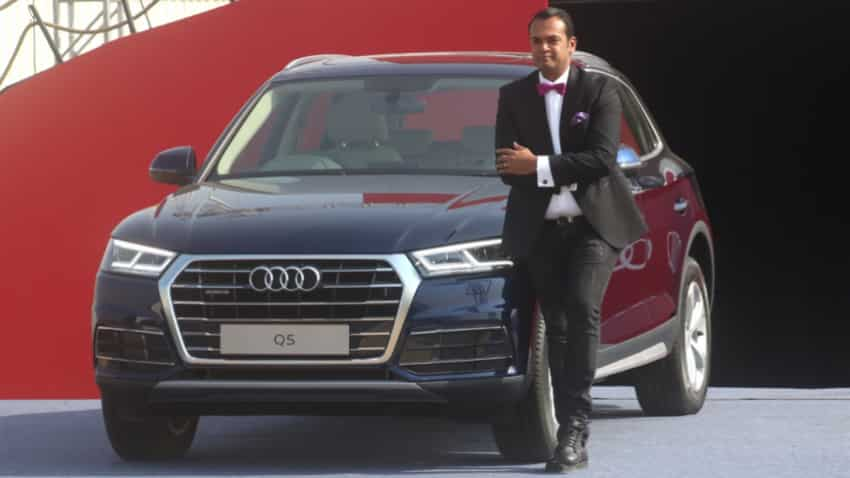 A consumer always tries to add a new product/car in his/her list and this is something that leads to the creation of a gap. Image source: IANS
Updated: Mon, Nov 26, 2018
03:42 pm
Mumbai, ZeeBiz WebDesk
Rahil Ansari, Head, Audi India, in a conversation with Swati Khandelwal, Executive Editor, Zee Business, gives an insight on growth, new launches and policy changes that are needed to boost the sales among others. Edited Excerpts: 
Q: Are you happy with the kind of growth that Audi has posted in the year and is it meeting your expectations?
A: Meeting expectations is not an easy task. Lets put it in a simple way that we had a good year but faced a couple of challenges like the Union Budget, which didn't support the luxury segment. In fact, it led to the closure of a few dealerships and had an impact on our volume. 
However, certain good events like the launch of Q5 and RS5, which turned up to be very successful with Virat Kohli, has helped us to bounce back and the picking numbers give a sense that we will grow. 
Q: Your huge portfolio allows you to serve in almost every segment. But, I would like to know about the segment where growth is expected and also highlight the segment with visible gaps that can be filled through new product launches?
A: Novelty factor plays an important role than loyalty. A consumer always tries to add a new product/car in his/her list and this is something that leads to the creation of a gap. This gap will be filled by Q8 that will be launched next year. Q8 is a perfect combination of Q7 and is a sportier version. It is being launched as there is a trend in the Indian market towards SUVs and the shift is balancing things, .i.e. 50:50 between SUVs and Sedans. Earlier, there was a great demand for Sedans. 
Besides, entry segment, like A3 and Q3, is a place where we can grow - in terms of volume - in India. A3 and Q3 are entry level cars into the Audi brand and is being supported by the first time buyers of the luxury product. Existing financial instruments and low EMIs are helping people to access luxury product and that is a reason that corporate employees are also buying A3 and Q3. This is out that there will also a blowout in the future. 
Q: Can you provide a timeline for growth and suggest the segment where growth can be seen?
A: I think it is mainly into Q3, A4, Q5 and A6 segments where growth will be visible as several people are also upgrading themselves. 
Q: When the new segment of Q2 and A1 can be seen?
A: I think that they will come up by 2021-2022 onwards. I think that the market is getting ready for it but I think it will take three years down the line. 
Q: What is your view on the super luxury segment of Audi at least when no cars of the segment has not been launched in India?
A: Q8, a luxury car, will be launched next year and it is going to be the gamechanger. The car, Q8, will help us to create a perception about the brand, Audi. In addition, there will be more additions in the sports car section in future. 
In fact, we became the first company in 2006 to launch SUV in the luxury segment in India. Interestingly, the SUV was also brought by several celebrities. 
Q: Your market strategy includes dealership as well as a digital presence. What is your view on it and sales target on the two platforms, namely digital and brick & mortar?
A: We have divided Indian strategy into four parts and they are (i) network (ii) product (iii) customer and (iv) digitisation. 
Network part includes the addition of new dealers who will be sailing more vehicles. 
Product part includes new launches like Q8, A8 and they are in line. In fact, we are aware of the products that will be launched in the next 5 years. 
Part III and IV (customer and digitisation) is a key for us. 
Q: Can you provide a particular number related to new launches?
A: That is the reason that we have not started digital sales. However, we are the one who has launched configurator in the luxury segment. Interestingly, one can find configurators in the luxury segment only in Audi as they are not available anywhere else.
Generally, people use the internet to find the vehicle and its configurations and then approach the showroom to buy it. That's why we have also rolled out digital functionality in sales under which a sales consultant will carry an iPad to the customer's place and configure the car as per his requirements and display the car in his/her living room. We have just started with it and hope that it will grow with time. 
Besides, online sales will take its time as the market is not ready for it yet. Having a digital platform is a small thing but the main thing is related to customer expectations and I think it will come with time. 
Q: Indian luxury car market is a tricky market and has remained flat for all these years. In fact, players are just batting into each others market but there is an absence of actual growth in the segment. Are you disappointed with it? Do you think that it is deterring your plans?
A: Actually, I am not happy with the way the market has grown. There are several things that are dithering the market like existing regulations and policies are not facilitating sales in the luxury segment. The only good thing that has happened is GST. But, the union budget had an impact on the luxury segment. 
We are in a danger because we are locally assembling the car and have made a substantial investment in the country. Thus, we need a support in tax policy and there is a need for tax reduction.
Q: What if all this doesn't happen?
A: You will always serve a niche in the luxury segment. We don't expect that there is no tax but just want a reduction in tax, which will lead to an increase in sales. The increased sales will result in an increase in our revenue assisting us to increase our investment in network, product and people. In fact, we are talking with people in the government and hope that our talks will be heard in near future. 
Q: The government is not gang ho on the luxury segment. There are talks related to petrol and diesel cars especially in the Delhi-NCR region due to the pollution levels. Do you think that such a thing can have any detrimental impact, if yes, then how Audi will deal with it?
A: We have a clear strategy for petrol and diesel and have started launching petrol cars in the last few years. In fact, the split of 90:10 (diesel: petrol) of 2015 has been reduced to  70:30 in 2017 and we have a target of having 50:50 by 2020. Besides, we will also increase the share of petrol cars in India and will also go for electrification. 
Q: A range of electrified products, Audi E Tron, was put on display in Singapore in the recent past. Indian consumers are excited to see one of them in India. Should we expect that one of them will be launched in India by 2019?
A: E Tron is the first electrified vehicle of Audi and has a high voltage of the battery, which are capable to travel more than 400km. It is a fantastic car. I think it will do well from the brand perception point of view in India and that is a reason that we will have to launch it in India. We are ready to launch it by 2020 but will try to prepone that as our existing customers have asked us about the time by when the E Tron will be launched in India. We have asked our headquarters to prepone the launch. Let's see. Hopefully, we can bring it in 2019. 
Q: Do you have concerns related to infrastructure or one can charge them at their home?
A: You can charge it at your home and we will make sure that such infrastructure is made available at the home. In addition, we will also offer the facility at our dealerships. 
Q: How much time does it take to charge itself?
A: 80% battery can be charged in 45 minutes in case of fast charge but home charging will take few hours but that is fine. 
Q: Name the cities where you want to go? What are your plans to cater to the demand in those cities?
A: Audi Mobile Terminal has been used to enter into tier-I and tier-II cities. We knew that it is an aspirational brand and people want to experience it. At the same time, we also provide a workshop fair approach - at places where we have sold our vehicle - to make sure that the cars are being serviced. 
However, the main growth will come from the major market, where 75-80% products are sold, and we will try to close the gaps over there in recent future like a new dealership will be opened in Gurugram in 2019. Tier-II and Tier-III cities will also be a part of the agenda in future. 
Q: Have you identified any specific area where demand is surpassing the production, if yes, name it? 
A: Yes, especially with the SUV section and you can see with every launch but it balances itself with time. The same thing happens with limited editions. We have seen such a traction on the launch of special editions even on the existing ranges like Q3 and Q7. But mostly it happens in the niche models and we expect the same with A8. 
Q: You have a successful association with Virat Kohli. I think he, Virat, terms himself as brand enthusiast instead of brand ambassador. How you are looking at the integration with him? Do you want to continue with him?
A: I think Virat is the perfect fit. Everyone loves Virat, I love him. I mean you just need to be a Cricket enthusiast to love him. It is a matter of the heart. He is a brand enthusiast since the beginning. At the time of launch of RS5, he was saying that he was overwhelmed while signing the contract with Audi as I love driving those cars. Actually, this is the best thing to have as you don't need to have someone who should be asked to love the product. He loves it from the beginning so he is the best fit for us. 
Q: Let us talk about your investments and plants that are being assembled to meet the needs of Made in India. Let us know about the levels to which the plans have reached and to which it can be taken from there? Do you have any plan on expansion of the capacities, if yes, let us know about the present levels?
A: The plant is responsible for the production and thus they can only comment on this question. We have limited discussions with the plant like the kind of product that we need and product that we bring in. Product decision is always done at headquarter levels. 
 
Q: People say that discounting provided by Audi are spoiling the market. Is this a right impression about Audi?
A: I don't think so. I think it is a stereotype and it is clear that as Indians we all are same and need to bargain at all places. We need a deal even in luxury segments and off course it happens. But at the stock level, I can confirm that this is not a case because we always make sure that our dealers have fewer stocks and we carry most of them to make sure that profitability is the key for the partners. 
Get Latest Business News, Stock Market Updates and Videos; Check your tax outgo through Income Tax Calculator and save money through our Personal Finance coverage. Check Business Breaking News Live on Zee Business Twitter and Facebook. Subscribe on YouTube.