85% demand returned in bike segment in July; three-wheelers to take more time: Rakesh Sharma, ED, Bajaj Auto
Rakesh Sharma, Executive Director, Bajaj Auto Ltd. quarterly numbers, export markets, demand, the situation at Aurangabad facility and the response for quadricycle among others during an exclusive interview with Zee Business Executive Editor Swati Khandelwal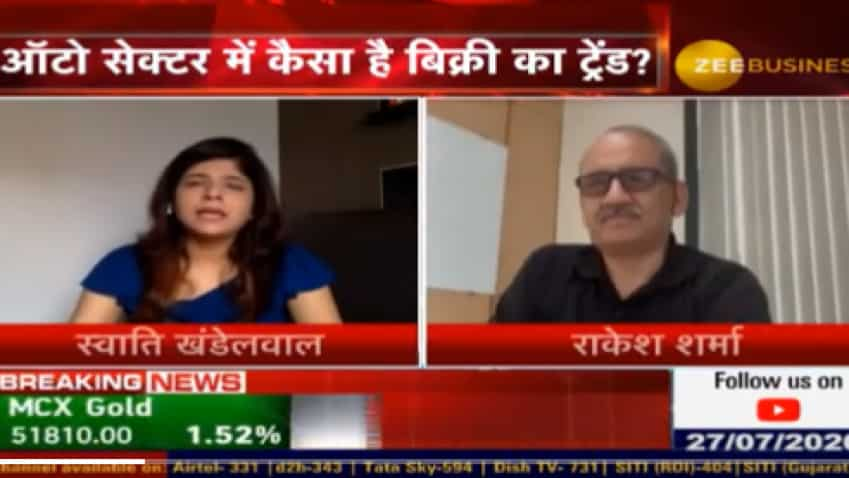 "We have launched Pulsar 125 which is available in three variants and the cheapest variant is available at Rs 71,000 and the costliest variant is available at Rs 79,000," Rakesh Sharma said
Written By:
Jitesh Kumar Jha
Updated: Tue, Jul 28, 2020
07:02 pm
new delhi, ZeeBiz WebDesk
Rakesh Sharma, Executive Director, Bajaj Auto Ltd. quarterly numbers, export markets, demand, the situation at Aurangabad facility and the response for quadricycle among others during an exclusive interview with Swati Khandelwal, Zee Business. Edited Excerpts:
Q: There is a decline in quarterly numbers of Bajaj Auto, but it is better than the street estimates. Tell us about the reasons and what helped in increasing the demand to date?
A: It was mid-March when we felt that this COVID will have a big impact in the COVID-related environment and we took quick action on it. As we can't do anything of the environment and no one knew where the demand would go but we focused a lot on the cost. Anyway, Bajaj Auto is a tightly run company and it is not so that there was much cost-saving provision was available on any item but we focused a lot on repairs, maintenance, offices and other many aspects. And, the savings that come from there have kept our EBITDA percentage and operating profit percentage strong. It was a big contributory factor. The second thing that we did was that the way in the resumption was made at our end when the market or the supply chain was opening. Our entire team worked very fast to make sure that we do not miss any day of it. These numbers are the result of these efforts.
Watch Zee Business Tweet Video Below:
#CorporateRadar में देखिए बजाज ऑटो के ED राकेश शर्मा और वेल्सपन इंडिया के CFO अल्ताफ जिवानी के साथ स्वाति खंडेलवाल के साथ खास बातचीत#ZBizExclusive @SwatiKJain @bajaj_ltd @TheWelspunGroup https://t.co/rYpvijQWr0

— Zee Business (@ZeeBusiness) July 27, 2020
Q: How the exports market is panning out and the kind of demand is coming from the international markets, especially from Africa and Latin America?
A: As far as the export or overseas markets are concerned then we are present in more than 70 countries but we closely study the pattern of demand and performance in 50 countries. So, there is almost a mixed experience in all these countries as compared to India. I believe that on average the demand has reached 80% to 85% level, at present, at a normal level. If seen, our retail has reached 88% to 85% this July when compared to last year's July. It has almost reached 90% to 100% in Latin America. South Asia, Middle-East and countries like Bangladesh have also reached the 90% to 100% level but ASEAN sector like Philippine, Thailand, Malaysia and Africa have reached the 75% mark. So all together it stands around 80% to 85%. In the case of exports, the inventory pipeline, which is a transit inventory remains slightly more which creates a month's or so lag between retail improvement and shipment improvement. Its positive impact will be felt from September at our end.
Q: Let's talk about the domestic market as it is a big challenge yet. We are moving towards Unlock 3.0. What is your demand outlook especially because we are moving towards the festive season and what is your expectation for the next three months?
A: Demand will come in many folds. In May, we were planning about June and further and it was necessary because we had to talk with the vendors on different aspects like availability of the labours, where should we start from and the level of production that is required. We had an estimate for June and the first half of July but the demand was much better than our estimates. Initially, we thought that COVID will have three effects (i) COVID's effect due to the physical lockdowns which lead to the closure of the markets and the factories, (ii) economic effect and (iii) psychological effects. And we thought that these three forces will hurt demand but June and the first half of July has proved that the demand has ignored two of the factors of the three. Only the impact of lockdown was felt, while a small impact of the economic situations and psychological impacts were felt. We were seeing that the demand had reached 100% level at many places in the first 10 days of July, but the announcement of lockdowns in the third week of July at many places, like Bihar, Odisha, Bangalore, Guwahati, Indore and Bhopal among others, has put a brake on the demand and now I feel that June and July will remain similar. The conclusion of this is that if the lockdown management remains good along with containment, and there is patience in the response of the administration then a demand can return to the level of 90% to 100% by August-September itself.
Q: What is the scenario of demand in two-wheelers and three-wheelers? I think the demand for two-wheelers is better as compared to three-wheelers. When the things will get better in three-wheelers segment and what are going to be triggers for making things better on that aspect? Also, tell us segment-wise where the demand is more and can you see any pattern for demand?
A: I should have cleared it earlier that my previous comments were related to motorcycles or two-wheelers. However, the situation is very serious in the case of three-wheelers. The situation is serious because daily life is not normal yet, schools are not opened, people are not going to leave their children to the schools and they are also not going to the offices. Thus, the road traffic stands at just 30% yet due to which the auto-rickshaw drivers' income has dropped by 70% to 75% (it is our estimate). In such an environment, the sale of three-wheelers, particularly the passenger three-wheelers which have 80% market share and 20% comes from cargo three-wheeler segment, is hampered. So, the three-wheeler business is still struggling and I feel that it will remain quite far for the next two-three months when compared to two-wheelers. It will be a good thing to see if it reaches 30%-40% of the normal level in the next three months. 
Q: Can you tell us about the section of motorcycles that is in more demand at present, especially in the entry-level bikes?
A: We have seen a good thing in June and July that the structure of demand hasn't changed at all. It is not so that people have shifted towards cheap motorcycles. The architecture of the demand that was present in the pre-COVID era in terms of the percentage of people who were buying sports motorcycles or medium 125cc motorcycles or 100cc motorcycles is almost intact. We have a very affordable entry-level model but we haven't seen that there was a sudden pick-up in their sales. At the same time, we have launched Pulsar 125 which is available in three variants and the cheapest variant is available at Rs 71,000 and the costliest variant is available at Rs 79,000 and we have seen that the costliest variant was sold most. Our premium portfolio of KTM is completely sold out and we are out of stock. We never thought that such a demand will come on these bikes as they cost above Rs 1.50 lakhs but there is a demand in this segment as well. It was nice to see that the structural demand has not been altered to a great extent and every segment is performing well. Initially, we saw that demand has picked-up in rural and semi-urban sectors and we got a good start in the zone but towards the middle of July we saw that demand has picked-up even in urban areas. If Mumbai, Delhi and Bangalore are left out then we have seen that demand has picked up in big urban areas. Geographically, the demand was even across the country. 
Q: What is the current situation of the Aurangabad facility, where a lot of workers were infected with COVID-19? Also, tell us about the changes that have been implemented in production and the precautionary measures that have been undertaken? What is the production level at each of your plants?
A: First of all I would like to make it clear that all our plants and big offices including our head office in Pune, which is spread in a big area. Anyone can come here; in fact, administrative officials as well as journalists have visited it and have seen the caution that we are adopting within the plants and the offices - I think the same thing is happening at every big company - but we can't make it happen outside. Here the steps taken include sanitization, social distancing, seats in the canteens have been separated by installing acrylic sheets, gloves, masks and camera-based monitoring but the same can't be replicated outside the campus. But despite this, some cases have occurred including Aurangabad, which was published the most. Such cases have emerged even in Chakan and Akurdi offices. This is a fact and contact tracing is immediately done as soon as a case occurs. So, this is a fluid situation and such cases will keep occurring but you especially asked about Aurangabad then I feel the all the industries in Aurangabad city including our plant were lockdown for nine days but it has been opened now. All the plants are functional now. As far as offices are concerned, then our attendance is going on as per the administrative guidelines and regular monitoring is being conducted and this is a reason that COVID cases occurs and ends. There monitoring has turned into a way of life and we have a complete protocol and we have isolation and quarantine centres are available on our premises. This is a way of life and we have a detailed protocol at our end to deal with it.
Q: Let us know about the progress that has been made on the deal with Triumph? Also, update us on the kind of response you are getting on quadricycle?
A: As far as Triumph is concerned, we are focusing mainly on product development. The team of the two, Triumph Team and Bajaj Team, are in a regular discussion with each other and research work is on. However, the calendar has shifted a bit due to COVID and we are trying our best to be back on track on product development. A good dialogue between the two teams is in processes at present. In the case of quadricycle, we have entered in a very limited manner in Bangalore along with UBER. It is very successful and UBER says that there is a preference for quadricycle Qute. However, a lot of permission has to be taken for the segment.
Once approved at the centre level then much time is needed to take permissions at the state level like installation of fare meter or fixations of fare card or definition in driving license and the kind of test that should be conducted for it. However, we have faced some more problems in it due to COVID. There are just 4 states where 100% of permission has been granted. But there are and 15 states, which have permitted us to test them on the street, while there are four states who have allowed us to go ahead only with fare fixation and fare meter installation among others. Now in the coming months, we will try to introduce this product in a limited way by working amid the constraints of COVID in these four states. 
See Zee Business Live TV Streaming Below:
The vehicle is available in cities like Bangalore and Pune and those who are buying it have had a great experience with it. We are prepared to implement it step-by-step, which will take some time because it is a new category and people always look towards the products resale value in the commercial space, and it will take time to establish it.
Get Latest Business News, Stock Market Updates and Videos; Check your tax outgo through Income Tax Calculator and save money through our Personal Finance coverage. Check Business Breaking News Live on Zee Business Twitter and Facebook. Subscribe on YouTube.