All deposits by Indians in Swiss banks not black money: Govt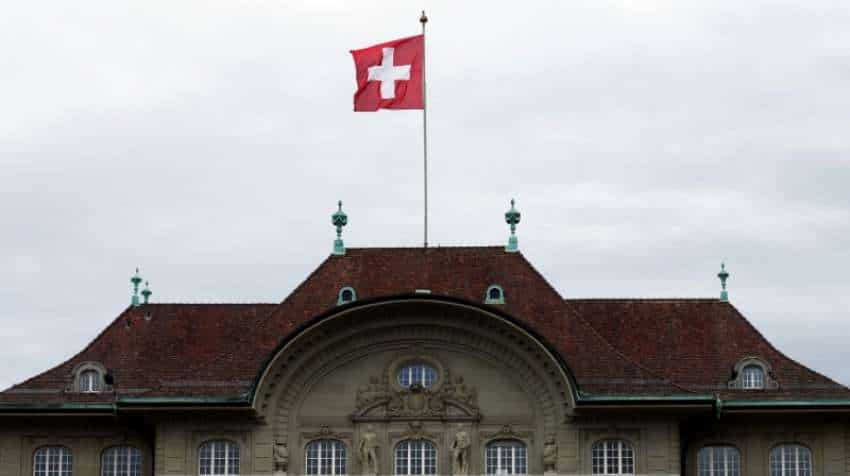 India has a treaty with Switzerland under which the Swiss government would provide all data from January 1, 2018. Image source: Reuters
Updated: Sat, Jun 30, 2018
10:40 am
PTI
The government today said all the deposits by Indians in Swiss bank accounts cannot be termed black money and action will be taken against persons parking illegal funds overseas after Switzerland starts sharing real-time account details from January onwards.
Latest data from the Swiss National Bank showed that money parked by Indians in Swiss banks rose over 50 per cent to CHF 1.01 billion (Rs 7,000 crore) in 2017, reversing a three-year downward trend amid India's clampdown on suspected black money stashed by its citizens overseas.
The revelations created a furore in political circles with Opposition leaders taking a swipe at the Narendra Modi-led government over the rise in Indian money in Swiss banks.
The government also said all the money in Swiss banks should not be termed illegal as past investigations by tax department (CBDT) have shown that it includes funds held by persons of Indian origin who now hold foreign passport, monies belonging to non-resident Indians, as also funds belonging to resident Indians who have made legitimate investments abroad, including transfer of money under the Liberalised Remittance Scheme (LRS).
"A news item has appeared today indicating an increase of money by 'Indians' in the Swiss banking system. This has led to misinformed reaction in certain circles raising a query whether the government's anti-black money steps have yielded results," Jaitley said in a blog.
Noting that Switzerland in financial disclosures was always a reluctant state, Jaitley said the Alpine nation has amended its domestic laws involving all disclosures and entered into a treaty even with India and real-time flow of information with regard to Indians would be made.
"The flow of information is starting in January, 2019. Any illegal depositor knows that it is a matter of months before his name becomes public and he will be subjected to the harsh penal provisions of the black money law in India," said the senior BJP leader.
Earlier in the day while talking to reporters, Finance Minister Piyush Goyal wondered how all of it can be assumed to be black money but said strong action would be taken against anyone found guilty of wrongdoing.
Referring to the rise in Swiss bank deposits by Indians, Goyal said, "The data that you alluded to will come to us, so how are you assuming that this is black money or this is illegal transaction?" Around 40 per cent of this money is because of the LRS, Goyal said, citing media reports.
The scheme was introduced by former Finance Minister P Chidambaram. Under the LRS, an individual could remit up to USD 2,50,000 per year.
"We will have all information. If someone is found guilty, the government will take strong action against them," Goyal said.
India has a treaty with Switzerland under which the Swiss government would provide all data from January 1, 2018, Goyal said.
In his blog, Jaitley also said that those who participate in a public discourse must understand the basic facts before expressing an opinion which may be ill-informed.
"To assume that all the deposits are per se tax evaded money or that Switzerland in the matter of illegal deposits is what it was decades ago, is to start on a shaky presumption," he added in the blog titled 'The Impact of the Government Polices on Direct Tax Collections'.
Jaitley, who was holding finance portfolio, is currently a minister without any charge as he is recuperating after a kidney transplant operation.
The Narendra Modi-led NDA government has a multi-pronged strategy to increase the tax base, Jaitley said, adding that a campaign involving various steps to flush out black-money was initiated.
WATCH THIS ZEE BUSINESS VIDEO
"The first big news for this year is that the advance tax deposit during the first quarter of this year has seen a gross increase of 44 per cent in the personal income tax category and 17 per cent in the corporate tax category," Jaitley said.
Because of steps taken by the government, the total income tax collection for the year 2017-18 is Rs 10.02 lakh crore, 57 per cent increase in four years, he said.
(This article has not been edited by Zeebiz editorial team and is auto-generated from an agency feed.)
Get Latest Business News, Stock Market Updates and Videos; Check your tax outgo through Income Tax Calculator and save money through our Personal Finance coverage. Check Business Breaking News Live on Zee Business Twitter and Facebook. Subscribe on YouTube.